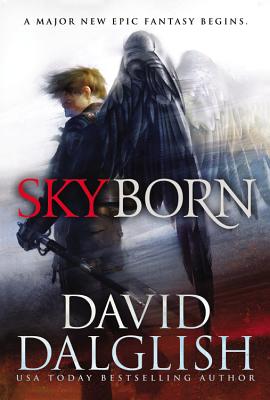 Skyborn (Seraphim #1) (Paperback)
Orbit, 9780316302685, 464pp.
Publication Date: November 17, 2015
Other Editions of This Title:
Digital Audiobook (11/16/2015)
* Individual store prices may vary.
Description
The first in an all new fantasy series from USA TODAY Bestseller, David Dalglish
Six islands float high above the Endless Ocean, where humanity's final remnants are locked in brutal civil war.
Their parents slain in battle, twins Kael and Brenna Skyborn are training to be Seraphim, elite soldiers of aerial combat who wield elements of ice, fire, stone and lightning.
When the invasion comes, they will take to the skies, and claim their vengeance.
Seraphim
Skyborn
Fireborn
Shadowborn
For more from David Dalglish, check out:
Shadowdance
A Dance of Cloaks
A Dance of Blades
A Dance of Mirrors
A Dance of Shadows
A Dance of Ghosts
A Dance of Chaos
About the Author
David Dalglish currently lives in rural Missouri with his wife Samantha, and daughters Morgan, Katherine, and Alyssa. He graduated from Missouri Southern State University in 2006 with a degree in Mathematics and currently spends his free time dying for the umpteenth time in Dark Souls.
Praise For Skyborn (Seraphim #1)…
"A must-read for fans of Michael Sullivan and Brent Weeks."—Library Journal on Skyborn

"Once you pick up Skyborn you won't want to put it down...I expect this series to fly off the shelves."—Kelly McCullough

"A soaring tale that nails the high notes. Skyborn had me gazing heavenward, imagining what could be."—Jay Posey, author of Three, on Skyborn

"A high-flying, dynamic adventure [that] soars confidently and will appeal to teens and adult audiences alike."—Publishers Weekly (starred review) on Skyborn

"Dalglish...begins a fresh epic fantasy series with a richly imagined world...Dalglish's high-flying action sequences are crisp and exciting, and he sets the stage for book two with a solid ending that will have readers eager for the next installment."—Booklist on Skyborn

"[A]n intriguing premise ... has lovely and sometimes harrowing imagery."—RT Book Reviews on Skyborn

"Dalglish concocts a heady cocktail of energy, breakneck pace, and excitement that a reader could get drunk on."—Sam Sykes, author of Tome of the Undergates on A Dance of Cloaks

"Fast, furious, and fabulous."—Michael Sullivan, author of Theft of Swords on A Dance of Cloaks

"[A] winning combination of A Game of Thrones, sword-and-sorcery RPGS, and vivid description...Dalglish puts familiar pieces together with a freshness and pleasure that are contagious." —Publishers Weekly on A Dance of Cloaks

"Strong characterization as well as detailed action...a believable tale of a young man's coming-of-age and the difficult decisions he must make. His saga should appeal to fans of R.A. Salvatore and Richard Lee Byers."—Library Journal on A Dance of Cloaks