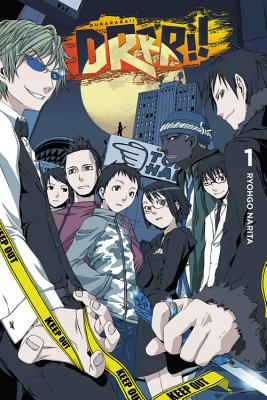 Durarara!!, Vol. 1 (light novel) (Durarara!! (novel) #1) (Paperback)
Yen On, 9780316304740, 224pp.
Publication Date: July 21, 2015
* Individual store prices may vary.
Description
THE GOOD, THE BAD, AND THE DOWNRIGHT WEIRD.
The Ikebukuro district in Tokyo is full of interesting people. A boy longing for the extraordinary. A hotheaded punk. An airheaded pseudo-stalker. An information broker who works for kicks. An underground doctor who specializes in truly desperate patients. A high school student infatuated with a monster. And a headless rider on a pitch-black motorcycle. Their story may not be a heartwarming one, but as it turns out, even weirdos like these sometimes fall in love.
About the Author
Suzuhito Yasuda is the artist most known for his illustrations for the Durarara!! light novel series as well as the hit new light novel series, Is It Wrong to Pick Up Girls in a Dungeon? Ryohgo Narita is the author of a number of successful novel series, including the original "Durarara!!" books. His earlier series, "Baccano!" was honored with the Gold Prize at the 9th Dengeki Novel Awards.