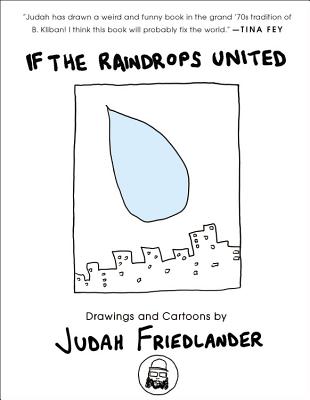 If the Raindrops United (Hardcover)
Drawings and Cartoons
Hachette Books, 9780316306959, 208pp.
Publication Date: October 20, 2015
* Individual store prices may vary.
Description
A book of hilarious and ingenious comic drawings from the popular 30 Rock star and "World Champion" comedian Judah Friedlander, hailed by Tina Fey as "one of the all-time great weirdos."

Most Americans know Judah Friedlander from his role as Frank Rossitano on 30 Rock and from appearances in films like American Splendor and The Wrestler. But long before he became a film and TV star and stand-up comic Friedlander drew stuff.
Now, in this quirky, hilarious, and surprisingly profound collection of drawings, Friedlander shows a new side to his "terrifically entertaining" (New York Times) comedy. Whether imagining George Washington in Las Vegas, plastic surgery for imperfect triangles, and the Keystone Pipeline as a sex act, Friedlander's "Joodles" push boundaries as they explore the absurdities of American life, sex, and even history and human rights. If the Raindrops United is a milestone in the career of one of America's most inventive comedians.

Praise for If the Raindrops United:
"Judah has drawn a weird and funny book in the grand '70s tradition of B. Kliban! I think this book will probably fix the world."
--Tina Fey

"Some people meditate. Some people masturbate. But if you don't have the time or patience for either of those, I recommend reading If the Raindrops United to calm down, have a little laugh, or a big think."
--Susan Sarandon

"I've known Judah for many years and I still don't understand how his mind works, but it sure works. Seriously strange. Seriously funny. A National Treasure. Sadly, I need to get a restraining order against him."
--Paul Giamatti

"Judah thank you for writing a funny twisted book. It is such an easy read. Even dum dums like me can enjoy it!!! Buy this book."
--Dave Attell

"Judah's drawings are deceptively simple, yet they become more compelling with every page. His talent as an actor/writer/comedian is further conveyed in ANOTHER medium. He's a Quadruple Threat. He wears many hats. Literally."
--Janeane Garofalo

"Reading Judah Friedlander's new book is a lot like hanging out with Judah himself: occasionally baffling, frequently thought-provoking, but, most of all, consistently hilarious!"
--Mick Foley

"To compare Judah Friedlander to a great cartoonist like Jim Davis would be a compliment to Jim Davis."
--Wyatt Cenac

"Another hit from The World Champ tackling the signs and symbols you frequently question while dropping hot lava in your American Standard VorMax."
--Eddie Huang
About the Author
Judah Friedlander won international acclaim for his portrayal of Toby Radloff in the award-winning movie American Splendor. He was a series regular on the Emmy Award-winning 30 Rock for seven seasons (SAG Award for Best Ensemble). He can be seen in a cameo in Sharknado 2. He is the author of the bestselling instructional karate book How To Beat Up Anybody, featuring his photography and art work. In 2015, he will release a stand-up comedy album and a stand-up comedy documentary concert film. He lives in New York City.
Praise For If the Raindrops United: Drawings and Cartoons…
"No one has replaced the brilliance of The Far Side ... but Friedlander's skewed jokes evoke that landmark comic's better than any strip does today.... It's something of a surprise to find this new work so whimsical, sly and modest ... He creates little cracked worlds with a simple image and a few words."—The New York Times Book Review

"Judah has drawn a weird and funny book in the grand '70s tradition of B. Kliban! I think this book will probably fix the world."—Tina Fey

"Some people meditate. Some people masturbate. But if you don't have the time or patience for either of those, I recommend reading If the Raindrops United to calm down, have a little laugh, or a big think."—Susan Sarandon, Actor

"I've known Judah for many years and I still don't understand how his mind works, but it sure works. Seriously strange. Seriously funny. A National Treasure. Sadly, I need to get a restraining order against him."—Paul Giamatti, Actor

"Another hit from The World Champ tackling the signs and symbols you frequently question while dropping hot lava in your American Standard VorMax."—Eddie Huang, Restauranteur, Chef, Food Personality and Writer

"Judah thank you for writing a funny twisted book. It is such an easy read. Even dum dums like me can enjoy it!!! Buy this book."—Dave Attell, Comedian

"Judah's drawings are deceptively simple, yet they become more compelling with every page. His talent as an actor/writer/comedian is further conveyed in ANOTHER medium. He's a Quadruple Threat. He wears many hats. Literally."—Janeane Garofalo, Actor and Comedian

"Reading Judah Friedlander's new book is a lot like hanging out with Judah himself: occasionally baffling, frequently thought-provoking, but, most of all, consistently hilarious!"—Mick Foley, Semi-Retired Wrestler, Author, Comedian and Actor

"To compare Judah Friedlander to a great cartoonist like Jim Davis would be a compliment to Jim Davis."—Wyatt Cenac, Comedian, Actor, and Writer

"An exercise in brilliant efficiency. One of the funniest and most insightful books ever drawn."—J.J. Abrams, Director, Producer, and Writer

"Visual jokes that make you think.... Where [Friedlander's] stand-up sets jab at things like gentrification, sexism, and gun control, If the Raindrops United punches those same issues right in the gut."—Refinery29

"Judah Friedlander is pretty amazing. Not only is he a brilliant comedian, karate world champion, and accomplished actor, but he's a very thoughtful guy. When he's not busy making people happy on stage and on screen, he's often putting some serious consideration into the woes of those around him. And luckily for us, all that humor and all that thoughtfulness is on display in his latest book If the Raindrops United."—The Interrobang

"The book's drawings run the gamut between The Far Side and The New Yorker, offering plenty of belly laughs."—Bedford + Bowery
or
Not Currently Available for Direct Purchase