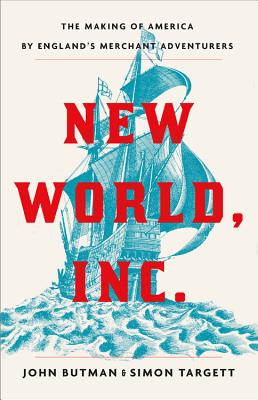 New World, Inc.
The Making of America by England's Merchant Adventurers
Hardcover

* Individual store prices may vary.
Other Editions of This Title:
Digital Audiobook (3/19/2018)
Compact Disc (3/20/2018)
Compact Disc (3/20/2018)
Description
Three generations of English merchant adventurers-not the Pilgrims, as we have so long believed-were the earliest founders of America. Profit-not piety-was their primary motive.

Some seventy years before the Mayflower sailed, a small group of English merchants formed "The Mysterie, Company, and Fellowship of Merchant Adventurers for the Discovery of Regions, Dominions, Islands, and Places Unknown," the world's first joint-stock company. Back then, in the mid-sixteenth century, England was a small and relatively insignificant kingdom on the periphery of Europe, and it had begun to face a daunting array of social, commercial, and political problems. Struggling with a single export-woolen cloth-the merchants were forced to seek new markets and trading partners, especially as political discord followed the straitened circumstances in which so many English people found themselves.

At first they headed east, and dreamed of Cathay-China, with its silks and exotic luxuries. Eventually, they turned west, and so began a new chapter in world history. The work of reaching the New World required the very latest in navigational science as well as an extraordinary appetite for risk. As this absorbing account shows, innovation and risk-taking were at the heart of the settlement of America, as was the profit motive. Trade and business drove English interest in America, and determined what happened once their ships reached the New World.

The result of extensive archival work and a bold interpretation of the historical record, New World, Inc. draws a portrait of life in London, on the Atlantic, and across the New World that offers a fresh analysis of the founding of American history. In the tradition of the best works of history that make us reconsider the past and better understand the present, Butman and Targett examine the enterprising spirit that inspired European settlement of America and established a national culture of entrepreneurship and innovation that continues to this day.
Praise For New World, Inc.: The Making of America by England's Merchant Adventurers…
"As John Butman and Simon Targett remind us in their deeply researched and well-written New World, Inc., the Pilgrim venture was the outcome of English attempts over seven decades to reach the fabled East and Cathay (China)... ...Butman and Targett unapologetically describe the mercantile foundations of the Atlantic colonies."—Financial Times

"John Butman and Simon Targett explain the origins of America's colonies by examining London's businesses--especially those that attracted investors eager to explore opportunities abroad...[They] parse the kind of financial details that get lost in many similar histories."—Peter C. Mancall, Wall Street Journal

"This engrossing history of adventure and innovation, disclosing the true motive for America's founding, will appeal to all readers."—Library Journal, Starred Review

"Brisk and fascinating"—Foreign Affairs

"This is a beautifully presented and constructed book, with an arresting collection of colour pictures. It is fluently and elegantly written, and the reader is drawn from page to page, onwards through this fascinating story. In many ways it reads at times like a novel, but this is a serious piece of historical writing. Human interest and drama sit at the heart of this story, but it is also one of science, innovation, navigational daring, bravery, chance, and resilience. It is a story as exciting as it is revealing."—Mark Fox, Reaction

"New World, Inc. makes a good case for changing the conversation from religious to economic migration come November"—Rob Cox, Reuters Breakingviews

"A highly readable book that will open most readers' eyes to a fascinating and little known page of history."—Thomas Urquhart, The Press Herald

"Butman and Targett argue persuasively that the myth of America's founding narrative, centered on the Pilgrims' quest for religious freedom, ignores the reality of England's relationship to the New World in the 16th century... A lively and illuminating revisionist history."—Kirkus

""Butman and Targett are fluent storytellers with an eye for detail"—Publishers' Weekly

"This meticulously researched, well-written, and beautifully designed book tells the fascinating and largely untold story of the earliest days of globalization, of innovation and entrepreneurial risk-taking, and of the creation of some of the earliest venture-financed companies in the world."—Glenn Leibowitz, Write with Impact

"The fascinating story of the merchant adventurers, the 16th century equivalent of today's venture capitalists, who risked their capital for the prospects of enormous profits and were behind explorers like Sir Francis Drake and Sir Walter Raleigh, who discovered and first settled the New World. Brilliantly researched and vividly told, New World Inc will give you a totally new perspective on the history of the founding of this country."—Liaquat Ahamed, author of the Pulitzer Prize winning Lords of Finance

"Part business history, part swashbuckling adventurer's tale, New World Inc. shows us that America was founded, not as an idealistic city upon a hill, but as the result of intense competition between well-funded companies looking to capitalize on the Next Big Thing. Long before the Pilgrims set foot on our shores, entrepreneurs like Frobisher, Drake and Raleigh were scouting for investment opportunities every bit as ambitious as today's internet technologies, with the landed aristocracy playing the role of venture capitalists, and the English monarchs Elizabeth I and James I as the Chairs of the Board for these vast colonial enterprises. A fascinating read."—Larrie D. Ferreiro, author of Brothers at Arms: American Independence and the Men of France and Spain Who Saved It

"In New World Inc., John Butman and Simon Targett deliver an intelligent, thorough, and detailed examination of the financial stories powering the earliest voyages to America. Skillfully told, this compelling book elevates the overlooked economic motivations behind the first American settlements to their proper place in history."—Bhu Srinivasan, author of Americana: A 400-Year History of American Capitalism

"Although every school child knows the story of America's discovery by Columbus, how the English came to North America has been surprisingly forgotten. The discovery of "New" England (and North America) by a group of daring seafarers backed by English merchants and ultimately Queen Elizabeth I herself was accidental - even unwanted. New World Inc paints a fascinating portrait of personal daring and bold risk taking, of deceit and court intrigue, of murder, greed, loss of life, cunning, disappointment and unexpected success. It is a captivating read."—Antoine Van Agtmael, author of The Smartest Places on Earth
Little, Brown and Company, 9780316307888, 432pp.
Publication Date: March 20, 2018
About the Author
John Butman is an author, editor, and collaborative writer. His writing has appeared in the Harvard Business Review, the Nation, and other publications and his work has been featured in the New York Times, the Economist, and media venues around the world. His books include Trading Up: The New American Luxury, a BusinessWeek bestseller, and Breaking Out: How to Build Influence in a World of Competing Ideas. John divides his time between Portland and Bailey Island, Maine, not far from one of the earliest English settlement sites in America.

Dr. Simon Targett is a writer, historian and corporate communications advisor. He holds a PhD in history from Cambridge and has written articles on British history for various publications. An award-winning journalist, he has served as a correspondent and senior editor on the Financial Times and as global editor-in-chief of The Boston Consulting Group. He lives in London with his wife and two children.
or
Not Currently Available for Direct Purchase