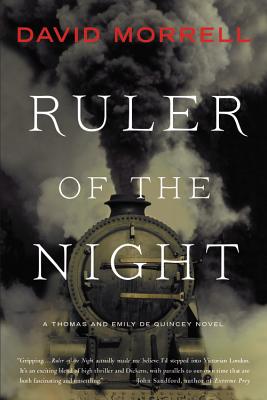 Ruler of the Night (Thomas and Emily De Quincey #3) (Paperback)
Mulholland Books, 9780316307918, 352pp.
Publication Date: November 28, 2017
Other Editions of This Title:
Digital Audiobook (11/14/2016)
Hardcover (11/15/2016)
Hardcover, Large Print (11/16/2016)
* Individual store prices may vary.
Description
The notorious Opium-Eater returns in the sensational climax to David Morrell's acclaimed Victorian mystery trilogy.

1855. The railway has irrevocably altered English society, effectively changing geography and fueling the industrial revolution by shortening distances between cities: a whole day's journey can now be covered in a matter of hours. People marvel at their new freedom.

But train travel brings new dangers as well, with England's first death by train recorded on the very first day of railway operations in 1830. Twenty-five years later, England's first train murder occurs, paralyzing London with the unthinkable when a gentleman is stabbed to death in a safely locked first-class passenger compartment.

In the next compartment, the brilliant opium-eater Thomas De Quincey and his quick-witted daughter, Emily, discover the homicide in a most gruesome manner. Key witnesses and also resourceful sleuths, they join forces with their allies in Scotland Yard, Detective Ryan and his partner-in-training, Becker, to pursue the killer back into the fogbound streets of London, where other baffling murders occur. Ultimately, De Quincey must confront two ruthless adversaries: this terrifying enemy, and his own opium addiction which endangers his life and his tormented soul.

Ruler of the Night is a riveting blend of fact and fiction which, like master storyteller David Morrell's previous De Quincey novels, "evokes Victorian London with such finesse that you'll hear the hooves clattering on cobblestones, the racket of dustmen, and the shrill calls of vendors" (Entertainment Weekly).
About the Author
David Morrell is an Edgar and Anthony Award finalist, a Nero and Macavity winner, and recipient of the prestigious career-achievement ThrillerMaster award from the International Thriller Writers. He has written twenty-nine works of fiction, which have been translated into thirty languages. He is also a former literature professor at the University of Iowa and received his PhD from Pennsylvania State University.
Praise For Ruler of the Night (Thomas and Emily De Quincey #3)…
"Stellar writing and storytelling. . . . Real historical figures mix with the heroes, and the thriller elements are both terrifying and grotesque. Morrell's impeccable research shines. . . . Readers will feel transported to Victorian London with all of the sights and sounds that go with it."—Jeff Ayers, Associated Press

"An elegant and sumptuously entertaining journey into Victorian London highlights this superb thriller by the end of Rambo. Wondrously gothic, Morrell's concluding chapter of his trilogy centering on the exploits of historical figure Thomas De Quincy will appeal to old-school mystery fans of Agatha Christie and Arthur Conan Doyle, as well as mainstream thriller audiences. A truly rare and special read."—Jon Land, Providence Journal

"An absolutely terrific series"—Dean Koontz

"I love this series. Ruler of the Night actually made me believe I'd stepped into Victorian London. It's an exciting blend of high-thriller and Dickens, with parallels to our own time that are both fascinating and unsettling. I've been a Morrell fan for years, and Ruler of the Night is as gripping as anything he's done."—John Sandford, author the New York Times-bestselling Extreme Prey

"Spectacular . . . The narrative builds to a powerful but bittersweet ending."—Publishers Weekly (starred review)

"Morrell's deft hand with thriller plotting provides copious chills and procedural satisfaction, but it is his mastery of character, shrewd exploitation of Victorian details and attitudes, and tonal sophistication that seduce and delight. . . . It's a cracking yarn, irresistible as an emergency bottle of laudanum secreted in a shabby coat pocket. Richly detailed and engrossing; Morrell animates the Victorian era and delivers genre thrills with rare style and panache."—Kirkus Reviews

"A joy to read. . . . [Morrell] expertly immerses us in another country and another time, while delivering characters so real they could be living next door to us right now. . . . For all its Victorian trappings, Ruler of the Night is a novel that feels as timely as ever."—Betty Webb, Mystery Scene

"A complex, top-notch mystery, with a large cast of characters and multiple, interwoven plotlines.... Philosophical, uncannily perceptive De Quincey competes well with Sherlock Holmes for brilliance.... You don't have to read this series in order, but you'll want to read every volume."—Booklist

"Morrell excels at constructing historically accurate mysteries with enough melodrama to satisfy any lover of Victorian novels. His protagonists are fascinating and entertaining; aficionados of the trilogy are going to miss De Quincey and company."—Library Journal

"With Ruler of the Night, David Morrell concludes the most compelling, devious and fascinating mystery trilogy in decades. They'll be reading these De Quincey novels for generations. Bravo!"—Jonathan Maberry, New York Times bestselling author of Kill Switch and Ghost Road Blues