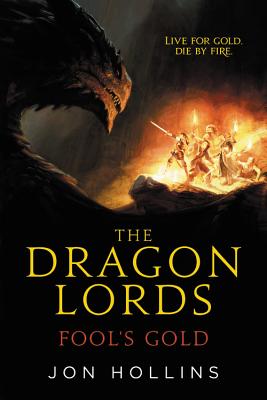 The Dragon Lords (Paperback)
Fool's Gold
Orbit, 9780316308236, 544pp.
Publication Date: July 19, 2016
* Individual store prices may vary.
Description
Guardians of the Galaxy meets The Hobbit in this rollicking fantasy adventure.

It's not easy to live in a world ruled by dragons. The taxes are high and their control is complete. But for one group of bold misfits, it's time to band together and steal back some of that wealth.

No one said they were smart.
About the Author
Jon Hollins is a pseudonym.
Praise For The Dragon Lords: Fool's Gold…
"Ideal for fans of humorous capers and heist stories - such as Ocean's 11, Scott Lynch's Gentleman Bastard Sequence series, and Lois McMaster Bujold's Vorkosigan Saga."—Booklist

"Hollins ladles on the humor while hardly skimping on the action, the unexpected plot swerves, or the glorious feels."—B&N

"Hollins's seat-of-the-pants fantasy comedy snowballs wildly into a glorious disaster of fire, magic, multiple threats to people's intestines, and fun -- for the reader, if not the characters."
—Publishers Weekly (starred review)


"Jon Hollins is a one of kind storyteller, a master of epic fun and nonstop action. Alas, since we both write humor-infused epic fantasy, this makes us natural enemies. Watch your back, Jon."—Nicholas Eames, author of Kings of the Wyld


p.p1 {margin: 0.0px 0.0px 0.0px 0.0px; font: 14.0px Calibri; -webkit-text-stroke: #000000}
span.s1 {font-kerning: none}



"A chain mail-clad, sword-swinging heist caper brimming with blood, thunder, humor and heart."— p.p1 {margin: 0.0px 0.0px 0.0px 0.0px; font: 14.0px Calibri; -webkit-text-stroke: #000000} span.s1 {font-kerning: none} Dale Lucas on The Dragon Lords: Fool's Gold