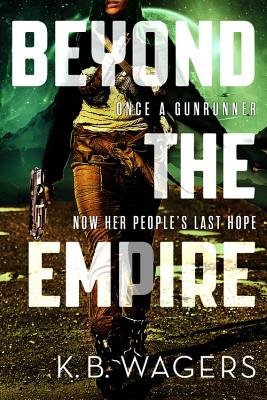 Beyond the Empire (The Indranan War #3) (Paperback)
Orbit, 9780316308649, 416pp.
Publication Date: November 14, 2017
Other Editions of This Title:
Digital Audiobook (11/13/2017)
* Individual store prices may vary.
Description
The adrenaline-fueled, explosive conclusion to the Indranan War trilogy by K. B. Wagers.
Gunrunner-turned-Empress Hail Bristol was dragged back to her home planet to take her rightful place in the palace. Her sisters and parents have been murdered, and the Indranan Empire is reeling from both treasonous plots and foreign invasion.
Now, on the run from enemies on all fronts, Hail prepares to fight a full-scale war for her throne and her people, even as she struggles with the immense weight of the legacy thrust upon her. With the aid of a motley crew of allies old and new, she must return home to face off with the same powerful enemies who killed her family and aim to destroy everything and everyone she loves. Untangling a legacy of lies and restoring peace to Indrana will require an empress's wrath and a gunrunner's justice.

The Indranan War
Behind the Throne
After the Crown
Beyond the Empire
About the Author
K.B. Wagers is the author of the Indranan War trilogy and the forthcoming Farian War trilogy, about the gunrunner empress Hail Bristol. They live in the shadow of Colorado's Pikes Peak with their partner and a crew of poorly behaved cats. They're especially proud of their second-degree black belt in Shaolin Kung Fu and their three Tough Mudder completions. There's never really a moment when they're not writing, but they do enjoy fountain pens and good whiskey.
Praise For Beyond the Empire (The Indranan War #3)…
"Nerve-wracking action on the ground and in space, dark humor, and the characters' til-the-end loyalty to one another.... A satisfyingly thunderous end to Hail's quest for vengeance that makes an excellent addition to any SF collection."—Publishers Weekly (starred review)

"Satisfying... Wagers's high-octane space opera trilogy is particularly appealing for its relationships."—Library Journal (starred review)

"A rich tapestry of nuanced characters and a story that makes you care about them.... I can't wait to see what she'll do next."—Pop Culture Beast

"Kick ass space opera with a heart. I loved it."—The Eloquent Page

"Wagers's exciting second Indranan War space epic keeps roaring, with plenty of action, tension, and constant interplay among the characters."—Publishers Weekly (starred review) on After the Crown

"'Crown' is fast paced, and its focus on a female action heroine defined by her decisions rather than romance is refreshing and fun."—The Washington Post on After the Crown

"Two books in, this series has exemplified political plotting as compelling as the badass heroine at its center."—B&N Sci-Fi & Fantasy Blog on After the Crown

"Craving a galactic adventure? K.B. Wagers' second Indranan War novel is just the ticket."—Bookish on After the Crown

"This is pitch perfect science fiction that blends action, adventure, political intrigue and more than a little heart."—The Eloquent Page on After the Crown

"Hail is quickly becoming a favorite character... for fans of shows like Firefly and Killjoys there's a lot to love."—Pop Culture Beast on After the Crown

"Full of fast-paced action and brutal palace intrigue, starring the fiercest princess this side of Westeros."—B&N Sci-Fi & Fantasy Blog on Behind the Throne

"Behind the Throne opens with a bang and maintains the momentum throughout the story."—RT Book Reviews on Behind the Throne

"Taut suspense, strong characterization, and dark, rapid-fire humor are the highlights of this excellent SF adventure debut."—Publishers Weekly (starred review) on Behind the Throne

"Promising science-fiction series ... for fans of stories with plenty of action and political maneuvering."—Booklist on Behind the Throne

"This debut ranks among the best political SF novels in years, largely because of the indomitable, prickly Hail ... fast-paced, twisty space opera."—Library Journal (starred review) on Behind the Throne