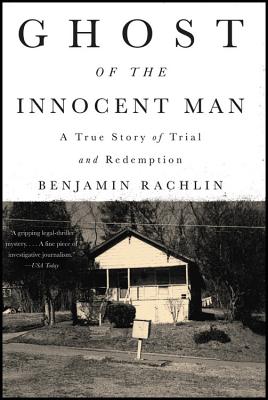 Ghost of the Innocent Man
A True Story of Trial and Redemption
Paperback

* Individual store prices may vary.
Other Editions of This Title:
Digital Audiobook (8/14/2017)
Hardcover (8/15/2017)
Description
A gripping account of one man's long road to freedom that will forever change how we understand our criminal justice system.

During the last three decades, more than two thousand American citizens have been wrongfully convicted. Ghost of the Innocent Man brings us one of the most dramatic of those cases and provides the clearest picture yet of the national scourge of wrongful conviction and of the opportunity for meaningful reform.

When the final gavel clapped in a rural southern courtroom in the summer of 1988, Willie J. Grimes, a gentle spirit with no record of violence, was shocked and devastated to be convicted of first-degree rape and sentenced to life imprisonment. Here is the story of this everyman and his extraordinary quarter-century-long journey to freedom, told in breathtaking and sympathetic detail, from the botched evidence and suspect testimony that led to his incarceration to the tireless efforts to prove his innocence and the identity of the true perpetrator. These were spearheaded by his relentless champion, Christine Mumma, a cofounder of North Carolina's Innocence Inquiry Commission. That commission -- unprecedented at its inception in 2006 -- remains a model organization unlike any other in the country, and one now responsible for a growing number of exonerations.

With meticulous, prismatic research and pulse-quickening prose, Benjamin Rachlin presents one man's tragedy and triumph. The jarring and unsettling truth is that the story of Willie J. Grimes, for all its outrage, dignity, and grace, is not a unique travesty. But through the harrowing and suspenseful account of one life, told from the inside, we experience the full horror of wrongful conviction on a national scale. Ghost of the Innocent Man is both rare and essential, a masterwork of empathy. The book offers a profound reckoning not only with the shortcomings of our criminal justice system but also with its possibilities for redemption.

"Remarkable . . . Captivating . . . Rachlin is a skilled storyteller."-New York Times Book Review

"A gripping legal-thriller mystery . . . Profoundly elevates good-cause advocacy to greater heights -- to where innocent lives are saved."-USA Today

"A crisply written page turner."-NPR
Praise For Ghost of the Innocent Man: A True Story of Trial and Redemption…
"Remarkable . . . A captivating, intimate profile of one
man's stubbornly persistent efforts to convince others of his innocence . . .
Rachlin is a skilled storyteller . . . With understatement and painstaking
reporting, he fully succeeds in his rich, intimate portrait of Grimes."—Alex Kotlowitz, New York Times Book Review

"A crisply written page turner . . . Rachlin painstakingly renders Grimes's life behind bars . . . Deploying the same precision with which he documents Grimes's prison life, Rachlin recounts the arduous and complex work to move the wheels of justice . . . Read Ghost of the Innocent Man to follow its twisted path . . . but don't read for the gripping story alone . . . The National Registry of Exonerations calculates that over 18,000 years have been lost by innocent people serving time . . . Shouldn't we be better than this?"—Martha Anne Toll, NPR

"Intriguing . . . A gripping legal-thriller mystery .
. . This is a story that profoundly elevates good-cause advocacy to greater
heights-to where innocent lives are saved . . . This empathetic book tells the
story of the beginnings of the movement to right a national crisis of wrongful
convictions-and of one of its first victories . . . A fine piece of
investigative journalism."—Don Oldenburg, USA Today

"Rachlin vividly describes the anguish that would well
up in Grimes again and again during his twenty-four years behind bars . . . In
Rachlin's skilled hands, Grimes's story triggers indignation but also confers
solace, Grimes [himself] being one of the solacing features."—Dennis Drabelle, The Washington Post

"Dramatic and eye-opening . . . A hopeful story . . . By showing us that the specter of wrongful convictions involves flesh-and-blood human beings, Ghost of the Innocent Man confronts us with the cruelest injustices of the criminal justice system, even as it also holds out hope for a more humane future."—San Francisco Chronicle

"One of the most powerful aspects of Ghost of the Innocent Man is its portrait of time behind bars--the transfers, delays, and letter-writing campaigns that form the scaffolding of lives in limbo . . . A story so important and infuriating it is hard to look away."—Claudia Rowe, Seattle Times

"Ghost of the Innocent Man is nothing less than a masterpiece of investigative reporting and virtuosic writing. It is a book that brilliantly substantiates society's elemental promise to its citizenry-that we not have our freedoms wrongly taken from us. Benjamin Rachlin's book is Greek drama brought into our own times. It will change readers' lives, I think, and inspire them. It's that good."—Richard Ford

"Ghost of the Innocent Man is deeply researched and, more importantly, deeply felt. For both reasons and many more, it is a profound meditation on the human condition and a vital contribution to the literature. The endurance and fortitude of Willie Grimes surpass those of any athlete or explorer. The passages in which Christine Mumma assembles lawmen and legislatures of all different creeds to help resolve an urgent national crisis should make us all consider these current times as not just toxic and tragic but filled with the possibility of hope and redemption. In the end, Benjamin Rachlin takes us through the justice system in all its immutability and shows us the light we can wield should we so choose."

—Jeff Hobbs, author of the New York Times bestseller The Short and Tragic Life of Robert Peace

"Enraging, instructive, and profoundly moving, Ghost of the Innocent Man is a gripping lesson in the terrible costs of our flawed criminal justice system and the power that individuals have to change its course. The story of how a gentle soul like Willie J. Grimes received an undeserved life sentence is heartbreaking-full of human cruelty and carelessness and worse. But in the care and exactitude of Benjamin Rachlin's telling, it is also an inspiring call for readily achievable reform. With judicious compassion, he narrates the errors, omissions, and societal forces that led to this wrongful conviction, setting it all squarely in the context of a persistent national disgrace, and reminding us of our responsibility to work toward true justice. The effect is remarkable and unforgettable."—Eli Sanders, Pulitzer Prize winner and author of While the City Slept

"Ghost of the Innocent Man is an honest and critical look at our justice system. . . [and] a meticulously researched book. It is a must-read for every American who cares about justice."—The Washington Book Review

"An absorbing true-crime saga . . . Rachlin's debut combines a gripping legal drama with a penetrating exposé of the shoddy investigative and trial standards nationwide . . . His narrative offers a moving evocation of faith under duress."
—Publishers Weekly (Starred Review)

"Grimes's story is both compelling and enraging, and
his thoughtfulness and persistence propel the story as much as the
determination and passion of the lawyers working to establish the Commission .
. . A sobering account of both a wrongful conviction and the structural
impediments to fixing miscarriages of justice, with a gut punch of a closing
paragraph."—Kate Sheehan, Library Journal (starred review)

"An absorbing story . . . In his moving
first book, Rachlin, with confidence and care, relays both the terrifying
personal costs and complex legalities, so dependent on fallible humans, of
wrongful conviction and imprisonment."—Annie Bostrom, Booklist

"In this compelling tale of crime and punishment (of the wrong person), Rachlin explores a horrible case of wrongful conviction and ultimate exoneration. Willie Grimes maintained his innocence in his 1988 trial, but was convicted on flimsy evidence and served over 20 years behind bars. By twinning Grimes' story with the establishment of North Carolina's Innocence Inquiry Commission, which was responsible for overturning the conviction, Rachlin enlarges the book's scope, making it not merely a chronicle of a serious miscarriage of justice, but a broader indictment of a flawed system, and the prison industrial complex, that made it possible."—The National Book Review

"Ghost of the Innocent Man is plainspoken-frank, yes, but even more potently, unadorned--either when Grimes is speaking or Rachlin is writing . . . The story is clean and tight, emotionally and psychologically expressive and expressionistic, and easily visualized by the mind's eye . . . A fine debut effort."—Peter Lewis, Barnes & Noble Review
Back Bay Books, 9780316311502, 400pp.
Publication Date: August 21, 2018
About the Author
Benjamin Rachlin grew up in New Hampshire. He studied English at Bowdoin College, where he won the Sinkinson Prize, and writing at the University of North Carolina Wilmington, where he won Schwartz and Brauer fellowships. His work has appeared, or is forthcoming, in the New York Times Magazine, TIME, and the Virginia Quarterly Review. He lives near Boston. Ghost of the Innocent Man is his first book.
or
Not Currently Available for Direct Purchase