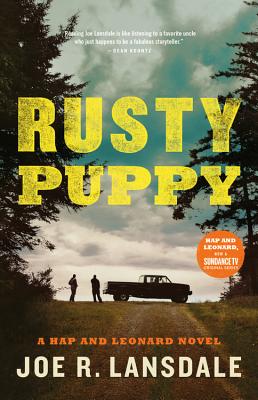 Rusty Puppy (Hap and Leonard #10)
Hardcover

* Individual store prices may vary.
Other Editions of This Title:
Digital Audiobook (2/20/2017)
Description
Hap and Leonard investigate a racially motivated murder that threatens to tear apart their East Texas town.

While Hap, a former 60s activist and self-proclaimed white trash rebel, is recovering from a life-threatening stab wound, Louise Elton comes into Hap and Leonard's PI office to tell him that the police have killed her son, Jamar.

Months earlier, a bully cop pulled over and sexually harassed Jamar's sister, Charm. The officer followed Charm over the course of the next couple of months, leading Jamar to videotape and take notes on the cop and his partner. The next thing Louise hears, Jamar got in a fight and is killed in the projects by local hoods. It doesn't add up: he was a straight A student, destined for better things, until he began to ask too many questions about the racist police force.

Leonard, a tough black gay Vietnam vet and Republican, joins Hap in the investigation, and they stumble upon the racial divides that have shaped their Eastern Texas town. But if anyone can navigate these pitfalls and bring the killers to justice, it's Hap and Leonard.

Filled with Lansdale's trademark whip-smart dialogue, colorful characters, and relentless pacing, Rusty Puppy is Joe Lansdale at his page-turning best.
Praise For Rusty Puppy (Hap and Leonard #10)…
"Dark, moving . . . As always, Lansdale spins a wild, rollicking yarn, but behind all the mayhem is a heartfelt tale about friendship, brotherhood, loyalty, and family. Hap andLeonard are complicated, violent men, but they display a basic humanity and decency that carries this remarkable series along."—Publishers Weekly (starred review)

"A unique mix of sly humor and horrific violence. Readers will laugh at some particularly profane smart-ass repartee and then want to cover their eyes a couple sentences later as the violence explodes. Another fine entry in a great series."—Booklist (starred review)

"The pleasure of any Hap and Leonard mystery is the yin-yang of the two heroes: white/black, straight/gay, liberal/conservative, easygoing/hair-trigger temper. Without making any brotherhood speeches, the books are rough-hewn fables of tolerance in action. Part of the reason it all goes down without any kind of 'Kumbaya' ickiness is that Lansdale writes such good smart-ass repartee. . . . This puppy tells a waggly tale the reader is happy to follow down the roughest paths."—Kirkus Reviews

"Joe R. Lansdale has a wicked way with words. Hap Collins and Leonard Pine, small-town East Texas private detectives, say the filthiest things. Some of it is good-natured banter between buddies; the rest is don't-mess-with-me trash talk. And they don't just talk dirty. They fight dirty, too. One almost feels guilty enjoying their raw, rollicking adventures. But Lansdale, an Edgar Award-winning writer from Nacogdoches, has a way of winning readers over with his deceptively elegant brand of "redneck noir."—Ft. Worth Star Telegram

Lansdale "has a wonderfully warped way with words. In his hands, everyone can curse a blue streak and it comes out as profane poetry."—Dallas Morning News

"Lansdale has a knack for murder, though thankfully he limits that talent to the fictional adventures of crime-fighting duo Hap and Leonard."—Houston Press
Mulholland Books, 9780316311564, 288pp.
Publication Date: February 21, 2017
About the Author
Joe R. Lansdale is the author of nearly four dozen novels, including Rusty Puppy, the Edgar-award winning The Bottoms, Sunset and Sawdust, and Leather Maiden. He has received nine Bram Stoker Awards, the American Mystery Award, the British Fantasy Award, and the Grinzane Cavour Prize for Literature. He lives with his family in Nacogdoches, Texas.
or
Not Currently Available for Direct Purchase