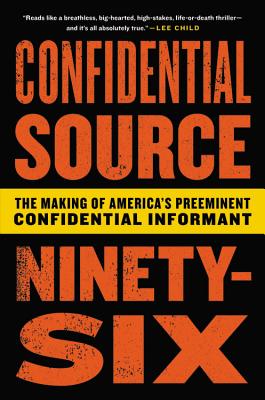 Confidential Source Ninety-Six (Hardcover)
The Making of America's Preeminent Confidential Informant
Hachette Books, 9780316315371, 304pp.
Publication Date: August 22, 2017
Other Editions of This Title:
Digital Audiobook (8/21/2017)
Compact Disc (9/1/2017)
* Individual store prices may vary.
Description
A HARROWING JOURNEY INSIDE THE HIDDEN WORLD OF DRUG CARTELS BY ONE OF THE TOP CRIMINAL INFORMANTS IN U.S. LAW ENFORCEMENT HISTORY.

The men he put behind bars know him as Roman Caribe or one of the dozens of other aliases he has used undercover. His handlers in the DEA, ICE, and FBI know him as Confidential Source Ninety-Six, or C.S. 96, named for the year he confronted the sins of his life atop a massive drug distribution ring and flipped, becoming law enforcement's secret weapon.

In Confidential Source Ninety-Six, Caribe tells the extraordinary story of his transformation into America's most successful informant in terms of total narcotics seized--from the years of trafficking cocaine and marijuana across the U.S. for a terrifying drug lord, eventually becoming that man's number two, to his decision to defect and trade sides. In his first mission, Caribe set his sights on his onetime boss's brutal operation. In his next, he broke all protocol and made a daring foray into the notorious Fuentes Cartel, where he took down a family that was smuggling tons of drugs across the U.S.-Mexico border.

As Caribe launched his career as a confidential source, finding his faith and seeking to finally do right by his stoic wife, Inez, and his four children, his marriage became stressed in new ways, the risks to his family unimaginable if he made a single mistake on the job. He found himself looking over his shoulder every day, knowing that with each drug ring or kingpin he destroyed, he made another dangerous enemy. For as long as he continued the high stakes work, he would survive on the cunning of his tradecraft and his ability to improvise in the most terrifying circumstances.

Unfolding in Southern California mansions, makeshift DEA trailers deep in the redwood forest, drug fronts in Spanish Harlem, fast-food parking lots where kilograms of cocaine and heroin change hands, and around the dinner table where Caribe began mentoring at-risk youth to help them avoid the mistakes he made, Confidential Source Ninety-Six is the epic saga of one man's quest to redeem himself and a thrilling look at the law enforcement battle that rages in the shadows of our nation.

About the Author
Roman Caribe, is the most successful confidential informant in U.S. law enforcement history in terms of dollars of narcotics whose seizure he has helped facilitate. The onetime mastermind of an illegal drug distribution ring, he abandoned the drug trade after being given an opportunity to flip in the wake of a drug bust. He is an ordained Christian minister.

Robert Cea, a former New York City police officer and detective who was the recipient of 136 commendations for bravery, courage under fire, and meritorious police actions, is the author of the memoir No Lights, No Sirens: The Corruption and Redemption of an Inner City Cop. He has worked as the writer and producer for television series including Discovery Channel's Flipped: A Mobster Tells All and feature films including The Day the Ponies Come Back.
Praise For Confidential Source Ninety-Six: The Making of America's Preeminent Confidential Informant…
"Reads
like a breathless, big-hearted, high-stakes, life-or-death thriller--and it's
all absolutely true."—Lee Child




"In this thrilling firsthand look at the drug underworld,
Roman Caribe doesn't just expose how the Cartels have wreaked havoc on our
nation; he also shows the incredible lengths that Americans go to every day to
end their lethal game. Make Confidential Source Ninety-Six your own
informant and have the ride of your life."—Charles Brandt, #1 New York Times bestselling author of I Heard You Paint Houses

"Whether you're an
undercover agent or a confidential informant, the path you walk is
dangerous-and not just for you, but for your whole family. You're going to root
for Roman Caribe at every turn, and you're going to hold your breath and thank
God that you will never have to walk the incredible path he has."—William "Billy" Queen, ATF Special Agent ret. and New York Times bestselling author of Under and Alone

"It is hard to imagine a more
dangerous job than being a high-level confidential informant....[T]hey are integral to law enforcement in solving crimes, seizing narcotics,
infiltrating gangs and preventing terrorist attacks. This book takes us into a
world of darkness, danger, skullduggery, and betrayal that few people could
fathom, much less believe. It is a wild ride; certainly not for the faint of
heart."—Robert Mladinich, former NYPD detective, author of From the Mouth of the Monster: The Joel Rifkin Story, and coauthor of Undisclosed Files of the Police: Cases from the Archives of the NYPD from 1831 to the Present

"Confidential Source Ninety-Six takes the
reader on a scary ride into the dark underworld of high level drug kingpins and
their henchmen. This is real life drama that is fast paced, informative, and
entertaining."—Charles Campisi, former Chief of NYPD's Internal Affairs Bureau and author of Blue on Blue: An Insider's Story of Good Cops Catching Bad Cops

"This book combines the adrenaline-rush pacing of
pulp fiction with a memoir's grounding in truth....a suitably grim
inside look at the front lines of the drug war."—Kirkus Reviews


"Roman Caribe's success as an informant is
astonishing--until, that is, you see what he and his law enforcement partners
did to crack every case they worked on and track down the crooks funneling
drugs into our country. You've got to read this to believe it."—Tommy Dades, coauthor of Friends of the Family: The Inside Story of the Mafia Cops Case
or
Not Currently Available for Direct Purchase