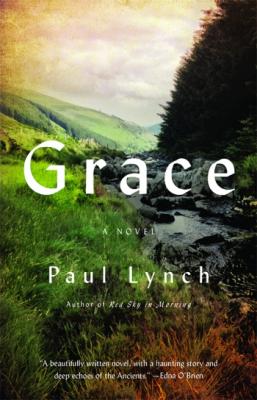 Grace
A Novel
Hardcover

* Individual store prices may vary.
Other Editions of This Title:
Paperback (6/26/2018)
Description
A Paris Review Staff Pick: a sweeping, Dickensian story of a young girl on a life-changing journey across nineteenth-century Ireland on the eve of the Great Famine.

Early one October morning, Grace's mother snatches her from sleep and brutally cuts off her hair, declaring, "You are the strong one now." With winter close at hand and Ireland already suffering, Grace is no longer safe at home. And so her mother outfits her in men's clothing and casts her out.

When her younger brother Colly follows after her, the two set off on a remarkable odyssey in the looming shadow of their country's darkest hour. The broken land they pass through reveals untold suffering as well as unexpected beauty. To survive, Grace must become a boy, a bandit, a penitent and, finally, a woman -- all the while afflicted by inner voices that arise out of what she has seen and what she has lost.

Told in bold and lyrical language by an author who has already been called "one of his generation's very finest novelists" (Ron Rash, author of The Risen), Grace is an epic coming-of-age novel and a poetic evocation of the Irish famine as it has never been written.
Praise For Grace: A Novel…
PRAISE FOR GRACE
"Grace is a story of ghosts but it isn't a ghost story. Grace is a story of the Great Famine, but it's not narrowly political. Grace is a tale of misery, but it's not a misery memoir. Lynch is a sure-footed tightrope walker....his lush, poetic prose deliberately and painfully acts as a foil to the reality of the famine."
—
Katherine Grant
,
The New York Times Book Review
"A moving work of lyrical and at times hallucinatory beauty...
Grace
reads like a hybrid of John Steinbeck's
The Grapes of Wrath
and Cormac McCarthy's
The Road
...Grace is a plucky, headstrong survivor, and she survives a great deal in the course of this book...There is an undercurrent of populist ire that resonates with our own turbulent times...The readers of this novel will care a great deal about the fates of Grace and her fellow travelers."—
John Michaud
,
The Washington Post
Lynch never shies away from the subject matter...but
he entwines it all with prose that sways from brutally realistic scenes into
the fullness of the landscape and back again in just a few words...In Lynch's
deft hands I found myself enthralled as Grace cuts herself a path through a
forbidding world."
—
Johanna Zwirner
,
The Paris Review
"
Grace
belongs to several great traditions--the picaresque novel, the coming-of-age novel, and the orphan novel.... The familiar world was made new, in the worst way, by the famine; Lynch makes it new again by his prose.... Not surprisingly
Grace
is a relentless novel, but Lynch allows his heroine a true complexity of feeling that allows the reader to empathize even as we wring our hands.
Grace
is not only a gripping tale about an appalling period in history--although that would be quite enough--but also, sadly, piercingly relevant."—
Margot Livesey
,
Boston Globe
"An epic tale of endurance, which in Lynch's
deft hands is harrowing and simultaneously starkly beautiful."
—
Angela Ledgerwood
,
Esquire
"In 19th-century Ireland, with the Great Famine looming, a young girl named Grace embarks on a journey and comes of age across a landscape rife with suffering and flashes of beauty."
—
Caroline Rogers
,
Southern Living
"It's not just style that makes this an unforgettable book. Its heroine, 14-year-old Grace, may not have much to say for herself, but her younger brother, Colly, is a gleefully riddling, smutty delight. Separated by a tragedy soon after they are expelled from home to fend for themselves, Colly's irresistible voice continues to ring in Grace's ears.
What ensues is full of incident and grotesques, fizzing with adventure, a counter to the enervating effects of their starvation. But gradually it becomes a darker book as hunger eats away at humanity - and the darker it gets, the more [Lynch's] unerring gifts are confirmed."
—
Stephanie Cross
,
The Daily Mail UK
"Rich prose, dense with meaning...a profound and unusual coming-of-age story."
—
The Sunday Times UK
"The prose flows like good Irish whiskey and
compels readers to keep drinking in Lynch's words; sometimes so poetic they
read like a James Joyce novel."
—
Kathe Robin
,
RT Book Review
"When you finish, you feel like saying 'wow.' Under your breath perhaps, but do not be hard on yourself if you shout it out, because this is a work of staggering beauty and deep insight.... Sentence after sentence pulls you up in your tracks and has you rereading."
—
Frank O'Shea
,
Sydney Morning Herald
"As a writer, Lynch is sui generis. His style is
bold, grandiose, mesmeric. He strives for large effects, wrestles with big
ideas. In Melville's formulation, he is one of those writers who dares "to
dive" into the darkest recesses of the soul, risking all to surface clutching
the pearl."
—
Bert Wright
,
The Sunday Times Ireland
"
Grace
shares the linguistic virtuosity of Lynch's earlier books.... But in these pages Lynch has deepened and refined his art considerably--there are entire sections of the book that are unforgettable....
Grace
grows in narrative strength as it follows Grace and Colly on their trek across an Ireland so emptied and bewildered it might as well be some fantasy novel's post-apocalyptic landscape."—
Steve Donoghue
,
Open Letters Monthly
"Growing into womanhood as a wanderer, Grace rises above cruel circumstances to control her own destiny in remarkably surprising directions, casting new light on this grim and pivotal era in Irish history."
—
Margaret Flanagan
,
Booklist
"Sheer transfixing energy.... There is a strong smack of McCarthy in
Grace
's tale of a perilous but cathartic road trip through a desolate world.... Lynch is frighteningly skilled, searing images into the mind and forcing you to press carefully through sentences as if they are strips of long grass.... The connection to the land is unmistakable even if this an ultra-gothic vision of Ireland."—
Hilary A. White
,
Irish Independent
"
Grace
offers an intriguing perspective on the concepts of femininity and hardship, one that feels as though it has already claimed its place among great Irish literature."—
Hope Racine
,
BookPage
"Grace's journey is thrilling enough but Lynch's poetic and cinematic prose endows her with a voice that should make her a classic of Irish literature.... Not just another historical novel,
Grace
is one of the most memorable and unique books I've read.—
Zoe Fairtlough
,
Bookbrowse
"A beautifully written novel, with a haunting story and deep echoes of the Ancients."
—
Edna O'Brien
,
-
"As McCarthy answered Faulkner, Lynch offers the most convincing answer to McCarthy that we've seen yet in literature. Lynch sacrifices none of the rigor and menace while summoning an emotional power that leaves one stunned at times.
Grace
is a novel of surpassing beauty and moral weight, and Lynch is a prodigious talent, with a sorcerer's command of the language and an extraordinary artistic integrity. This is a masterwork."—
Matthew Thomas
,
New York Times-bestselling author of We Are Not Ourselves
"
Grace
is fierce wonder, a journey that moves with the same power and invention as the girl at its center. What Paul Lynch brings to these pages is more than mere talent-it's a searing commitment to story and soul, and in witnessing Grace's transformations, one can't help but feel changed too. This novel is faith, poetry, lament, and triumph; its mark is not only luminous, but it promises to never fade."
—
Affinity Konar
,
author of Mischling"Grace is a mesmerizing, incandescent work of art.
Each exquisite sentence binds its own separate spell. It's all things together, but never lets its own weight be felt: a tragedy, an adventure, a romance, a coming-of-age, a searing exposition of historical truths; an interrogation of the nature of time and existence. Above all and through all it's a perfect story, an exhilarating, odyssean, heart-pounding, glorious story, wrought by a novelist with the eye and the ear and the heart of an absolute master of his trade.
Paul Lynch is peerless.
Grace Coyle, daughter of Coll, will be one of the enduring heroines of world literature."
—
Donal Ryan
,
author of The Spinning Heart
"If you took the most overwhelming and distilled moments of a life-those instants when even a small brush of the wind over a stream seems to speak to the whole problem of living-and scattered them along an Irish riverside during that country's great famine, you might arrive at
Grace
. This is a major work of lasting, powerful feelings that might find a place amidst your memories of
Light in August
and
Huckleberry Finn."
—
Will Chancellor
,
author of A Brave Man Seven Storeys Tall
"From the savage scalp-shearing of its start, through pages of figurative and literal black, to the 'good blue days' of its end,
Grace
is a thing of power and of wonder. Paul Lynch writes novels the way we need them to be written: as if every letter of every word mattered. This whole book is on fire."
—
Laird Hunt
,
author of Neverhome and The Evening Road
"The power of Paul Lynch's imagination is truly startling; his ability to inhabit and deeply understand the moments, both slight and shattering, of a life and of an era translates into an instinct not just for story, but for the most hidden, most forceful currents of language and what they can do."
—
Belinda McKeon
,
author of Tender
"A terrible beauty: Paul Lynch's
Grace
, a shudderingly well-written, dead-real, hallucinatory trip across Famine Ireland."—
Emma Donoghue
,
author of The Wonder
"Lynch's wonderful third novel follows a teenage girl through impoverished Ireland at the height of the Great Famine.... Lynch's powerful, inventive language intensifies the poignancy of the woe that characterizes this world of have-nothings struggling to survive."
—
Publishers Weekly (Starred Review)
"A gifted Irish author offers another take on his country's Great Famine through the eyes of a teenage girl as she travels through a land wracked by want.....This is a writer who wrenches beauty even from the horror that makes a starving girl think her 'blood is trickling over the rocks of my bones.'"
—
Kirkus Reviews (Starred Review)
"Readers who enjoy a challenge and a smattering of Gaelic will be enthralled...bleak and unsparing yet often mesmerizing."
—
Christine Perkins
,
LibraryJournal
Little, Brown and Company, 9780316316309, 368pp.
Publication Date: July 11, 2017
About the Author
Paul Lynch was born in 1977 and lives in Dublin. He was the chief film critic of Ireland's Sunday Tribune newspaper from 2007-2011. He has written regularly for the Sunday Times on film and has also written for the Irish Times, the Sunday Business Post, the Irish Daily Mail, and Film Ireland. He is the author of Red Sky in Morning.
or
Not Currently Available for Direct Purchase