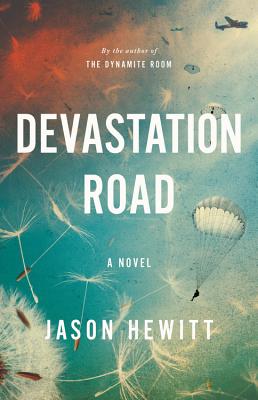 Devastation Road (Hardcover)
A Novel
Little, Brown and Company, 9780316316354, 384pp.
Publication Date: July 3, 2017
* Individual store prices may vary.
Description
A deeply compelling and poignant story about the tragic lessons of war and the endurance of memory.

In the last months of World War II, a man wakes in a field in a country he does not know. Injured and with only flashes of memory coming back to him, he pulls himself to his feet and starts to walk, setting out on an extraordinary journey in search of his home, his past, and himself.

His name is Owen. A war he has only a vague recollection of joining is in its dying days, and as he tries to get back to England, he becomes caught up in the flood of rootless people pouring through Europe. Among them is a teenage boy, and together they form an unlikely alliance as they cross battle-worn Germany.

When they meet a troubled young woman, tempers flare and scars are revealed as Owen gathers up the shattered pieces of his life. No one is as he remembers, not even himself. How can he truly return home when he hardly recalls what home is?



About the Author
Jason Hewitt is a novelist, playwright and actor. He was born in Oxford, and lives in London. His debut novel, The Dynamite Room, was long-listed for the Desmond Elliott Prize and the Authors' Club First Novel Award.

Praise For Devastation Road: A Novel…
PRAISE FOR DEVASTATION ROAD:

"There's a world of suffering in this story, sincerely portrayed...Hewitt delivers an intriguingly structured sidebar to World War II."—Kirkus


"A truly absorbing read, the kind you finish in a single sitting, and...a most welcome addition to the body of wartime tales."
—Rosemary Goring, Sunday Herald

"Utterly magnificent. A passionate, intelligent and lyrical book, whose characters are compelling, intricate, complex, surprising people."—Manda Scott, author of Into the Fire

"Told with aching realism, it is the story of one man's search for himself amidst the terror of war.... A gripping novel that will stay with you long after you have read the last page."—Sophia Whitfield, Culture Street

"A wide-reaching and poignant evocation of WWII and its landswept aftermath. Told in exquisite prose, Owen's journey builds to a powerful and yes devastating-finale. The most moving and gripping novel I've read in a long while."—Alex Preston, author of In Love and War

"A hypnotic and heartrending tale of fragmented wartime memories. Beautifully written."—Juliet West, author of Before the Fall

"Conjuring up the confusion of terror and war in which Hewitt's central character struggles to reclaim his sense of self."—Nick Rennison, London Sunday Times