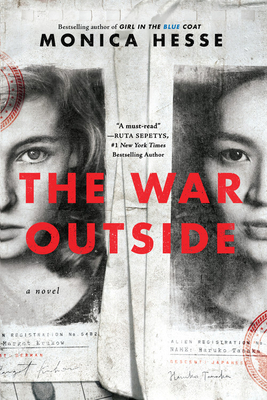 The War Outside
Paperback

* Individual store prices may vary.
Other Editions of This Title:
Digital Audiobook (9/24/2018)
Hardcover (9/25/2018)
CD-Audio (10/2/2018)
Compact Disc (9/25/2018)
Fall 2018 Kids Indie Next List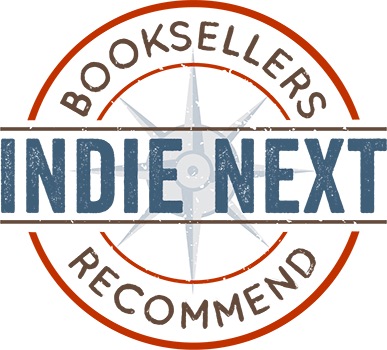 "These teens couldn't be more different: Haruko, Japanese American, outgoing, popular, compliant; and Margot, German American, reclusive, mistrustful, analytical. But what they have in common is more important: they're very bright, observant members of families in turmoil, and in 1944 they're living in an internment camp for enemy aliens. A secret and unlikely friendship becomes a lifeline for both of them. Like Hesse's
Girl in the Blue Coat
, this riveting novel takes readers where we've never imagined going, with twists, turns, and startling intensity. The book is mesmerizing, empathetic, and incredibly timely in its treatment of injustice and fear of the other."
— Banna Rubinow, The River's End Bookstore, Oswego, NY
View the List
Description
An "important" (New York Times Book Review), "extraordinary" (Booklist, starred review) novel of conviction, friendship, and betrayal, from Monica Hesse, the bestselling and award-winning author of Girl in the Blue Coat

"A must-read for fans of historical fiction." --Ruta Sepetys, #1 New York Times bestselling author

It's 1944, and World War II is raging across Europe and the Pacific. The war seemed far away from Margot in Iowa and Haruko in Colorado--until they were uprooted to dusty Texas, all because of the places their parents once called home: Germany and Japan.

Haruko and Margot meet at the high school in Crystal City, a "family internment camp" for those accused of colluding with the enemy. The teens discover that they are polar opposites in so many ways, except for one that seems to override all the others: the camp is changing them, day by day and piece by piece. Haruko finds herself consumed by fear for her soldier brother and distrust of her father, who she knows is keeping something from her. And Margot is doing everything she can to keep her family whole as her mother's health deteriorates and her rational, patriotic father becomes a man who distrusts America and fraternizes with Nazis.

With everything around them falling apart, Margot and Haruko find solace in their growing, secret friendship. But in a prison the government has deemed full of spies, can they trust anyone--even each other?

*Don't miss Monica Hesse's New York Times bestselling historical mysteries, Girl in the Blue Coat and They Went Left*
Praise For The War Outside…
Praise for The War Outside:A Publishers Weekly Best Book of 2018A 2019 YALSA Best Fiction for Young Adults PickA 2018 BCCB Bulletin Blue Ribbon TitleA 2019 Notable Social Studies Trade Book for Young People
"Once again, Monica Hesse delivers an incredibly compelling and beautifully researched novel. The War Outside vividly brings readers into an underrepresented and dark period of American history. A must-read for fans of historical fiction."—Ruta Sepetys, #1 New York Times bestselling author

"Monica Hesse takes a setting we think we understand and shifts it in an important way...a tightly plotted exploration of the consequences of fear."—The New York Times Book Review

* "Superb... A satisfying and bittersweet novel, perfect for those who enjoyed Markus Zusak's The Book Thief."—SLJ, starred review

* "An extraordinary novel of injustice and xenophobia based on real history."—Booklist, starred review

* "A moving book that successfully describes an unjust aspect of U.S. History"—Publishers Weekly, starred review

* "Keeps readers guessing through the final pages."
—BCCB, starred review

* "Teens and adults interested in WWII books, especially situations that haven't been written about extensively,will want to experience this story."—SLC, starred review

"Timely...[Hesse] again uses a well-researched historical backdrop to tell a powerful coming-of-age story."—The Washington Post

"Hesse's books are like time machines-vehicles that help us explore our past."—Mashable

"Monica Hesse's The War Outside pierces the heart with its exceptional story of family, friends and country...Riveting and meticulously researched, this story reverberates with authentic voices as it explores adolescent growth under dreadful circumstances."—BookPage

"I did not expect this book to knock me off my feet with its lyrical brilliance, vivid storyline, and heart wrenching ending. Let's just say, if all historical fiction was like this book, it'd be my most-read genre."
—Book Riot

Praise for Girl in the Blue Coat:The Edgar Award Winner for Best Young Adult Mystery Novel 2017
A New York Public Library Best Book for Teens of 2016
An Entertainment Weekly Best YA Book of 2016
A Booklist Best Young Adult Book of 2016
A Notable Social Studies Trade Books for Young People Selection 2017
A 2017 Indies Choice Awards Finalist for Best Young Adult Book
A YALSA 2017 Best Book for Young Adults
A 2017 Bank Street College of Education Best Children's Book of the Year
A 2017 Wyoming Soaring Eagle Book Award Nominee
A 2017 Washington, D.C. Capitol Choices List recommended title
A 2018 Connecticut Nutmeg Book Award Nominee
2018 All Iowa Young Adults Read


"Girl in the Blue Coat is a powerful, compelling coming-of-age story set against the dark and dangerous backdrop of World War II. It's an important and page-turning look at the choices all of us--including young adults--have to make in wartime. A beautiful combination of heartbreak, loss, young love, and hope."—Kristin Hannah, #1 New York Times bestselling author of The Nightingale

"A tapestry of guilt and acceptance, growing responsibility, and reluctant heroism, Hanneke's coming-of-age under heartbreaking circumstances is a jarring reminder of how war consumes and transforms the passions of ordinary life. Every devastating moment of this beautiful novel is both poignant and powerful, and every word feels true."—Elizabeth Wein, New York Times bestselling author of Black Dove, White Raven; Rose Under Fire; and the Printz Honor-winning Code Name Verity

"In an occupied city, a young woman's daring transforms into true courage when she confronts a mystifying disappearance. From page one, I couldn't turn the pages fast enough. Enthralling."—Judy Blundell, New York Times bestselling author of Strings Attached and the National Book Award-winning What I Saw and How I Lied

"It's no small feat to bring the past to life, especially a history as dark and desperate as World War II. Monica Hesse does just this with Hanneke's story. Brace yourself, dear reader, to have your heart bruised--and possibly even broken--in the most meaningful of ways."—Ryan Graudin, author of The Walled City and Wolf by Wolf

"Taut and intelligent... the historical setting is rendered the way only an expert can do it."—The Washington Post

* "[An] affecting novel...that skillfully combines reality with fiction. Her characters come alive, and...Hesse's pacing infuses her story with thriller suspense, enriching the narrative with dramatic surprises both small and large."—Booklist (starred review)

* "Riveting... a gripping historical mystery."—Publishers Weekly (starred review)

* "This fast-paced story is alternately touching, heart-pounding and wrenching--but always gripping...a heartrending, moving story."—VOYA (starred review)

* "A poignant, wonderfully crafted story of love and loss, courage and redemption."—Shelf Awareness (starred review)

"[An] intelligent and humane historical mystery."—The Wall Street Journal

"The themes of love, betrayal, heroism, social responsibility, and atonement are beautifully intertwined with well-developed characters and a compelling story line. Thoroughly researched, this work brings history alive in a clear and concise way that rings true. A must-read for fans of historical fiction, especially stories set during World War II."—School Library Journal

"Rich in content and emotion, this is a first-rate companion to the historical tales of the onderduikers, the hidden Jews of Holland, and a compelling read."—Kirkus Reviews

"This heartbreaking story of terror and loss sweeps you into a time-is-running-out mystery that delivers plot twists and a shocking final punch that'll haunt you for days."—Justine Magazine
Little, Brown Books for Young Readers, 9780316316712, 352pp.
Publication Date: October 1, 2019
About the Author
Monica Hesse is the bestselling author of Girl in the Blue Coat and American Fire, as well as a journalist with The Washington Post. She lives outside Washington, D.C. with her husband and their dog.
1. In the first chapter, Haruko's mom tells their family story (pages 4-5), but leaves out some details. Why do you think that information is important to Haruko? Why do you think her mom left it out?
2. Why do you think the internment camp has separate housing for the German and Japanese prisoners, despite placing them in the same camp?
3. On page 48, Haruko recalls the moment her family got removed from their home and reveals that she suspects that her father is hiding something from her. How does Haruko's speculation compare to the reality? Do you think Haruko would have acted any differently if she had known all the information from the start?
4. The Crystal City Internment Camp was a real place located in Crystal City, Texas. What other ways could the internment camp's name, "Crystal City", be interpreted?
5. What do you think would have happened if Margot and Haruko were ever discovered in the ice house together?
6. Some of Ken's letters are censored by the government. What do you think was written in those censored portions? Do you think Ken knew that his words would be erased before getting to his family? If so, why did he write them?
7. Why did Margot and Mutti join Vati in Crystal City? Do you think it was a choice and, if so, do you think they made the right one?
8. On page 193, Haruko and Ken repeat lines from posters they saw in their childhood: "Loose lips might sink ships/An enemy's ear might be near/Stop all loose talk to strangers." What significance do these lines hold? How do they relate to the larger plot of this book?
9. How do you make sense of the scene where Mike, the guard who befriended Haruko, lies to defend his fellow guard?
10. Margot's father's distrust in America intensifies to the point where he takes extreme action. What factors do you think contributed to his decision?
11. At the end of the book, Haruko and her family's lives change drastically. What factors led to that outcome? Do you think the characters in the book were justified in acting the ways that they did?
12. What parallels can you draw between the historical World War II events in the book and the world today? What themes from the book feel relevant today, and why?