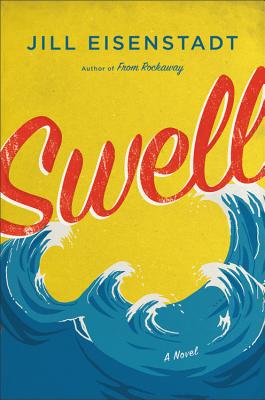 Swell (Hardcover)
A Novel
Lee Boudreaux Books, 9780316316903, 272pp.
Publication Date: June 6, 2017
Other Editions of This Title:
Digital Audiobook (6/5/2017)
Paperback (6/5/2018)
Compact Disc (6/6/2017)
Compact Disc (6/6/2017)
* Individual store prices may vary.
Description
Thirty years after From Rockaway ("A great first novel", Harper's Bazaar), Jill Eisenstadt returns with a darkly funny new work of fiction that exposes a city and a family at their most vulnerable.

When Sue Glassman's family needs a new home, Sue relents, after years of resisting, and agrees to convert to Judaism. In return, Sue's father-in-law, Sy, buys the family -- Sue, Dan, and their two daughters -- a capacious but ramshackle beachfront house in Rockaway, Queens, a world away from the Glassmans' cramped Tribeca apartment. The catch? Sy is moving in, too. And the house is haunted.

On the weekend of Sue's conversion party, ninety-year-old Rose, who (literally) got away with murder on the premises years earlier, shows up uninvited. Towing a suitcase-sized pocketbook, having escaped an assisted living facility in Forest Hills, Rose seems intent on moving back in. Enter neighbor Tim -- formerly Timmy (see From Rockaway), a former lifeguard, former firefighter, and reformed alcoholic -- who feels, for reasons even he can't explain, inordinately protective of the Glassmans.

The collective nervous breakdown occasioned by Rose's return swells to operatic heights in a novel that charms and surprises on every page as it unflinchingly addresses the perils of living in a world rife with uncertainty.
About the Author
Jill Eisenstadt is the author of the novels From Rockaway and Kiss Out. Her writing has appeared in the New York Times, Vogue, Elle, Boston Review, New York Magazine, and BOMB. She lives in Brooklyn.
Praise For Swell: A Novel…
"Eisenstadt's detailed and eclectic novel takes readers to a dilapidated
oceanfront house full of secrets, ghosts, and an old woman's cast-off
tchotchkes....In this touching portrait of ordinary people grappling with
the aftershocks of 9/11--memorials, uncertainty, death, and a new
life--the emotional upheaval of a national tragedy leaves no one
unaffected."
—Publishers Weekly


"Swell combines comedy and tragedy, chaos and a longing for order."—Hillel Italie, Associated Press



"With tremendous tenderness, Eisenstadt captures the traumatized
Rockaway of the early 2000s in swirling Technicolor....A whimsical portrait
of a still-raw community."
—Kirkus Reviews


"In her new novel, Swell, Jill Eisenstadt comes back to Rockaway, and this
visit revolves around historical events of recent decades....Swell is
anchored in real understanding of the people of Rockaway, what they went
through in those years and their recourse to black humor."—Newsday

"Moving, dark, and funny."—David Gutowski, Largehearted Boy


"With a pitch-perfect narrative voice and plenty of humor, Eisenstadt
captures the lives of her Mets-loving and Yankee-hating characters in
vivid detail."—Booklist

"Mordantly funny."
—Colette Bancroft, Tampa Bay Times



"Comic, dark...layered with ghosts and guilt and demons. It plays with
our notions of heroes and heroism, and jabs at our one-dimensional
instinct to deify in the face of tragedy."—Casey Barrett, Village Voice

or
Not Currently Available for Direct Purchase