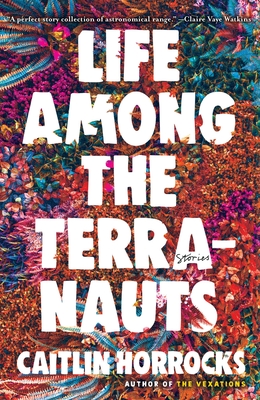 Life Among the Terranauts
Hardcover

* Individual store prices may vary.
Description
From the author of the "enthralling" (New York Times Book Review) and "beautiful" (Washington Post) debut novel The Vexations comes an exciting new story collection that is "perfect for fans of George Saunders and Karen Russell" (Booklist), moving boldly between the real and the surreal

A New York Times Book Review Editors' Choice
Longlisted for the Joyce Carol Oates Prize

Following her "marvelous" (Wall Street Journal) first novel, Caitlin Horrocks returns with a much-anticipated collection of short stories. In her signature, genre-defying style, she explodes our notions of what a story can do and where it can take us. 

Life Among the Terranauts demonstrates all the inventiveness that won admirers for Horrocks's first collection. In "The Sleep," reprinted in Best American Short Stories, residents of a town in the frigid Midwest decide to hibernate through the bitter winters. In the title story, half a dozen people move into an experimental biodome for a shot at a million dollars, if they can survive two years. And in "Sun City," published in The New Yorker, a young woman meets her grandmother's roommate in the wake of her death and attempts to solve the mystery of whether the two women were lovers.

As the Boston Globe noted of her first collection, Horrocks is a master of "wild yet delicately handled satire," a "sprightly heartbreak" in which she is able to "mingle a note of tenderness in the desolation." With its startling range—from Norwegian trolls to Peruvian tour guides—Life Among the Terranauts once again dazzles readers, cementing Horrocks's reputation as one of the premier young writers of our time.
Praise For Life Among the Terranauts…
"Potent… The slow violence of economic hardship and ecological degradation underpins each tale." —The New Yorker

"Life Among the Terranauts reinforces Caitlin Horrocks's status as a maestro of short fiction… compiled of humorous and tenacious stories that serve as a reminder that the flyover states are rife with folklore and intrigue. The sense of place matches the sense of wonder, a perfect amalgamation of geography and plot."—Aram Mrjoian, Chicago Review of Books

"Genre-bending, hauntingly environmental." —Entertainment Weekly

"A series of vivid, immersive short stories… Whether you enjoy sci-fi, realistic fiction or bite-sized escapes from the real world, you'll find something to love here."—Good Housekeeping (Best Books of the Year)

"Horrocks is adept at playing with perspective, delving into the minds of puzzling, sometimes troubling, characters… 'Life Among the Terranauts' is a chilling story, and it is fitting that the volume bears its name. The title captures the collection's breadth… 'Teacher' is brief but vivid, its opening and closing lines full of searing clarity." —Noor Qasim, New York Times Book Review

"Pristine… while the stories are thematically at home alongside Horrocks' previous work, they are unquestionably an artistic and technical leap beyond… Horrocks is a fan of narrative voices that set the reader at ease from the opening line… But any breeziness is eventually undercut by an insidiousness lurking at the heart of each story, as these narrators tell you their deepest secrets… Horrocks proves herself a master of locating the identity of a place, evoking tone, and summoning a character with a single, authenticating detail." —David James Poissant, New York Journal of Books

"A series of vivid, immersive short stories… we meet characters… navigating deeply human experiences that could be ripped from our own lives. Whether you enjoy sci-fi, realistic fiction or bite-sized escapes from the real world, you'll find something to love here."—Lizz Schumer, Good Housekeeping, Best Books to Read in 2021

"These stories… are fascinated by the congenitally antisocial. Characters keep themselves separated from lovers and family members for no reason they can name, as though estrangement were a trait as fixed as eye color."—Sam Sacks, Wall Street Journal

"Absurdist little morsels that make you think deeply about dealing with loss, hardship, and isolation."—Erin Berger, Outside Magazine

"Whether you like sci-fi, surrealist fiction, or just need to get out of your own head, you'll find something to love in this vivid story collection. You'll meet a town that hibernates for the winter, six people who decide to live in a biodome for a cash reward, and others living through circumstances both wildly bizarre and not so dissimilar to our own."—Woman's Day, Best Books of 2021

"It's a perfect time to read Horrocks, a masterful writer whose prize-winning stories, published in a bucket list of magazines transport us to strange places."—Jane Ciabattari, LitHub

"Horrocks's newest short story collection will please those who like sci-fi, surrealism, and the strange. . . . The language dazzles as it entices readers into unfamiliar worlds."—The Millions, Most Anticipated Books of 2021

"Vigorous and supremely crafted, Horrocks's second collection explores human frailties, desires, and mechanisms for survival... Horrocks's linguistic finesse and narrative range is impressive, and she brings incisive humor, pathos, and wit to her characters and their predicaments. The result is an immersive and engaging work that astutely captures the complexities of the human condition."—Publishers Weekly (starred review)

"Elegant glimpses into the lives of lonely people… A writer known for her impeccable craft… Horrocks' stories feel classic and melancholy, like a concerto in a minor key."—Kirkus Reviews

"Perfect for fans of George Saunders and Karen Russell…This dazzling collection of short stories will be pinging around the minds of readers long after the back cover is closed… Horrocks nails the short format by building easy-to-enter and hard-to-forget worlds... Each story is as engrossing as if it were a full-length novel, and just as sad to leave."—Courtney Eathorne, Booklist

"Horrocks's storytelling prowess shines, creating communities that draw in readers immediately, even as the inhabitants are on the verge of personal implosions. Horrocks writes with simple precision, her characters wholly convincing in all their flaws and insecurities. Life Among the Terranauts proves shrewd and rewarding."—Shelf Awareness

"These stories—inventive, outrageous, exquisite—are my kind of fun. How are we supposed to live in this world? Life Among the Terranauts will help show us the way. I'm in love with the brilliant stories in this book."—Bonnie Jo Campbell, author of the national bestseller Once Upon a River

"Holy smokes! Caitlin Horrocks has written a perfect story collection of astronomical range. It's been a very long time since I've come across stories as brilliant, bold, odd, and incandescent as these."—Claire Vaye Watkins, author of Gold Fame Citrus

"In her third book—and with her literary powers only heightened—Horrocks has crafted an accomplished, beautiful collection of stories with a streak of the surreal. Life Among the Terranauts is wise, worldly, and inventive, moving across both time and continents. Horrocks has proven herself a master of the story form."—Megan Mayhew Bergman, author of Birds of a Lesser Paradise

"Caitlin Horrocks is one of America's finest story writers. I marvel at the language in Life Among the Terranauts, which expands, varies, and never slips, and at the book's gaze, exact and exacting, which seems able to inhabit every denizen of the world. The humanity contained in these stories stuns and lingers."—Marie-Helene Bertino, author of 2 A.M. at the Cat's Pajamas
Little, Brown and Company, 9780316316972, 272pp.
Publication Date: January 12, 2021
About the Author
Caitlin Horrocks is the author of the story collection This Is Not Your City and the novel The Vexations, a Wall Street Journal Top Ten Book of the Year. She is a recipient of the O. Henry Prize, the Pushcart Prize, and the Plimpton Prize. Her fiction has appeared in The New Yorker, The Atlantic, The Paris Review, Tin House, and One Story, among other magazines, and has been reprinted in The Best American Short Stories. She lives with her family in Grand Rapids, Michigan.