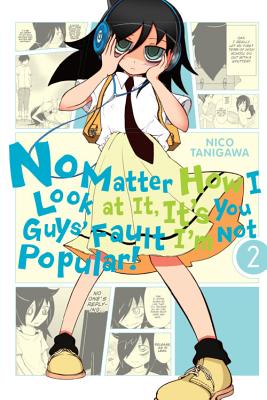 No Matter How I Look at It, It's You Guys' Fault I'm Not Popular!, Vol. 2 (Paperback)
Yen Press, 9780316322041, 144pp.
Publication Date: January 21, 2014
Other Editions of This Title:
Paperback (1/28/2020)
Paperback (10/15/2019)
Paperback (3/26/2019)
Paperback (1/20/2015)
Paperback (10/28/2014)
Paperback (7/22/2014)
* Individual store prices may vary.
Description
Despite having made it to high school, her long-awaited promised land, poor Tomoko Kuroki continues to strike out with her peers and remains utterly, wretchedly unpopular. And before she knows it, the first school term is nearly at its end! Can Mokocchi manage to make at least some happy memories over the break? Plunge into one girl's summer of . . . agony!
About the Author
A team of two manga artists, Nico Tanigawa is the creator of a number of school-life comedies, including No Matter How I Look At It, It's You Guys' Fault I'm Not Popular!