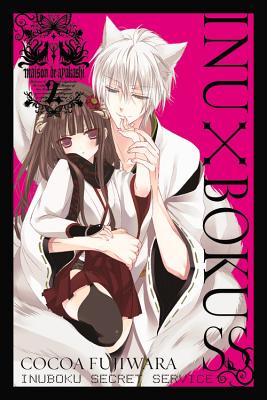 Inu x Boku SS, Vol. 2 (Paperback)
Yen Press, 9780316322072, 176pp.
Publication Date: January 21, 2014
Other Editions of This Title:
Paperback (10/28/2014)
Paperback (10/29/2013)
Paperback (5/24/2016)
Paperback (7/22/2014)
Paperback (4/21/2015)
Paperback (7/21/2015)
Paperback (11/17/2015)
Paperback (4/22/2014)
Paperback (1/20/2015)
Paperback (2/23/2016)
* Individual store prices may vary.
Description

Since moving to Maison de Ayakashi, Ririchiyo has resisted lowering her guard around her fellow boarders and classmates. But the feeling of being different, of being abnormal, is something all who possess demon blood share, and Ririchiyo finds herself taking the first tentative steps toward friendship with Roromiya and Watanuki. But the devotion of Soushi, her Secret Service agent, still remains a puzzle. Ririchiyo can no better explain his attentions than she can her own growing attachment to him . . .
About the Author
Cocoa Fujiwara made her manga debut at the age of fifteen, choosing to forego high school and focus on a career in manga. She is the author of a number of fantasy romance series, including Dear and Inu x Boku SS.