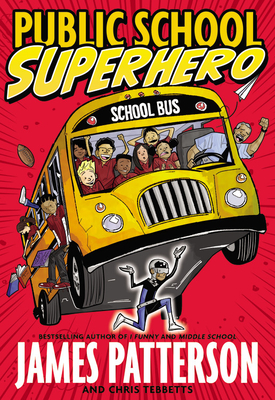 Public School Superhero (Hardcover)
Jimmy Patterson, 9780316322140, 304pp.
Publication Date: March 16, 2015
* Individual store prices may vary.
Description
Inner city middle school student Kenny Wright imagines himself as a superhero-but when he faces peer pressure and bullying, can he find his strength in real life?
Kenny Wright is a kid with a secret identity. In his mind, he's Stainlezz Steel, super-powered defender of the weak. In reality, he's a chess club devotee known as a "Grandma's Boy," a label that makes him an easy target for bullies. Kenny wants to bring a little more Steel to the real world, but the question is: can he recognize the real strength and goodness inside himself? Or will peer pressure force him to make the worst choice of his life?
Interspersed with fantastic illustrations and comic-book panels, this book aims to both entertain and to provoke dialogue about identity, belonging, and doing the right thing.
About the Author
James Patterson has had more New York Times bestsellers than any other writer, ever, according to Guinness World Records. Since his first novel won the Edgar Award in 1977 James Patterson's books have sold more than 300 million copies. He is the author of the Alex Cross novels, the most popular detective series of the past twenty-five years, including Kiss the Girls and Along Came a Spider. He writes full-time and lives in Florida with his family.