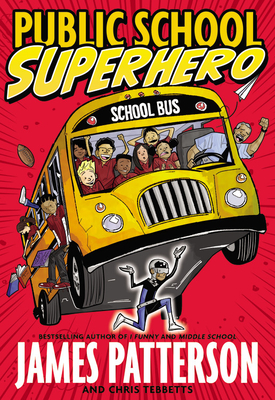 Public School Superhero (Hardcover)
Jimmy Patterson, 9780316322140, 304pp.
Publication Date: March 16, 2015
Description
Kenny Wright is a kid with a secret identity. In his mind, he's Stainlezz Steel, super-powered defender of the weak. In reality, he's a chess club devotee known as a "Grandma's Boy," a label that makes him an easy target for bullies. Kenny wants to bring a little more Steel to the real world, but the question is: can he recognize his own true strength before peer pressure forces him to make the worst choice of his life?
Featuring more than 150 pieces of line art and comic-style sequences, James Patterson's newest illustrated novel is a genuinely funny yet poignant look at middle school in a challenging urban setting, where a kid's life can depend on the everyday decisions he makes.
About the Author
James Patterson has had more "New York Times" bestsellers than any other writer, ever, according to "Guinness World Records." Since his first novel won the Edgar Award in 1977 James Patterson's books have sold more than 300 million copies. He is the author of the Alex Cross novels, the most popular detective series of the past twenty-five years, including "Kiss the Girls "and "Along Came a Spider." He writes full-time and lives in Florida with his family.
Advertisement