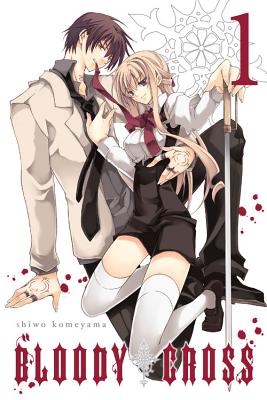 Bloody Cross, Vol. 1 (Paperback)
Yen Press, 9780316322386, 224pp.
Publication Date: December 17, 2013
* Individual store prices may vary.
Description
Half angel, half demon, Tsukimiya must drink pure demon blood to stave off the curse that will eventually claim her life. When she meets an angel named Hinata, he's eager to team up with the half-blood to take down a vampire that has been attacking humans. Tsukimiya is surprised to find that Hinata is a capable partner, but when the vampire is slain, it is Hinata who claims its demon blood, leaving Tsukimiya to be taken by the curse. In a last-ditch effort to save herself, Tsukimiya tries to drink Hinata's blood, now mixed with the vampire's pure demon blood. But in taking the blood that will save her, Tsukimiya has also transmitted the curse that will kill her. Hinata and Tsukimiya now share the curse...and they're running out of time.
About the Author
Shiwo Komeyama is the creator of Bloody Cross, and also published the manga adaptation of the Star Ocean: Blue Sphere video game under the name Aoi Mizuki.