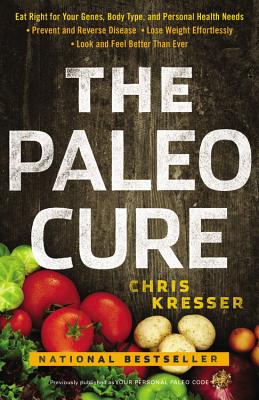 The Paleo Cure
Eat Right for Your Genes, Body Type, and Personal Health Needs -- Prevent and Reverse Disease, Lose Weight Effortlessly, and Look and Feel Better than Ever
Paperback

* Individual store prices may vary.
Other Editions of This Title:
Digital Audiobook (12/30/2013)
Compact Disc (12/31/2013)
Compact Disc (12/31/2013)
Description
An effective and practical program based on the Paleo lifestyle, customized to fit your needs!

As the Paleo movement sweeps the nation, the health benefits of following the lifestyle of our hunter-gatherer forebears are undeniable. But what happens when we hit a wall and weight loss stalls, energy flags, or we're tired of restricted eating? We're not cavemen anymore, so why should we follow a strict caveman diet?

In Your Personal Paleo Code, Chris Kresser uses the Paleo diet as a baseline from which you can tailor the ideal three-step program-Reset, Rebuild, Revive-to fit your lifestyle, body type, genetic blueprint, and individual needs. Kresser helps further personalize your prescription for specific health conditions, from heart disease and high blood pressure to thyroid disorders and digestive problems. Along with a 7-day meal plan and delectable, nutritious recipes, Your Personal Paleo Code offers natural solutions and an avalanche of groundbreaking advice on how to restore a healthy gut and immune system; how to eliminate toxins; which fats to eat liberally; how to choose the healthiest proteins; and much more. Best of all, you only have to follow the program 80% of the time; there's room to indulge in moderation while still experiencing dramatic results.

Based on cutting-edge scientific research, Your Personal Paleo Code is designed to be flexible and user-friendly, with helpful charts, quizzes, and effective action steps to help you lose weight, reverse disease, and stay fit and healthy for life.
Praise For The Paleo Cure: Eat Right for Your Genes, Body Type, and Personal Health Needs -- Prevent and Reverse Disease, Lose Weight Effortlessly, and Look and Feel Better than Ever…
"Kresser is a leading voice within the Paleo nutrition community. In YOUR PERSONAL PALEO CODE, he pulls together all of his best advice in one place."-— Diane Sanfillipo, author of Practical Paleo

"Kresser is the most knowledgeable clinician in the Paleo/ancestral health scene. YOUR PERSONAL PALEO CODE condenses his vast knowledge to help you look, feel, and perform your best."— Robb Wolf, author of The Paleo Solution

"Kresser shows us how to design a healthy, personalized lifestyle that acknowledges our differences."— Mark Sisson, author of The Primal Blueprint
Little, Brown Spark, 9780316322928, 416pp.
Publication Date: December 30, 2014
About the Author
Chris Kresser is an integrative medicine practitioner with a private practice in Berkeley, California, and patients around the world. He is a regular health columnist for The Huffington Post, created the popular blog ChrisKresser.com, and founded the "Revolution Health Radio with Chris Kresser" podcast, which challenges mainstream myths on nutrition, health, and disease.