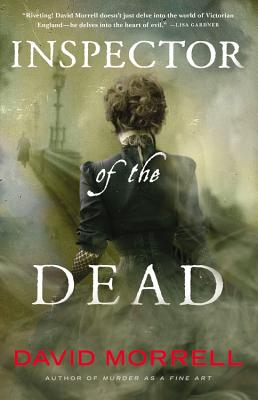 Inspector of the Dead (Thomas and Emily De Quincey #2)
Hardcover

* Individual store prices may vary.
Other Editions of This Title:
Digital Audiobook (3/23/2015)
Paperback (10/11/2016)
Hardcover, Large Print (4/15/2015)
Description
Legendary thriller writer David Morrell transports readers to the fogbound streets of London, where a killer plots to assisinate Queen Victoria.

The year is 1855. The Crimean War is raging. The incompetence of British commanders causes the fall of the English government. The Empire teeters. Amid this crisis comes opium-eater Thomas De Quincey, one of the most notorious and brilliant personalities of Victorian England. Along with his irrepressible daughter, Emily, and their Scotland Yard companions, Ryan and Becker, De Quincey finds himself confronted by an adversary who threatens the heart of the nation.

This killer targets members of the upper echelons of British society, leaving with each corpse the name of someone who previously attempted to kill Queen Victoria. The evidence indicates that the ultimate victim will be Victoria herself.
Praise For Inspector of the Dead (Thomas and Emily De Quincey #2)…
PRAISE FOR INSPECTOR OF THE DEAD:
"Riveting . . . Inspector of the Dead is a masterful work."—Waka Tsunoda, Associated Press

"Taut, atmospheric . . . Morrell brings the period to vivid life with solid research and fascinating Victorian details. . . . Grade: A-"—Michelle Ross, Cleveland Plain Dealer

"Superb . . . Masterful . . . Edgar Allan Poe may have invented the modern detective story, but now David Morrell has reinvented it. He's turned thriller writing into a concerto worthy of Mozart and conducts the brilliant Inspector of the Dead with perfect pitch and tone. A true maestro wielding a keyboard instead of a baton."—Jon Land, Providence Journal

"Morrell's narrative is clever and layered. . . . Psychology and back story have always figured in Morrell's considerable output of thrillers, including his landmark First Blood. In the De Quincey stories, these narrative tools seem fully mastered."—Bill Kohlhaase, Santa Fe New Mexican

"Riveting! I literally thought I was in 1855 London. With this mesmerizing series, David Morrell doesn't just delve into the world of Victorian England--he delves into the heart of evil, pitting one man's opium-skewed brilliance against a society where appearances are everything . . . and the most vicious killers lurk closer than anyone thinks."—Lisa Gardner, author of Crash & Burn and The Perfect Husband

"An exciting page-turner . . . A fulfilling read"—Mark Frauenfelder, BoingBoing.net

"Morrell weaves a true web of lies, secrets, and cunning schemes that gives readers the sense that they are actually living and breathing the air of historical England. . . . Morrell yet again shows that his character creation is second to none, and the pace will have readers losing sleep by telling themselves, 'Just one more chapter.'"—Suspense Magazine

"Blends historical fact and 1855 London ambience with thriller-laced fiction in a feat of brilliant storytelling"—Mark Rubinstein, Huffington Post

"Fans of sophisticated historicals will embrace Macavity Award-winner Morrell's second suspense novel featuring Thomas De Quincey and his grown daughter, Emily. . . . Convincing period detail complements the fascinating story line."—Publishers Weekly (starred)

"Ripping good fun at every delicious twist and turn . . . De Quincey makes for an offbeat but entirely credible protagonist in the Sherlock Holmes mold. . . . It's a potent formula, with genuine thrills and a satisfying mystery leavened with well-observed and meticulously researched details of Victorian life and attitudes."—Kirkus Reviews

"This finely wrought tale delivers enough period detail to give us the flavor of mid-nineteenth century Victorian England (but not so much we feel like we're reading a history text) and delivers a cast of compellingly crafted characters. De Quincey, in particular, is a brilliant creation, an amateur sleuth, writer, and drug addict who both repels and intrigues us at the same time. Top-notch entertainment."—David Pitt, Booklist

"From the shockingly brutal murders at the start to the stunning conclusion, De Qincey and his fellow investigators race against time to discover who is killing prominent Londoners as a prelude to assassinating Queen Victoria. . . . Appeals [to] fans of historical fiction and Victorian-era crime novels as well as readers who enjoy Anne Perry or Robin Paige."—Library Journal

"A truly atmospheric and dynamic thriller. I was fascinated by how Morrell seamlessly blended elements from Thomas De Quincey's life and work. The solution is a complete surprise."—Grevel Lindelop, author of The Opium-Eater: A Life of Thomas De Quincey

"The scope is remarkable. Florence Nightingale, the Crimean War, regicide, the railways, opium, the violence and despair of the London rookeries, medical and scientific innovations, arsenic in the food and clothing-all this makes the Victorian world vivid. The way Morrell depicts Thomas De Quincey places him in front of us, living and breathing. But his daughter Emily is in many ways the real star of the book."—Robert Morrison, author of The English Opium-Eater: A Biography of Thomas De Quincey

"I absolutely raced through INSPECTOR OF THE DEAD and couldn't bear to put it down. I particularly liked how the very horrible crimes are contrasted with the developing, fascinating relationship between Thomas De Quincey and his daughter, Emily, who come across as extremely real. It was altogether a pleasure."—Judith Flanders, author of The Invention of Murder: How the Victorians Reveled in Death and Detection and Created Modern Crime
Mulholland Books, 9780316323932, 352pp.
Publication Date: March 24, 2015
About the Author
David Morrell is an Edgar and Anthony Award finalist, a Nero and Macavity winner, and recipient of the prestigious career-achievement ThrillerMaster award from the International Thriller Writers. He has written twenty-nine works of fiction, which have been translated into thirty languages. He is also a former literature professor at the University of Iowa and received his PhD from Pennsylvania State University.
or
Not Currently Available for Direct Purchase