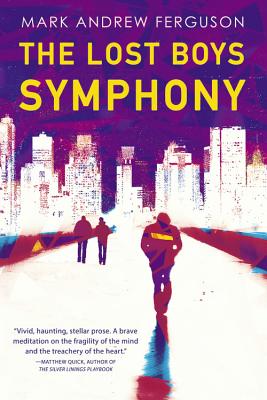 The Lost Boys Symphony
A Novel
Paperback

* Individual store prices may vary.
Other Editions of This Title:
Digital Audiobook (3/23/2015)
Description
A startingly original, genre-bending literary debut in which a lovesick college student is abducted by his future selves.

After Henry's girlfriend Val leaves him and transfers to another school, his grief begins to manifest itself in bizarre and horrifying ways. Cause and effect, once so reliable, no longer appear to be related in any recognizable manner. Either he's hallucinating, or the strength of his heartbreak over Val has unhinged reality itself.

After weeks of sleepless nights and sick delusions, Henry decides to run away. If he can only find Val, he thinks, everything will make sense again. So he leaves his mother's home in the suburbs and marches toward the city and the woman who he thinks will save him. Once on the George Washington Bridge, however, a powerful hallucination knocks him out cold.

When he awakens, he finds himself kidnapped by two strangers -- one old, one middle-aged -- who claim to be future versions of Henry himself. Val is the love of your life , they tell him. We've lost her, but you don't have to.

In the meantime, Henry's best friend Gabe is on the verge of breakdown of his own. Convinced he is somehow to blame for Henry's deterioration and eventual disappearance, Gabe is consumed by a potent mix of guilt and sadness.

When he is approached by an enigmatic stranger who bears a striking resemblance to his lost friend, Gabe begins to fear for his own sanity. With nowhere else to turn, he reaches out to the only person who can possibly help him make sense of it all: Val.

The Lost Boys Symphony is a beautiful reminder of what it's like to be young, lost, and in and out of love for the very first time. By turns heartfelt and heartbreaking, Ferguson's debut novel boldly announces the arrival of a spellbinding new talent on the literary stage, in a master feat of empathy and multilayered storytelling that takes adventurous literary fiction to dizzying new heights.
Praise For The Lost Boys Symphony: A Novel…
"Mark Andrew Ferguson hinges the classic love triangle conflict to a mind-bending page-turner about madness, time-travel, and alternate realities. Mesmerizing and dazzlingly original--a breakout novel."—Wally Lamb, author of We Are Water and She's Come Undone

"Vivid, haunting, stellar prose. A brave meditation on the fragility of the mind and the treachery of the heart."—Matthew Quick, author of The Silver Linings Playbook and The Good Luck of Right Now

"The Lost Boys Symphony is a crazed and discombobulating odyssey. Ferguson takes big risks and tackles big themes in this daring, savvy, and delightfully unpredictable debut."—Jonathan Evison, author of West of Here and The Revised Fundamentals of Caregiving

"In The Lost Boys Symphony, Ferguson bends the sides of a love triangle so far, he also bends minds. Full of suspense and empathy, this novel has changed how I think about time, perception and love."—Claire Cameron, Baileys Women's Prize-longlisted author of The Bear

"A wonderfully mad fugue of young love and time out of joint that grabs you from the first scene and keeps you guessing until the last."—Matt Ruff, author of The Mirage and Bad Monkeys
Back Bay Books, 9780316324038, 352pp.
Publication Date: March 8, 2016
About the Author
Mark Andrew Ferguson is a book marketer, graphic designer, and writer. The Lost Boys Symphony is his first novel. He lives in Connecticut with his wife and son.