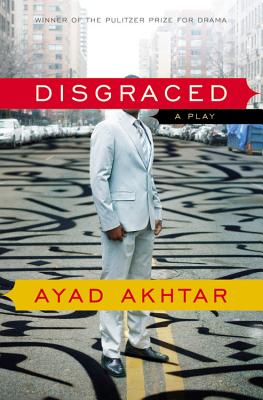 Disgraced (Paperback)
A Play
Back Bay Books, 9780316324465, 112pp.
Publication Date: September 10, 2013
* Individual store prices may vary.
Description
"Sparkling and combustible" (Bloomberg Businessweek), "DISGRACED rubs all kinds of unexpected raw spots with intelligence and humor" (Newsday). "In dialogue that bristles with wit and intelligence, Akhtar puts contemporary attitudes toward religion under a microscope, revealing how tenuous self-image can be for people born into one way of being who have embraced another.... Everyone has been told that politics and religion are two subjects that should be off-limits at social gatherings. But watching these characters rip into these forbidden topics, there's no arguing that they make for ear-tickling good theater" (New York Times). "Add a liberal flow of alcohol and a couple of major secrets suddenly revealed, and you've got yourself one dangerous dinner party" (Associated Press).
About the Author
Ayad Akhtar is a screenwriter, playwright, actor, and novelist. He is the author of the novel American Dervish and was nominated for a 2006 Independent Spirit Award for best screenplay for the film The War Within. Disgraced was produced at New York's Lincoln Center Theater in 2012 and was awarded the 2013 Pulitzer Prize for Drama. Akhtar lives in New York City.
Praise For Disgraced: A Play…
"The best play I saw last year.... [a] quick-witted and shattering drama.... DISGRACED rubs all kinds of unexpected raw spots with intelligence and humor." ---Linda Winer, Newsday

"A sparkling and combustible contemporary drama.... Ayad Akhtar's one-act play deftly mixes the political and personal, exploring race, freedom of speech, political correctness, even the essence of Islam and Judaism. The insidery references to the Hamptons and Bucks County, Pennsylvania, and art critic Jerry Saltz are just enough to make audience members feel smart.... Akhtar...has lots to say about America and the world today. He says it all compellingly, and none of it is comforting." ---Philip Boroff, Bloomberg Businessweek

"Compelling... DISGRACED raises and toys with provocative and nuanced ideas." ---Jesse Oxfeld, New York Observer

"A continuously engaging, vitally engaged play about thorny questions of identity and religion in the contemporary world.... In dialogue that bristles with wit and intelligence, Mr. Akhtar...puts contemporary attitudes toward religion under a microscope, revealing how tenuous self-image can be for people born into one way of being who have embraced another.... Everyone has been told that politics and religion are two subjects that should be off limits at social gatherings. But watching Mr. Akhtar's characters rip into these forbidden topics, there's no arguing that they make for ear-tickling good theater." ---Charles Isherwood, New York Times

"[A] blistering social drama about the racial prejudices that secretly persist in progressive cultural circles." ---Marilyn Stasio, Variety

"Terrific.... DISGRACED...unfolds with speed, energy and crackling wit.... The evening will come to a shocking end, but before that, there is the sparkling conversation, expertly rendered on the page by Akhtar.... Talk of 9/11, of Israel and Iran, of terrorism and airport security, all evokes uncomfortable truths. Add a liberal flow of alcohol and a couple of major secrets suddenly revealed, and you've got yourself one dangerous dinner party..... In the end, one can debate what the message of the play really is. Is it that we cannot escape our roots, or perhaps simply that we don't ever really know who we are, deep down, until something forces us to confront it? Whatever it is, when you finally hear the word 'disgraced' in the words of one of these characters, you will no doubt feel a chill down your spine." ---Jocelyn Noveck, AP

"Offers an engaging snapshot of the challenge for upwardly mobile Islamic Americans in the post-9/11 age." ---Thom Geier, Entertainment Weekly

"Akhtar digs deep to confront uncomfortable truths about the ways we look at race, culture, class, religion, and sex in this bracingly adult, unflinching drama... [He] writes incisive, often quite funny dialogue and creates vivid characters, managing to cover a lot of ground in a mere four scenes and 80 minutes. Akhtar doesn't offer any solutions to the thorny issues he presents so effectively. What he does is require us to engage them, and that's a very good and necessary thing." ---Erik Haagensen, Backstage.com

"DISGRACED stands among recent marks of an increasing and welcome phenomenon: the arrival of South Asian and Middle Eastern Americans as presences in our theater's dramatis personae, matching their presence in our daily life. Like all such phenomena, it carries a double significance. An achievement and a sign of recognition for those it represents, for the rest of us it constitutes the theatrical equivalent of getting to know the new neighbors-something we had better do if we plan to survive as a civil society." ---Michael Feingold, The Village Voice

"Skillfully adopts the well-worn dramatic device of the imploding dinner party to scratch beneath the surface of multicultural harmony.... Smart, spiky entertainment.... A stimulating, sobering work from a distinctive new American playwright."—David Rooney, Hollywood Reporter