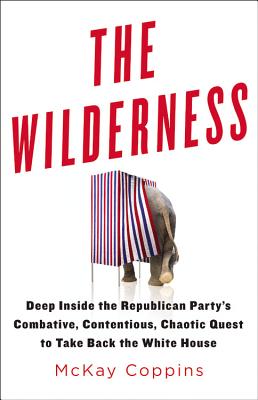 The Wilderness
Deep Inside the Republican Party's Combative, Contentious, Chaotic Quest to Take Back the White House
Hardcover

* Individual store prices may vary.
Other Editions of This Title:
Digital Audiobook (11/30/2015)
Description
The explosive story of the Republican Party's intensely dramatic and fractious efforts to find its way back to unity and national dominance.

After the 2012 election, the GOP was in the wilderness. Lost and in disarray. And doggedly determined to do whatever it took to get back to 1600 Pennsylvania Avenue. McKay Coppins has had unparalleled access to Republican presidential candidates, power brokers, lawmakers, and Tea Party leaders.

Based on more than 300 interviews, The Wilderness is the book that opens up the party like never before: the deep passions, larger-than-life personalities, and dagger-sharp power plays behind the scenes. In wildly colorful scenes, this exclusive look into the Republican Party at a pivotal moment in its history follows a cast of its rising stars, establishment figures, and loudmouthed insurgents -- Jeb Bush, Chris Christie, Ted Cruz, Carly Fiorina, Bobby Jindal, Rand Paul, Marco Rubio, Paul Ryan, Donald Trump, Scott Walker, and dozens of others -- as they battle over the future of the party and its path to the presidency.
Praise For The Wilderness: Deep Inside the Republican Party's Combative, Contentious, Chaotic Quest to Take Back the White House…
One of BuzzFeed's Best Nonfiction Books of 2015

"Coppins is a dogged reporter...and a deft storyteller....Lively and worthy reading for Americans who just can't get enough of one of the stranger major-party nomination fights in recent history."—John Diaz, San Francisco Chronicle

"In summary, Coppins' book was all I hoped it would be: fun and full of previously unknown stories that shed light on these GOP hopefuls."—W. Scott Lamb, The Washington Times

"A resounding study of the 'clash of egos and personalities' that is the Republican primary scramble. And what a clash it is.... A must for politics junkies."—Kirkus Reviews

"Smart and entertaining.... Offering up one revealing, behind-the-scenes story after another, [Coppins] covers their histories -- going back decades -- up through the present, when their political futures remain very much up in the air.... The Wilderness is helped immensely by the fact that Coppins is such a talented researcher and compelling writer. At times his irreverence is reminiscent of Hunter S. Thompson's sober and more lucid political pieces...."—Jim Swearingen, The National Book Review

"Slimebag... true garbage."—Donald Trump

"Coppins catches his subjects and their inner circles saying the darndest things....A welcome Baedeker to the personas that populate the 2016 Republican contest."—Lloyd Green, The American Conservative

"Coppins excels at personalizing the tale through the ambitions, tactics and delusions of his protagonists."—Carlos Lozada, The Washington Post

"Widely sourced and compellingly written, The Wilderness offers a rich and entertaining mix of gossip and political scheming...."—Walter Russell Mead, Foreign Affairs

"Learning about the seminal moments in the lives of some of today's GOP stars was one of the things I enjoyed most about McKay Coppins' new book The Wilderness.... A compelling read."—Matt K. Lewis, The Daily Caller

"Coppins captures these and other personal insights with the skill and style of a more seasoned political reporter. The Wilderness is a book that goes far to break up sound-bite, Twitter-enabled political messaging to reveal what voters need to know about this collection of self-styled rogues now fracturing the Grand Old Party."—Bill Barnhart, The Chicago Tribune

"A dizzying, brilliant guide to the behind-the-scenes chaos, along with fully drawn portraits of the men and women who would be president.... As this book trenchantly shows, the Republican Party is still searching for a way out of the wilderness. Coppins is a superb guide for voters seeking clarity about the ideas and styles of the current Republican candidates."—Publishers Weekly

"A wildly entertaining yet thoughtful snapshot of the Republican Party today.... If you're currently obsessing over the 2016 election, you won't be able to put this book down."—BuzzFeed

"There was once a little boy who cried that the emperor has no clothes, causing great consternation throughout the land. McKay Coppins is his reincarnation. He brings an impish, fearless clarity to the job of beholding power in all its naked strangeness."—Walter Kirn, author of Blood Will Out

"Expansively reported... Genuinely interesting dirt for the reader who considers politics a clash less of personalities than of powerful interests."—Alex Pareene, Bookforum

"Coppins is one of the sharpest political reporters of his generation and a fine writer, too."—Jonathan Alter, author of The Center Holds: Obama and His Enemies

"A fascinating book. Wonderful stories."—Trevor Noah, The Daily Show

"The invaluable McKay Coppins -- that rare political reporter who understands people of faith."—Andrew Sullivan, The Dish

"A nervous geek... not fit to tie the Donald's wingtips."—Sarah Palin

"An invaluable, enlightening, and entertaining guide to the Republican Party today."—Isaac Fitzgerald, BuzzFeed

"He's not geeky, unless that means smart.... Intrepid."—The Blaze

"An intelligent filter of campaign news and an originator of it. 'Tell me something I don't know' journalism."—Jay Rosen, New York University professor and press critic
Little, Brown and Company, 9780316327411, 400pp.
Publication Date: December 1, 2015
About the Author
McKay Coppins is a senior political writer at BuzzFeed, covering national politics, the Republican Party, and the major figures in the conservative movement. Formerly, he was a reporter for Newsweek. Coppins was listed as one of the Forbes' 30 under 30 in 2012, included on Politico's list of 2012's "breakout reporters," and identified as a rising TV pundit in Details magazine. He lives in New York.
or
Not Currently Available for Direct Purchase