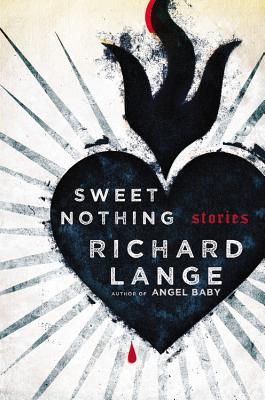 Sweet Nothing
Stories
Hardcover

* Individual store prices may vary.
Other Editions of This Title:
Paperback (11/3/2015)
Description
Set on the dark side of Los Angeles, the masterful new collection from an award-winning and highly praised "natural-born storyteller" (Ron Rash).

In these gripping and intense stories, Richard Lange returns to the form that first landed him on the literary map. These are edge-of-your-seat tales: A prison guard must protect an inmate being tried for heinous crimes. A father and son set out to rescue a young couple trapped during a wildfire. An ex-con trying to make good as a security guard stumbles onto a burglary plot. A young father must submit to blackmail to protect the fragile life he's built.

Sweet Nothing is an unforgettable collection that shows once again why T.C. Boyle wrote, "Lange's stories combine the truth-telling and immediacy of Raymond Carver with the casual hip of Denis Johnson. There is a potent artistic sensibility at work here" (on Dead Boys).
Praise For Sweet Nothing: Stories…
"Richard Lange's stories are a revelation. He writes of the disaffections and bewilderments of ordinary lives with as keen an anger and searing lyricism as anybody out there today. He is Raymond Carver reborn in a hard cityscape. Read him and be amazed."—T.C. Boyle, author of San Miguel

"Beautifully crafted . . . Beckett is Lange's major writing influence, but judging from the casual eloquence of his stories, Lange has already earned a place close to Beckett's elevated company."—Jack Batten, Toronto Star

"You know you're in the hands of an expert....The author creates poetry from the simplest of words and moments....This is the kind of book you'll want to savor."—Lisa L. Kirchner, Pittsburgh Post-Gazette

"For me the best stories are rabbit holes. You read the first lines, maybe a page, and you're down there. Somewhere else. Another life. Richard Lange is one cwazy wabbit."—James Sallis, author of Drive

"Lange knows how to inhabit the skin of his protagonists and breathe life and vitality into them with his minimalist prose....Sweet Nothing is an intense, darkly funny collection from a writer who is working at peak form."—Keith Rawson, Lit Reactor

"With his lyrical yet matter-of-fact prose, Lange drills straight to the center of society's fringe....Lange's sense of isolation laced with desperation pervades this collection by the former Guggenheim fellow who has been compared to short-short auteur Raymond Carver."—Angela Lutz, Kansas City Star

"What makes this collection a wonderful read is that it's only marginally akin to anything else. Swift, gut-wrenching, and sometimes cleverly disarming fiction by a master."—Joe R. Lansdale, author of The Thicket and Edge of Dark Water

"An outstanding set of stories, told in Lange's eloquent, almost poetic, prose....I could keep quoting from Sweet Nothing all day, but instead will implore you to pick up your own copy. The architecture of Lange's writing alone is worth the price of admission."—Malcolm Avenue Review

"For all the darkness that runs through the stories, Lange maintains a disarmingly light touch. . . . These tales are not far removed from the classic stories of O. Henry and Guy de Maupassant."—Kirkus Reviews

"These stories traffic in the vagaries of the human heart, those wants and needs that push us down dark paths. His vision is steely-eyed, yet you sense that Lange loves his characters-even the worst of them."—Craig Davidson, author of Cataract City

"These 10 stories will have broad appeal because of Lange's accessible style and fine characterization."—Ellen Loughran, Booklist

"Utterly believable postcards from the edge; for those who like their realism not so magical but right there at street level."—Library Journal
Mulholland Books, 9780316327541, 272pp.
Publication Date: February 10, 2015
About the Author
Richard Lange is the author of the story collections Dead Boys and Sweet Nothing and the novels This Wicked World and Angel Baby. He is the recipient of a Guggenheim Fellowship, the International Association of Crime Writers' Hammett Prize, and the Rosenthal Family Foundation Award from the American Academy of Arts and Letters. He lives in Los Angeles.
or
Not Currently Available for Direct Purchase