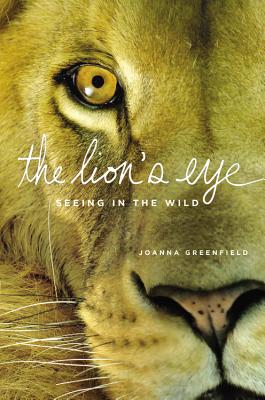 The Lion's Eye (Hardcover)
Seeing in the Wild
Little, Brown and Company, 9780316328487, 320pp.
Publication Date: August 31, 2009
* Individual store prices may vary.
Description
Joanna Greenfield dreamed of traveling to East Africa to study one of the last known populations of wild chimpanzees. When she was offered a once-in-a-lifetime chance, the young student set off from peaceful Kenya into politically hazardous Uganda. From there, a small team of guides led her into the mountains.

In stunningly evocative language, Greenfield depicts the beauty of the rainforest and the determination required to wait for one transcendent encounter in the wild. But even one of the most remote places in the world is not immune to terrifying man-made conflict. Greenfield and her team are robbed by poachers and harassed by soldiers. Eventually, it becomes too dangerous to continue her research, though she knows she may never be allowed to return.

The Lion's Eye is the true story of one woman's burning mission to connect with animals -- an adventure story and against-the-odds quest for a wilderness few of us have ever glimpsed.
About the Author
Joanna Greenfield talked a scientist into giving her a chimpanzee research site between her junior and senior years of college, in the Impenetrable Forest of Uganda. After graduating, she worked at a breeding center in Israel, where she was attacked by a hyena. Her account of the attack was published in the New Yorker in 1996. She lives in the mountains in America now, and is working on a pilot project to provide towns with a blueprint for going sustainable with renewable energy, recycling, public transportation, local farming, and more.
Praise For The Lion's Eye: Seeing in the Wild…
"Beautifully written with vivid descriptions of close encounters with African animals in their natural habitat. I loved the passages of scientific and philosophical concepts that were interspersed with graphic descriptions of physical hardships and being close to nature."—Temple Grandin, Author of Animals Makes Us Human and Animals in Translation

"Written in dazzling prose, The Lion's Eye gives us a way of seeing as big as the vault of African sky tracing the curvature of the earth. Greenfield's illuminating tale is densely woven with a physical courage that transcends the safer worlds of safari travel and even conventional wildlife biology. She stalks the mountain trails with a fierce determination and gives us language that explodes out onto the plain like the expanding consciousness of the first hominoids leaving the forest for the savanna. It is the blinding white light of the near-death encounter. I haven't read a book like this in a very long time."—Doug Peacock, Author of In the Presence of Grizzlies and Walking it Off: A Veteran's Chronicle of War and Wilderness