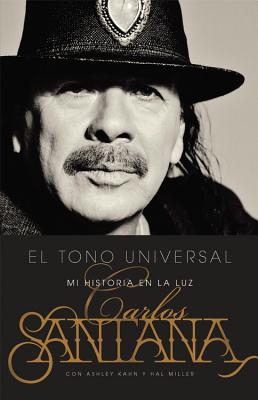 El Tono Universal (Paperback)
Sacando mi Historia a la Luz
Back Bay Books, 9780316328746, 576pp.
Publication Date: April 21, 2015
Other Editions of This Title:
Digital Audiobook (11/3/2014)
Paperback (11/3/2015)
CD-Audio (11/4/2014)
CD-Audio (5/5/2015)
Hardcover, Large Print (11/18/2014)
Hardcover (11/4/2014)
Compact Disc (11/4/2014)
Pre-Recorded Audio Player (11/4/2014)
* Individual store prices may vary.
Description
La autobiografía íntima de una leyanda.

En 1967 en el Auditorio Fillmore de San Francisco, un joven guitarrista tocaba un solo arrasador que anunciaba la llegada de un prodigioso talento. Dos años después tocaba una histórica función en Woodstock, y el mundo conoció a Carlos Santana. El Tono Universal es una atrapante historia sobre la autodeterminación musical y el autodescubrimiento. Describe la trayectoria de Santana desde los primeros días de su adolescencia como músico en Tijuana y el nacimiento de su característico sonido de guitarra; su papel como esposo, padre y estrella del rock; y la grabación de algunos de los álbumes de rock más influyentes de la historia. El Tono Universal abunda en una intrepidez musical que encuentra humor en el mundo de la fama de alto vuelo, habla llanamente de las revelaciones personales y celebra la posibilidad divina e infinita que Santana ve en cada persona que conoce.
About the Author
Carlos Santana nació en México en 1947. Es guitarrista, compositor y miembro fundador de Santana. Ha grabado y participado en más de noventa álbumes. Actualmente reside en Las Vegas con su esposa, la baterista Cindy Blackman.
Praise For El Tono Universal: Sacando mi Historia a la Luz…
One of NPR's Best Books of 2014

Winner of the 2015 American Book Award

"One of the most articulate rock memoirs ever."—Chris Willman, San Francisco Chronicle

"With its deep insight into the Mexican musician who usually lets his music speak for itself, this book is a Carlos Santana fan's dream.... And his message seems to be as profound as the universe itself."—Felix Contreras, co-host of NPR's Alt.Latino, "NPR's Best Books of 2014"

"In this frank and impassioned memoir, iconic, influential musician Santana, 67, known for fusing rock and Latin rhythms, weaves together the rhythmic, domestic and spiritual dimensions of his career. Generously reflective and well-balanced.... Charismatic and soulful.... An appreciative and unpretentious chronicle, this is required reading for Santana fans and devotees of classic rock legends."—Kirkus Reviews (starred review)

"The Rock and Roll Hall of Fame guitarist's book is perhaps the most musically generous of the fall's memoirs. Santana doesn't pull punches...."—Brian Mansfield, USA Today

"Santana [writes] with the same searing intensity and blatant honesty displayed throughout his 45-year career in music.... The Universal Tone is a book examining a lifelong quest for knowledge and some sense of divinity... Santana deals with both in the same unflinchingly honest and dignified tone."—Jeff Miers, The Buffalo News

An "excellent new autobiography."—Jim Farber, New York Daily News

"A candid and stunning story.... Deeply honest and frank."—Robin Leach, Las Vegas Sun

"From Tijuana, Mexico to Woodstock and beyond, legendary guitarist Santana spins a freewheeling ballad of his remarkable life."—O, The Oprah Magazine

"The Universal Tone doesn't follow the usual well-trodden path of other rock star tell-alls... Santana sidesteps salaciousness for spirituality while taking readers through the touchstone moments of his remarkable life and career."

"A compelling and uplifting journey through his life and career."—Joe Bosso, Music Radar

"Entertaining and enlightening.... Santana's journey from obscurity and abject poverty to affluence and superstardom is expressed eloquently via an informal conversational style that captures the cadences of his speaking voice."—Charles Waring, MOJO Magazine

"Compelling."—Henry L. Carrigan Jr., BookPage

"Universal Tone is every bit as tantalizing, succulent, and satisfying as the cactus fruit, roasted peanuts, and carne asada the author savored as a boy. And the sense memories peppering its pages are as frequent and visceral as the notes comprising his best guitar solos. Carlos doesn't merely tell us about his past; he lets us hear, smell, and taste it, too."—Peter Roche, Cleveland Music Examiner

"Fun and funky, The Universal Tone traces the arc of a singular life-yielding life lessons and inspiration to any reader.... Deeply honest and frank and richly detailed with his vivid memories, Santana's authentic voice shines through on every page."—WTSP 10 News