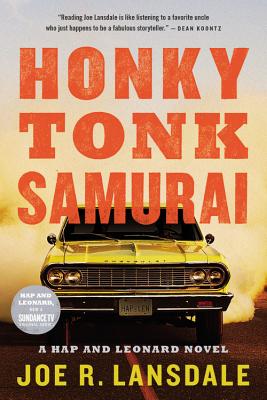 Honky Tonk Samurai (Hap and Leonard #9) (Paperback)
Mulholland Books, 9780316329415, 368pp.
Publication Date: February 14, 2017
Other Editions of This Title:
Digital Audiobook (2/1/2016)
Hardcover (2/2/2016)
Compact Disc (2/2/2016)
Hardcover, Large Print (6/8/2016)
Hardcover (7/1/2017)
Compact Disc (2/2/2016)
* Individual store prices may vary.
Description
Only Hap and Leonard would catch a cold case with hot cars, hot women, and ugly skinheads.

The story starts simply enough when Hap, a former 60s activist and self-proclaimed white trash rebel, and Leonard, a tough black, gay Vietnam vet and Republican with an addiction to Dr. Pepper, are working a freelance surveillance job in East Texas. The uneventful stakeout is coming to an end when the pair witness a man abusing his dog. Leonard takes matters into his own fists, and now the bruised dog abuser wants to press charges.

One week later, a woman named Lilly Buckner drops by their new PI office with a proposition: find her missing granddaughter, or she'll turn in a video of Leonard beating the dog abuser. The pair agrees to take on the cold case and soon discover that the used car dealership where her granddaughter worked is actually a front for a prostitution ring. What began as a missing-person case becomes one of blackmail and murder.

Filled with Lansdale's trademark whip-smart dialogue, relentless pacing, and unorthodox characters, Honky Tonk Samurai is a rambunctious thrill ride by one hell of a writer.
About the Author
Joe R. Lansdale is the author of nearly four dozen novels, including Rusty Puppy, the Edgar-award winning The Bottoms, Sunset and Sawdust, and Leather Maiden. He has received nine Bram Stoker Awards, the American Mystery Award, the British Fantasy Award, and the Grinzane Cavour Prize for Literature. He lives with his family in Nacogdoches, Texas.
Praise For Honky Tonk Samurai (Hap and Leonard #9)…
"Listening to a Joe R. Lansdale's East Texas detective yarn in the Hap Collins-and-Leonard Pine series is like hanging out with a skilled barroom raconteur. Lansdale's language dances with colorful and regular profanity as he performs a shotgun wedding between wild and ridiculous, tying it together with enough cartoonish violence and abundant wit to send you reaching for your wallet to buy the next round. . . . Altogether it's wild, funny, utterly improbable and thoroughly satisfying entertainment."—Jenni Laidman, Chicago Tribune

"Audacious . . . Honky Tonk Samurai lives up to the rich legacy of the titles that preceded it in Lansdale's Hap and Leonard series. . . . It takes a masterful writer to pull off what Lansdale accomplishes in these books, combining humor, nihilism and absurdism along with sublime plotting and character development. It reads as if it's done effortlessly, and that's no small trick."—W.K. Stratton, Dallas Morning News

"Terrific . . . This shambolic, action-packed novel will ensnare new readers and satisfy devoted fans alike. With the Sundance Channel's highly anticipated Hap and Leonard cable series coming in early 2016, this really could be Lansdale's year."—Publishers Weekly (starred boxed review)

"This is damn fine reading from Lansdale . . . Don't miss it."—Booklist (starred)

"Dubious delights... await you in Honky Tonk Samurai, the latest outing for Joe R. Lansdale's perpetual bad boys, Hap Collins and Leonard Pine.... a ton of fun."—New York Times

"The camaraderie and down-home scatology carry the day. Let's hope there's more of that good feeling to come in this terrific series."—Kirkus Reviews (starred)

"Another jawdropper from the seemingly indefatigable favorite son of Nacogdoches, Texas . . . Hilarious, crude and violent, peppered through and through with unforgettable characters that leap off the page, dance around the room, and run off down the road. It doesn't get any better than this. . . . Give this man a National Medal of the Arts for his entire body of work."—Joe Hartlaub, BookReporter