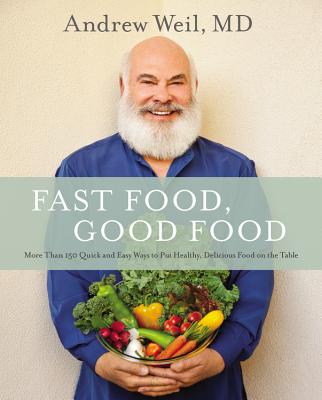 Fast Food, Good Food (Hardcover)
More Than 150 Quick and Easy Ways to Put Healthy, Delicious Food on the Table
Little, Brown and Company, 9780316329422, 304pp.
Publication Date: October 20, 2015
* Individual store prices may vary.
Description
Winner of the IACP Health & Special Diet Award

Delicious, nutritious, quick, and easy recipes from bestselling author Dr. Andrew Weil's own kitchen.

These days, fewer people than ever are cooking meals at home. Convincing ourselves that we don't have time to cook, we've forgotten how fast, simple, and wonderfully satisfying it can be to prepare delicious meals in our own kitchens for the people we love. In FAST FOOD, GOOD FOOD, bestselling author Dr. Andrew Weil reminds us, with more than 150 easy-to-prepare recipes for delectable dishes that are irresistibly tasty and good for you.

These recipes showcase fresh, high-quality ingredients and hearty flavors, like Buffalo Mozzarella Bruschetta, Five-Spice Winter Squash Soup, Greek Style Kale Salad, Pappardelle with Arugula Walnut Pesto, Pan-Seared Halibut with Green Harissa, Coconut Lemon Bars, and Pomegranate Margaritas. With guidance on following an anti-inflammatory diet and mouth-wateringly gorgeous photographs, FAST FOOD, GOOD FOOD will inspire the inner nutritionist and chef in every reader.
About the Author
Andrew Weil, MD, is the founder and director of the Arizona Center for Integrative Medicine. He is the author of several bestselling books, including True Food, The Healthy Kitchen (with Rosie Daley), and Spontaneous Happiness. He lives in Tucson, Arizona.
Praise For Fast Food, Good Food: More Than 150 Quick and Easy Ways to Put Healthy, Delicious Food on the Table…
"Andrew Weil has done it again! His recipes are informative, easy, nutritious, interesting, and fun. I love this book; it is a must for anyone who wants to eat delicious food that is healthy too."—Nora Pouillon, owner of Restaurant Nora and author of Cooking with Nora and My Organic Life

"While I often appreciate pushing the envelope as it relates to technique, we must never lose sight of why we cook: to nourish and make people happy. Dr. Weil's Fast Food, Good Food will help you and your family make food memories by balancing nourishment with joy and excitement."—Thomas Keller, Chef/Proprietor, The French Laundry

"Eating healthy can be oh-so-hard when the prospect of delivery seems both faster and easier. But with Dr. Andrew Weil's new book, you'll have 150 fast ways to get nutritious food in your belly."
—Amanda Woerner, Daily Burn

"Cooking need not be arduous, especially with Dr. Andrew Weil by your side. His new book...reminds us that cooking can be fun, fast and fulfilling....In a friendly and easygoing tone that makes this cookbook a joy to read, Dr. Weil also shares helpful tips on pantry essentials and maximizing your kitchen's efficiency. Just what the doctor ordered."
—Alan W. Petrucelli, Examiner

"This isn't a book for the coffee table, although the photographs are vibrant and beautiful to flip through. Dr. Andrew Weil's latest cookbook is meant for the kitchen. The simple, no-fuss recipes are approachable for even the most amateurish of cooks, but the food is exquisite....Fast Food, Good Food doesn't preach, it teaches you everything from how to use those kitchen tools that sit in your drawers to how to stock your pantry--a first step when adopting healthy eating habits."—Angela Carlos, The Daily Meal