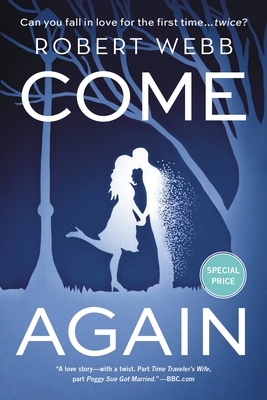 Come Again
Paperback

* Individual store prices may vary.
Description
Can you fall in love for the first time twice? A recently widowed women is about to find out when she wakes up and finds herself eighteen again in this "highly entertaining" story of second chances (Guardian) by the star of Peep Show-- now available in a specially priced edition
  Kate's husband Luke -- the man she loved from the moment she met him twenty-eight years ago -- died suddenly. Since then she has pushed away her friend and lost her job, and everything is starting to fall apart. One day, she wakes up in the wrong room and in the wrong body. She is eighteen again but remembers everything. This is her college room in 1992 on the first day of orientation. And this is the day she meets Luke. Kate knows how he died, and that he's already ill. But Luke is not the man that she lost: he's still a boy -- the annoying nineteen-year-old English student she first met. If they can fall in love again despite everything, she might just be able to save him. She's going to try to do everything exactly the same . . .
Praise For Come Again…
"It's well paced, nicely written and highly entertaining. It's also a very rum concoction indeed -- as if someone had sandwiched a David Nicholls novel in the middle of a comedy thriller, using a Tardis."—The Guardian

"A genre-defying time-travel tale -- part adventure, part love story, part comedy, part dissertation on bereavement ... a breathtakingly insightful evocation of grief."—Sunday Times (UK)

"Robert Webb's effortlessly enjoyable debut novel is soaked in and a wry comment on nostalgia ... his execution is smart, unexpected and full of pop cultural nous. It's also a ripping adventure yarn ... Tender, thoughtful and terrific fun."—Metro (UK)

"Splendidly bleak, fabulously Nineties, and enjoyable."
—Daily Mail (UK)

"Come Again is excellent: moving, funny, and packed with great characters. It also has a slam-bang action ending."—Ian Rankin, author of the Inspector Rebus series

"Funny, brilliant, clever and unpredictable; I gobbled it up."—Jenny Colgan, USA Today bestselling author of The Bookshop on the Corner

Praise for HOW NOT TO BE A BOY
"Quite simply brilliant. I (genuinely) cried. I (genuinely) laughed out loud. It's profound, touching, personal yet universal . . . I loved it"
J.K. ROWLING

"With enormous poignancy and insight . . . Webb's early portrait of himself as a hapless underdog navigating the boulder-strewn path of masculinity is vividly drawn and very funny . . . Echoes of Adrian Mole"
Guardian

"Takes us deftly from hilarity to heart-stopping hurt . . . A truly great read, full of heart"
DAWN FRENCH

"Frank and compelling ... Laugh-out-loud funny ... also, in parts, blink-back-tears sad. Why would I blink back tears rather than give full rein to the emotion? Well, Webb can explain"
Mail On Sunday

"Written with wit and clarity, How Not To Be a Boy is a funny, rueful, truthful book. I enjoyed every page"
STEPHEN FRY
Back Bay Books, 9780316329675, 304pp.
Publication Date: August 24, 2021
About the Author
Robert Webb is best known for his work as the Webb half of Mitchell & Webb in the Sony award-winning That Mitchell & Webb Sound and the Bafta award-winning That Mitchell & Webb Look, and as permanent man-boy Jeremy in the acclaimed Peep Show. In 2017, his call-to-arms memoir How Not To Be a Boy was a number one Sunday Times bestseller. Robert has been a columnist for the Daily Telegraph and the New Statesman, and now lives in London with his wife and daughters. Come Again is his first novel.