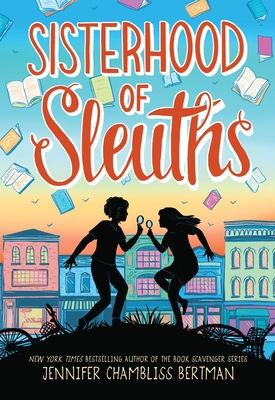 Sisterhood of Sleuths
Hardcover

* Individual store prices may vary.
Other Editions of This Title:
Digital Audiobook (10/3/2022)
Description
A clever and thought-provoking mystery that pays homage to classic Nancy Drew stories, perfect for fans of Wendy Mass and Trenton Lee Stewart. 

Maizy always assumed she knew everything about her grandmother, Jacuzzi. So when a box full of vintage Nancy Drew books gets left at her mom's thrift store, Maizy is surprised to find an old photo of her grandmother and two other women tucked beneath the collection. Stranger still, when Maizy shows the photo to Jacuzzi she feigns ignorance, insisting the woman is someone else. Determined to learn the truth — and inspired by the legacy of Nancy Drew — Maizy launches her own investigation with the help of new friends, Nell and Cam. What they discover not only points to the origins of the iconic series, but uncovers a truth from the past that will lead to self-discovery in the present, connecting three generations of women.  

This intergenerational mystery filled with literary history, friendship, and family secrets delivers a captivating tribute to the world's most famous girl detective. 
Praise For Sisterhood of Sleuths…
Praise for Sisterhood of Sleuths:
An Indie Next Pick
"
Sisterhood of Sleuths
 reminded me of everything I loved about the Nancy Drew books, and introduced me to a new heroine worth rooting for!"—
Jennifer A. Nielsen, New York Times bestselling author of The False Prince
"The perfect book for mystery fans of all ages—a classic that explores the Nancy Drew icon in a contemporary light."—
Fleur Bradley, author of Midnight at the Barclay Hotel
"Sisterhood of Sleuths is an irresistible blend of history, mystery, humor, and heart."
—
Megan Wagner Lloyd, author of Allergic and Haven
"Characters who jump off the page, authentic friendships that twist and turn, and fun laugh-out-loud moments make this homage to Nancy Drew a classic in its own right."—
Ann Braden, author of The Benefits of Being an Octopus and Flight of the Puffin
"Building on beautifully woven themes of forgiveness and female empowerment—Bertman at her best."—
Elaine Vickers, bestselling author of Paper Chains
"An enormously engaging book-focused mystery."—
Claudia Mills, author of The Lost Language and Write This Down
"Good luck trying to put this suspenseful, hilarious, and heartwarming mystery down! With a fascinating mix of present-day problems and true-life literary history, Sisterhood of Sleuths will open readers' eyes—and leave them ready to unleash their inner Nancy Drews."
—
Tara Dairman, author of the All Four Stars series and The Girl From Earth's End
"Bertman creates a sympathetic character in Maizy. Confident in her views yet observant and empathetic, she makes a good narrator. Stamper's full-page, double-page, and small line drawings are an attractive addition to the book. A lively, well-paced story with several elements of mystery."—
Booklist
"A deeply enjoyable read with a well-paced plot, satisfying and believable mystery reveals, and poignant reflections on the changing nature of friendship."—
BCCB
"A strong theme of evolving friendships pervades this fun and funny mystery narrated in Maizy's lively voice, while the Nancy Drew motif infuses the plot with fascinating, thoroughly researched historical details about the series' creation and survival. An engaging pick for mystery fans and wannabe sleuths."—
Kirkus Reviews
Praise and honors for the Book Scavenger series:
New York Times 
Bestseller (for 5 weeks)
Bank Street College Best Book of the Year 
NCTE Notable Children's Book in the Language Arts
Indie Next Kids' #6 pick (Summer 2015)
ABA Indies Introduce New Voices Finalist 
An Amazon Best Book of the Year
Junior Library Guild selection, 2015
A 
Publishers Weekly
 Best Book for Summer
SF Gate Summer Reads Recommendation, 2015
Cybils Middle Grade Fiction Finalist, 2015
SCBWI Crystal Kite Award Finalist, 2016
Colorado Book Award Finalist, 2016
Georgia Children's Book Award Finalist, 2016-2017
Maryland Black Eyed Susan Award Nominee, 2016-2017
Massachusetts Children's Book Award Nominee, 2016-2017
Pennsylvania Young Reader's Choice Award Nominee, 2016-2017
Triple Crown Lamplighter Book Award Winner, 2016-2017
Utah Educational Library Media Association Award Master List Selection, 2016
Jr Tome Society and Club Tome It List Nominee, 2016-2017
Indiana Young Hoosier Book Award Nominee, 2017-2018
Louisiana Young Readers Choice Award Nominee, 2017-2018
Missouri Mark Twain Award Nominee, 2017-2018
Nebraska Golden Sower Award Finalist, 2017-2018
North Carolina Young Adult Book Award Nominee, 2017-2018
Connecticut Nutmeg Book Award Nominee, 2018
Illinois Rebecca Caudill Young Reader's Book Award Nominee, 2017-2018
Illinois Bluestem Book Award Nominee, 2017-2018
Utah Beehive Award Nominee, 2018
Mississippi Magnolia Children's Choice Book Award Nominee, 2018
Rhode Island Middle School Book Award Nominee, 2018
Tennessee Volunteer State Book Award Nominee, 2018
Washington Library Association Sasquatch Book Award Nominee, 2018
Oregon Battle of the Books selection 2018-2019
Minnesota Youth Reading Award Nominee 2018-2019
Hawaii Nene Book Award Nominee, 2018
West Australian Young Readers Book Award Nominee, 2019
* "Full of heart and replete with challenging ciphers for readers to decode, Bertman's debut is literary cousin to classic puzzlers like
The Westing Game
, and a story that values books and reading above other pursuits."—
Publishers Weekly, starred review on Book Scavenger
* "In her first novel, Jennifer Chambliss Bertman introduces a smart, resourceful 12-year-old who makes her first true friend through a mutual passion for solving puzzles.... Fans of
Escape from Mr. Lemoncello's Library
will appreciate the abundant literary allusions, and readers will hope for more adventures, hinted at in the book's final lines."—
Shelf Awareness, starred review on Book Scavenger
"Sprinkled with ciphers, San Francisco landmarks, and literary allusions, Book Scavenger is a fun, light, implausible adventure.... This will appeal to fans of Blue Balliett's art-world mysteries."—
School Library Journal on Book Scavenger
"Well paced and involving, the story will intrigue kids with an interest in mysteries and codes as well as books. The writing includes references to local landmarks as well as literary allusions to Jack Kerouac, Robert Louis Stevenson, and, especially, Edgar Allan Poe. A lively first novel."—
Booklist on Book Scavenger
"A successful sequel . . . Readers who loved the first volume will find this follow-up even more satisfying."—
School Library Journal on The Unbreakable Code
"Brisk, bookish good fun for puzzle and code lovers."—
Kirkus Reviews on The Unbreakable Code
Christy Ottaviano Books, 9780316331074, 336pp.
Publication Date: October 4, 2022
About the Author
Jennifer Chambliss Bertman is the New York Times bestselling author of the Book Scavenger series: Book Scavenger, The Unbreakable Code, and The Alcatraz Escape. Born and raised in the San Francisco Bay Area, she holds an MFA in creative writing and has worked in a variety of roles with children and in publishing. She lives in Colorado with her husband, son, and many pets. She invites you to visit her online at jenniferchamblissbertman.com.