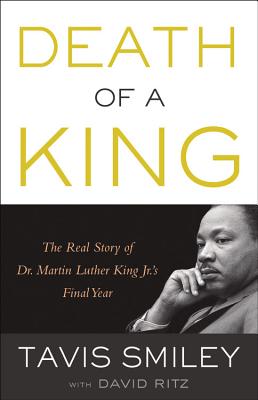 Death of a King
The Real Story of Dr. Martin Luther King Jr.'s Final Year
Hardcover

* Individual store prices may vary.
Other Editions of This Title:
Digital Audiobook (9/8/2014)
Paperback (1/12/2016)
Hardcover, Large Print (9/9/2014)
CD-Audio (9/9/2014)
Description
A revealing and dramatic chronicle of the twelve months leading up to Dr. Martin Luther King, Jr.'s assassination.

Martin Luther King, Jr. died in one of the most shocking assassinations the world has known, but little is remembered about the life he led in his final year. New York Times bestselling author and award-winning broadcaster Tavis Smiley recounts the final 365 days of King's life, revealing the minister's trials and tribulations -- denunciations by the press, rejection from the president, dismissal by the country's black middle class and militants, assaults on his character, ideology, and political tactics, to name a few -- all of which he had to rise above in order to lead and address the racism, poverty, and militarism that threatened to destroy our democracy.

Smiley's Death of a King paints a portrait of a leader and visionary in a narrative different from all that have come before. Here is an exceptional glimpse into King's life -- one that adds both nuance and gravitas to his legacy as an American hero.
Praise For Death of a King: The Real Story of Dr. Martin Luther King Jr.'s Final Year…
Winner of the Jessie Redmon Fauset Book Award
"A reverential look at Martin Luther King Jr.'s last agonizing year that does not disguise the flaws of a saint.... [A] poignant account of King's final struggle. An eloquent, emotional journey from darkness to light."—
Kirkus Reviews
"Tavis Smiley has captured not only the spirit of the movement, but the Spirit of Martin Luther King, Jr. in his last days. We didn't realize it but he knew he was on his way to Jerusalem, and as much as we tried to deter him, he fought back."
—
Andrew Young, former United States Ambassador to the United Nations and former Mayor of Atlanta
"
Death of a King
is a fitting climax to a noble saga. It is here adequately told and placed before history."—
Reverend Gardner C. Taylor
A "microscopically focused biography, which trades in both weighty events and the everyday joys of family life."
—
Time
"Tavis Smiley has brought forward in his book
Death of a King
an accounting of the last year Dr. King was physically with us -- an accounting very much needed. Tavis rightfully emphasizes the error it is to continually emphasize his martyrdom mostly with no mention of the great work he did. Tavis's book helps people focus on his work and the spirit with which he worked."—
Dorothy F. Cotton, Education Director for SCLC, the organization led by Dr. King
"Tavis Smiley illuminates the passion and struggle of Martin Luther King Jr.'s last 365 days."
—
AARP's Editors' Picks
"One of the most important political voices of his generation."
—
The Philadelphia Inquirer
"A dramatic retelling of King's final and pivotal year."
—
Leonard Gill, Memphis Flyer
"
Death of a King
paints a portrait of a leader and visionary in a revealing and dramatic chronicle of the 12 months leading up to King's assassination."—
Nicole M. Robertson, The Oakland Press
"Smiley also serves as the reader for the audio, a factor that gives another level of personalization to the already gripping narrative. In the introduction, Smiley remembers how when he was growing up, he recited the speeches of Dr. King in order to "find his own voice." And what a voice it is. Smiley's narration is smooth, measured, and backed by a rich, authoritative tone that truly adds another level of sentimentality and familiarity to the audio. Recommended for history buffs and those interested particularly in Dr. King."
—
Brian Odom, Booklist
"A must-read.... ... King feels like a real person instead of a larger-than-life caricature."
—
Kelvin Wade, Daily Republic
Little, Brown and Company, 9780316332767, 288pp.
Publication Date: September 9, 2014
About the Author
Tavis Smiley is the host of PBS's Tavis Smiley and Public Radio International's The Tavis Smiley Show.Smiley is also the bestselling author of 17 books. He lives in Los Angeles, California.
or
Not Currently Available for Direct Purchase