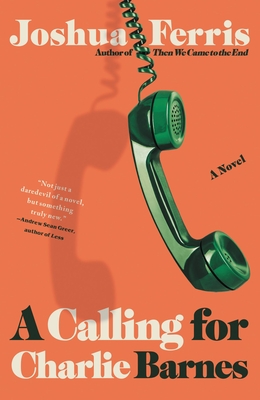 A Calling for Charlie Barnes
Hardcover

* Individual store prices may vary.
Description
From a National Book Award Finalist comes a novel about a modern American family and a man on a secret mission to uncover the world's hidden truths—until his two lives come crashing together.
Someone is telling the story of the life of Charlie Barnes, and it doesn't appear to be going well. Too often divorced, discontent with life's compromises and in a house he hates, this lifelong schemer and eternal romantic would like out of his present circumstances and into the American dream. But when the twin calamities of the Great Recession and a cancer scare come along to compound his troubles, his dreams dwindle further, and an infinite past full of forking paths quickly tapers to a black dot.
Then, against all odds, something goes right for a change: Charlie is granted a second act. With help from his storyteller son, he surveys the facts of his life and finds his true calling where he least expects it—in a sacrifice that redounds with selflessness and love—at last becoming the man his son always knew he could be.
A Calling for Charlie Barnes
is a profound and tender portrait of a man whose desperate need to be loved is his downfall, and a brutally funny account of how that love is ultimately earned.
Praise For A Calling for Charlie Barnes…
"A deeply funny, very moving book about that most pivotal and permanent of destinations: death. Ferris's hijinks are serious; his play is profound. There is magic in these pages."—Ayad Akhtar, author of Homeland Elegies

"With meticulous, wry prose and a dash of self-effacing metafiction, Joshua Ferris delves deeply into the simultaneously extraordinary and ordinary life of Charlie Barnes, a man with as much failure in him as found in our bankrupted country. This novel, about dentures and toupees and all the ways we disguise ourselves from our intimates, is at its large heart a moving portrait of a father and son to rival the best of Roth."—Teddy Wayne, author of Apartment

"Joshua Ferris is one of our best writers, and A Calling for Charlie Barnes is wonderful: fast and deep, urgent and brilliant.  Ingeniously written, it had me up reading late into the night.   A hilarious, intimate, and scathing takedown of so many American vanities."—Dana Spiotta, author of Innocents and Others

"Dazzling. Mind-blowing. About as much fun as you can have without risking arrest."—Richard Russo, author of Empire Falls and Chances Are…

"If Augie March was a "Columbus of the near-at-hand," Charlie Barnes is a whole America: a dreaming, scheming paterfamilias forever "expanding out to the coasts" and outstripping whatever inconvenient facts or exuberant fictions might hope to contain him. Is he for real? Are any of us? This much is certain: Funny, moving, and formally a work of genius, A Calling for Charlie Barnes is quite literally the book Joshua Ferris was born to write."—Garth Risk Hallberg, author of City on Fire

Previous Praise for Joshua Ferris—--

"Ferris's prose is brash, extravagant, and chillingly beautiful."—The New Yorker

"Arresting, ground-shifting, beautiful and tragic. This is the book a new generation of writers will answer to. No one in America writes like this."—Gary Shteyngart, author of Lake Success

"Utterly compelling. . . . Ferris brilliantly channels the suburban angst of Yates and Cheever for the new millenium."—Booklist

"As he's demonstrated in each of his novels, Joshua Ferris is a writer who's keenly attuned to the unsettled quality of our times."—Bookreporter.com

"Plenty of novels, memoirs and cultural studies have explored the end of men or the failings of masculinity. But Ferris, a darkly comic writer who feels like the novelist equivalent of the filmmakers Joel and Ethan Coen, has managed to write a series of stories on the subject that feels fresh. His male characters mess up, in small and spectacular fashion, but their misdeeds often prompt our sympathy, thanks to Ferris's insightful narration."—Ian Shapira, Washington Post
Little, Brown and Company, 9780316333535, 352pp.
Publication Date: September 28, 2021
About the Author
Joshua Ferris is the author of three previous novels, Then We Came to the End, The Unnamed and To Rise Again at a Decent Hour, and a collection of stories, The Dinner Party. He was a finalist for the National Book Award, winner of the Barnes and Noble Discover Award and the PEN/Hemingway Award, and was named one of The New Yorker's "20 Under 40" writers in 2010. To Rise Again at a Decent Hour won the Dylan Thomas Prize and was shortlisted for the Booker Prize. His short stories have appeared in The New Yorker, Granta, and Best American Short Stories. He lives in New York.