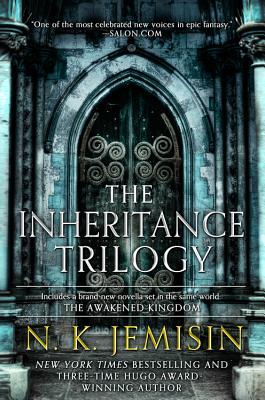 The Inheritance Trilogy (Paperback)
Orbit, 9780316334006, 1472pp.
Publication Date: December 9, 2014
* Individual store prices may vary.
Description
In this omnibus edition of N.K. Jemisin's brilliantly original award-winning fantasy series, a young woman becomes entangled in a power struggle of mythic proportions.
A REALM OF GODS AND MORTALS.
Yeine Darr is an outcast from the barbarian north. But when her mother dies under mysterious circumstances, she is summoned to the majestic city of Sky. There, to her shock, Yeine is named an heiress to the king. But the throne of the Hundred Thousand Kingdoms is not easily won, and Yeine is thrust into a vicious power struggle.
The Inheritance Trilogy omnibus includes the novels: The Hundred Thousand Kingdoms, The Broken Kingdoms, The Kingdom of Gods, and a brand new novella set in the same world: The Awakened Kingdom. The Inheritance TrilogyThe Hundred Thousand KingdomsThe Broken KingdomsThe Kingdom of Gods
The Inheritance Trilogy (omnibus edition)Shades in Shadow: An Inheritance Triptych (e-only short fiction)The Awakened Kingdom (e-only novella)
For more from N. K. Jemisin, check out:
Dreamblood DuologyThe Killing MoonThe Shadowed Sun
The Broken Earth seriesThe Fifth SeasonThe Obelisk GateThe Stone Sky

About the Author
N. K. Jemisin is a Brooklyn author who won the Hugo Award for Best Novel for The Fifth Season, which was also a New York Times Notable Book of 2015. She previously won the Locus Award for her first novel, The Hundred Thousand Kingdoms, and her short fiction and novels have been nominated multiple times for Hugo, World Fantasy, Nebula, and RT Reviewers' Choice awards, and shortlisted for the Crawford and the James Tiptree, Jr. awards. She is a science fiction and fantasy reviewer for the New York Times, and you can find her online at nkjemisin.com.