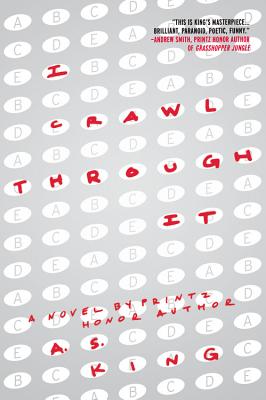 I Crawl Through It
Hardcover

* Individual store prices may vary.
Description
Four teenagers are on the verge of exploding. The anxieties they face at every turn have nearly pushed them to the point of surrender: senseless high-stakes testing, the lingering damage of past trauma, the buried grief and guilt of tragic loss. They are desperate to cope, but no one is listening.

So they will lie. They will split in two. They will turn inside out. They will even build an invisible helicopter to fly themselves far away...but nothing releases the pressure. Because, as they discover, the only way to truly escape their world is to fly right into it.

The genius of acclaimed author A.S. King reaches new heights in this groundbreaking work of surrealist fiction; it will mesmerize readers with its deeply affecting exploration of how we crawl through traumatic experience--and find the way out.
Praise For I Crawl Through It…
Praise for I Crawl Through It: A Booklist Editor's Choice Book of 2015
A Booklist Top 50 YA Audiobook Novels of All Time

"I Crawl Through It proves that A.S. King is one of the most innovative and talented novelists of our time. This is King's masterpiece--a brilliant, paranoid, poetic, funny, and at times overwhelmingly sad literary cocktail of absinthe and Adderall. What a trip!"—Andrew Smith, acclaimed author of Winger and Grasshopper Jungle

* "At once a statement on the culture of modern schools as well as mental health issues, this novel is an ambitious, haunting work of art."
—School Library Journal, starred review

*"Masterfully written and brilliantly bizarre, this is King at her most innovative yet."
—VOYA, starred review

*"Beautiful prose, poetry, and surreal imagery combine for an utterly original story that urges readers to question, love, and believe--or risk explosion."
—Booklist, starred review

*"King's novel blends the magical and the mundane in a deadpan delivery
that makes it difficult to tell one from the other. This, of course, is
the point of her ambitious and affecting work."
—The Horn Book, starred review

*"It's bizarre, compelling, and not like anything else."
—Publishers Weekly, starred review

"A meditation on grief, guilt, and survival.... Readers [will be] rewarded with the self-actualization of finely wrought characters.... Absolutely worthwhile."
—Kirkus Reviews
Little, Brown Books for Young Readers, 9780316334099, 336pp.
Publication Date: September 22, 2015
About the Author
A.S. King is the author of the highly acclaimed books Glory O'Brien's History of the Future;Reality Boy; Ask the Passengers, a Los Angeles Times Book Prize winner; Everybody Sees the Ants; and the Edgar Award nominated, Michael L. Printz Honor book Please Ignore Vera Dietz. She lives in Pennsylvania.
The novel's narrators are all burdened by unacknowledged trauma. How do they each attempt to cope with it? Why are their initial methods unsuccessful?
How do the characters' surreal descriptions of dealing with pain—for example, Stanzi "splitting" herself and China turning herself inside-out—hint at the root of their trauma?
Kenneth the bush man appears throughout the novel as an alternately menacing and understanding character. He sells letters for kisses but also offers cryptic advice. What do you think his character represents? Is he ultimately a helpful figure or does he signify a false solution to life's problems?
When describing themselves, the protagonists speak only of their inadequacies and low self-esteem. Yet they eventually reveal a deep love for one another. What do the outside perspectives on Stanzi, China, and Lansdale reveal about their true abilities?
Why do the characters send bomb threats to the school?
When Stanzi and Gustav travel to "The Place of Arrivals," they expect to find a land of geniuses—a paradise free of tests and absentee parents. Instead, they come to realize that the community is equally oppressive, and its inhabitants look down on the outside world. What do you think this land represents?
Patricia is the only adult narrator, and she appears later than the other main characters. The reader never learns her full backstory, but she is instrumental in helping Stanzi and Gustav realize the dangers of The Place of Arrivals. Why do you think A.S. King includes her perspective?
Near the end of the novel, China states in upside down text, "The world will be upside down forever. We have to come to terms with this." What does this statement suggest about her path towards healing?
How do you interpret the novel's title?
Rather than telling the story in a straightforward manner, King creates an incredibly surreal and dreamlike universe. Why might she have decided to frame the novel this way? What are the benefits of this writing style?
or
Not Currently Available for Direct Purchase