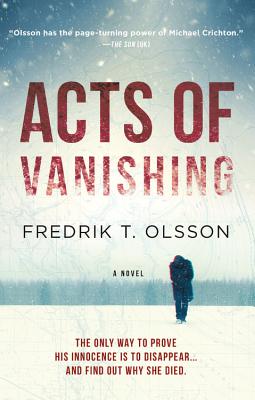 Acts of Vanishing (Hardcover)
A Novel
Little, Brown and Company, 9780316335027, 464pp.
Publication Date: April 24, 2018
* Individual store prices may vary.
Description
A city in darkness. A hero in disgrace. His daughter in the gravest danger. With its heart-pounding action and breakneck pace, Acts of Vanishing is the perfect blockbuster thriller.
One winter evening just before Christmas, Stockholm is plunged into a sudden, citywide blackout. Radio, internet, phone service--all cut out simultaneously, cloaking the city in darkness and silence.
On the pitch-black streets, a young woman carries a message for her estranged father. It may be the key to reversing the blackout and preventing further attacks. But someone powerful is determined to stop her from delivering it...
In an eerily quiet newsroom, journalist Christina Sandberg tries to piece together what's happening. She has a terrible feeling that, somehow, her ex-husband William is involved...
Code breaker and cyber-security expert William Sandberg recieved an anonymous email, immediately before the blackout, with very specific directions to be followed. His erstwhile colleagues in the state military police are very aware of this correspondence. Sandberg is taken into custody-just when he most needs to be in action to clear his name, find his daughter, and save the country from disaster.
About the Author
Born in 1969 outside Göteborg on the Swedish west coast, Fredrik T. Olsson spent most of his childhood writing, acting and producing plays. Refusing to grow up, this is pretty much what he has kept doing since. A full-time screenwriter for film and television since 1995, Fredrik has written scripts in genres ranging from comedy to thrillers, as well as developing, show running and head-writing original material for various Swedish networks. He is also a standup comedian and makes occasional contributions as a director.
Praise For Acts of Vanishing: A Novel…
"Thriller fans will enjoy this one."—Kirkus Reviews

"Intriguing"—Booklist

PRAISE FOR CHAIN OF EVENTS:

"Distinctly cinematic.... A colorful blockbuster thriller."
—The Independent (UK)

"Secrets are unveiled with a masterful sense of pace.... Olsson has the page-turning power of Michael Crichton."—The Sun (UK)

"Olsson lines up a sympathetic and well-developed cast of characters, inserts them into some interesting places, and allows very few dull moments, especially once the action really gets rolling. An end-of-the-world-as-we-know-it thriller featuring two unlikely, but very likeable protagonists."—Kirkus Reviews