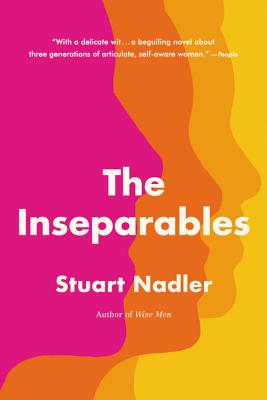 The Inseparables
A Novel
Paperback

* Individual store prices may vary.
Other Editions of This Title:
Digital Audiobook (7/18/2016)
Hardcover (7/19/2016)
Hardcover, Large Print (10/5/2016)
Compact Disc (7/19/2016)
Compact Disc (7/19/2016)
Description
One of Kirkus' Best Books of 2016: Crisis is looming for three generations of the Olyphant family.

In less than a year, Henrietta has lost her husband and nearly all of her money, and is about to lose her hard-won anonymity. After a lifetime spent trying to outrun the humiliation her own book caused her, Henrietta has reluctantly agreed to a reissue of The Inseparables, the salaciously filthy and critically despised bestseller she wrote decades earlier.

At the same time, her daughter, Oona, has moved back home to the house that Henrietta needs to sell. Oona is in the middle of a divorce from her husband, Spencer, a corporate-law refugee, stay-at-home dad, and unapologetic stoner. And Oona's teenage daughter, Lydia, away at boarding school, is facing an onslaught of scrutiny and shame when a nude photo of her goes viral.

The trouble only gets worse: Henrietta makes an upsetting discovery about her late husband; Oona embarks on a disastrous affair; and Lydia must deal with an ex-boyfriend who is determined to wreak havoc. Over the course of a few tumultuous days, the Olyphant women must come to terms with their past and try to reimagine their future.

Incisive, moving, and wickedly funny, The Inseparables examines what happens when our most carefully constructed ideas about our lives unravel, and we begin to reinvent ourselves -- and our family -- anew.
Praise For The Inseparables: A Novel…
PRAISE FOR THE INSEPARABLES:
—
-
"In this beguiling novel, three generations of articulate, self-aware women fall to pieces...With a fine understanding of women and a delicate wit, Nadler shepherds all three [women] through grief and humiliation and out the other side."
—
Kim Hubbard
,
People
"There is much to enjoy about this book. I laughed out loud at scenes...but the most memorable moments examine the intricacies of familial love--the bonds between mothers and daughters, men and women, boys and girls...[Nadler's writing is] carefully rendered, unpretentious and always with the reader's satisfaction on the front burner."
—
Ann Leary
,
The New York Times Book Review
"THE INSEPARABLES is funny and sad and so wise about so many things--sex in the modern age, feminism, food, ambition, animals, marriage, mothers and daughters. Fathers and daughters too, for that matter. Weeks after finishing this gorgeous novel, I'm still thinking about the wonderful Olyphant women in all their complexity."
—
J. Courtney Sullivan
,
New York Times bestselling author of Maine and The Engagements
"It's a testament to Stuart Nadler's powers of empathy that I identified with all three generations of women in this witty and wise tale of female trouble and family mayhem."
—
Lucinda Rosenfeld
,
author of I'm So Happy for You and The Pretty One
"THE INSEPARABLES accomplishes the rare feat of being both timely--this is an incisive commentary on our culture in the digital age--and completely timeless. Stuart Nadler is sharply attuned to the ironies of life and his novel is insightful, funny, and deeply moving. THE INSEPARABLES is a profound story, not just about the Olyphant women, but about America. This is proof that Nadler is one of the great novelists of our generation."
—
Elliott Holt
,
author of You Are One of Them
"THE INSEPARABLES reminded me of vintage Michael Chabon in all the right ways: keenly observed, raucously funny, and poignantly painful. The masterful prose sparkles and shines. But what makes THE INSEPARABLES so damn good are the perfectly realized characters, all popping off the page in 3-D. A great, great book."
—
Nickolas Butler
,
internationally bestselling author of Shotgun Lovesongs and Beneath the Bonfire
"THE INSEPARABLES is a mature, sophisticated, self-assured, deeply entertaining piece of fiction. As I read it I couldn't stop saying to myself: now
this
is exactly how a book should work."—
Jami Attenberg
,
New York Times bestselling author of The Middlesteins and Saint Mazie
"At turns funny, thoughtful, and heart wrenching, THE INSEPARABLES is a deeply satisfying sage of mothers and daughters, sure to be a hit with book clubs. Stuart Nadler writes with clear-eyed confidence, keen insight, and great empathy for his characters."
—
Jonathan Evison
,
author of The Revised Fundamentals of Caregiving and West of Here
"Stuart Nadler is an incredible writer--insanely smart and funny, confident and compassionate--and THE INSEPARABLES is a deeply moving and morally complex novel that pulls off the high-wire act of being both a brilliant examination of the psychological relationship between art and privacy, and a flat-out page-turner. Nadler writes with all the wit of Bellow and the psychological depth of Ozick. An extraordinary new novel by a writer with endless talent."
—
Molly Antopol
,
author of The UnAmericans
"I love stories about the honest (and difficult!) messiness of life and Stuart Nadler's THE INSEPARABLES is just that--it's a big, bold, bubbling novel, and I was hooked from page one."
—
Hannah Pittard
,
author of Listen to Me
"Stuart Nadler's savage wit and incendiary insights mix in this brilliant, funny and deeply moving novel to give us a glimpse into the generational moment we're all living in. This is a novel about how our culture treats sex, and the lives--and rights--of women of any age."
—
Alexander Chee
,
author of The Queen of the Night
"Stuart Nadler is a perceptive, sharp, and hilarious writer, working at the top of his game. Fans of Meg Wolitzer and Tom Perrotta will go crazy for this book, which is smart and funny in equal measure."
—
Emma Straub
,
author of The Vacationers
"The sharp and immersive THE INSEPARABLES draws us deep into the lives of three devastated, indelible women--and masterfully illuminates how disaster can reveal new dimensions in the self. This is Stuart Nadler's finest work of fiction yet. From the first sentence to the last, the book inhaled my imagination like a bold and furious storm."
—
Laura van den Berg
,
author of Find Me
"Nadler, a male writer in his 30s, truly dazzles with his understanding of women--this is the kind of book that will cause female readers to fall in love with the author...Love this writer. Love these characters."
—
Kirkus (Starred Review)
"Nadler writes with tenderness and empathy...
The Inseparables
feels urgent, but without losing its warmth and humor."
—
Daniel Johnson
,
The Paris Review
"Nadler excels at setting and sustaining a scene, and he writes with confidence and compassion about people trying to navigate their way through disruption."
—
Booklist (Starred Review)
"Elegantly written and often funny and sharply insightful...This story is ripe for thought and discussion."
—
Eleanor Brown
,
The Washington Post
"Nadler's female protagonists are so fully formed and relatable that readers may be surprised to realize the author is male.
The Inseparables
braids the stories of these generations, creating an emotional landscape that draws the reader into each character's world."
—
Carla Jean Whitley
,
BookPage
"[A] sharply written exploration of feminism in the digital age."
—
Conde Nast Traveler
"Simultaneously probing and hilarious."
—
Kevin Nance
,
The Chicago Tribune
"[A] droll, warm and trenchantly observed comic novel...the smartest and most touching romantic comedy you won't find at a multiplex theater this summer."
—
Gene Seymour
,
Newsday
"Sharply drawn [and] amusingly observed."
—
Shelf Awareness
"The best fiction illuminates life's realities, and Stuart Nadler spotlights the fact that we all skate on a very thin edge between joy and sorrow, respectability and shame, life and death."
—
Martha Sheridan
,
Dallas Morning News
"Written with insight and warmth...[an] emotionally rich and sharply observed portrayal of three women and their journeys...compassionate and compelling."
—
Wendeline O. Wright
,
Pittsburgh Post-Gazette
PRAISE FOR
WISE MEN:
"I have no doubt that Stuart Nadler is going to be one of our great novelists, and it all starts here, on a dune in Cape Cod, with the Wise men. These characters--knotted together with obligation, guilt, and love--will stay with me always."—
Emma Straub
"Surprising...The story stretches over both Wise men's lifetimes and fills them with resonant complications...expertly wrought."
—
Janet Maslin, New York Times
"A tense, evocative, page-turning saga of the bruising encounters between two families across the 'colour line' over half a century. Every conversation rings painfully, beautifully true."
—
Emma Donoghue, author of Frog Music and Room
"It's an absorbing, well-crafted book, with all the story-telling virtues on display. It is atmospheric, thoughtful and mature, with characters whose fate arouses genuine curiosity. It is fiction of great integrity and vast promise."
—
Hilary Mantel
Back Bay Books, 9780316335263, 352pp.
Publication Date: July 25, 2017
About the Author
Stuart Nadler is a recipient of the 5 Under 35 award from the National Book Foundation and a graduate of the Iowa Writers' Workshop. He is the author of the novel Wise Men and the story collection The Book of Life.