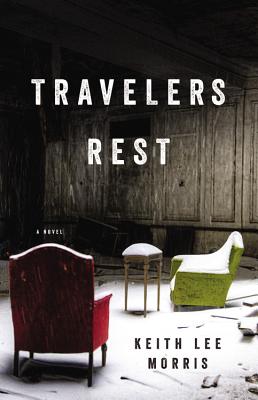 Travelers Rest
A Novel
Hardcover

* Individual store prices may vary.
Other Editions of This Title:
Digital Audiobook (1/4/2016)
Paperback (3/14/2017)
Description
A chilling fable about a family marooned in a snowbound town whose grievous history intrudes on the dreamlike present.

The Addisons -- Julia and Tonio, ten-year-old Dewey, and derelict Uncle Robbie -- are driving home, cross-country, after collecting Robbie from yet another trip to rehab. When a terrifying blizzard strikes outside the town of Good Night, Idaho, they seek refuge in the town at the Travelers Rest, a formerly opulent but now crumbling and eerie hotel where the physical laws of the universe are bent.

Once inside the hotel, the family is separated. As Julia and Tonio drift through the maze of the hotel's spectral interiors, struggling to make sense of the building's alluring powers, Dewey ventures outward to a secret-filled diner across the street. Meanwhile, a desperate Robbie quickly succumbs to his old vices, drifting ever further from the ones who love him most.

With each passing hour, dreams and memories blur, tearing a hole in the fabric of our perceived reality and leaving the Addisons in a ceaseless search for one another. At each turn a mysterious force prevents them from reuniting, until at last Julia is faced with an impossible choice.

Can this mother save her family from the fate of becoming Souvenirs -- those citizens trapped forever in magnetic Good Night -- or, worse, from disappearing entirely? With the fearsome intensity of a ghost story, the magical spark of a fairy tale, and the emotional depth of the finest family sagas, Keith Lee Morris takes us on a journey beyond the realm of the known. Featuring prose as dizzyingly beautiful as the mystical world Morris creates, Travelers Rest is both a mind-altering meditation on the nature of consciousness and a heartbreaking story of a family on the brink of survival.
Praise For Travelers Rest: A Novel…
"Beautifully written. Morris has an adroit hand for characterization and atmosphere; the people feel real....and the haunting isolation of Good Night looms and chills throughout the story."—N.K. Jemisin, New York Times Book Review

"Thoughtful, engaging, and clearly the work of a writer who knows what he's doing....Morris's prose is very good--polished, accessible, and at times quirkily humorous....There's much to admire and enjoy in Travelers Rest. The writing is persuasive, the characters are rich, and there are moments of great emotional resonance. Should you choose to stay a while in Good Night, Idaho, then--unlike the Addisons--you won't regret it."
—Michael Marshall Smith, The Guardian

"Travelers Rest does not go in for Gothic horror shocks, presenting instead a subtle, meticulous examination of strained relationships, the effects of isolation on the mind, and the persistent hold memory has over us....The novel resembles the kind of nightmare you can't seem to wake from....It exerts a powerful hold."
—James Lovegrove, Financial Times

"Morris's third novel is just as rewarding as his short stories, brimming as it is with ghosts, dream mines, and snowy mazes...In his artful hands, the fallible and relatable characters make for good company in the punchy cabin-fever atmosphere."
—Courtney Ferguson, Portland Mercury

"It says much of Morris's skill that he's able to keep us bewitched and beguiled in this topsy-turvy world with its endless corridors, twisting stairs, and Escher-like surroundings. The novel culminates in an almost operatic grand finale where past and present meet in a satisfying conclusion." —John Clarke, The Independent

"Time and space are as fluid as water in Keith Lee Morris's labyrinthine third novel...Proustian in theme but not in form, Travelers Rest is the definition of dreamlike prose. Morris's writing is clean and cold as snow. The pages drift by just as effortlessly, lulling you into a quiet cocoon that you realize, too late, is actually something much more sinister."
—Adam Morgan, BookPage

"It won't take long-a page, maybe two-before you feel wondrously disquieted by Keith Lee Morris's Travelers Rest. The novel traps its characters in the town of Good Night, Idaho, and the reader in its shaken snow globe of a world. The language dazzles and the circumstances chill and put this story in the good company of Stephen King's The Shining, Shirley Jackson's The Haunting of Hill House, and David Lynch's Twin Peaks. This is a breakout book that will earn Morris the wide readership he richly deserves."
—Benjamin Percy, author of The Dead Lands and Red Moon

"Echoing the fantastic work of Shirley Jackson and Stephen King, Travelers Rest is both fiercely gripping and deeply unsettling, a perfect mixture of horror and fairy tale held together by Keith Lee Morris's unique ability to look beyond the imposing hotel and take us inside the hearts and minds of this trapped family, a feat that makes this story all the more frightening and moving. This is a novel that pulls you in immediately and refuses to let you go."—Kevin Wilson, author of the New York Times bestseller The Family Fang

"Keith Lee Morris knows what fiction is made for: in Travelers Rest he creates an intriguing world, poses big questions, and gives us sentences that by themselves are worth the read. What happens, he asks, when the person who goes missing is yourself? And you're lost not only in space, but also in time. And the people you love most are counting on you to save them because they are missing, too. Morris invites us to lose ourselves in his stunning new novel and find out."—Charlotte Rogan, author of the New York Times bestseller The Lifeboat

"Expertly refurbishing an old structure, this haunted-hotel novel generates some genuine chills . . . Morris handles the spooky materials deftly, but his writing is what makes the story really scary: quiet and languorous, sweeping steadily and inexorably along like a curtain of drifting snow identified too late as an avalanche."—Publishers Weekly (Starred Review)

"In Travelers Rest, Keith Lee Morris (Call It What You Want) strikes the perfect balance between the real and the fantastical, resulting in a novel whose mystery is as disquieting as it is mind-bending....Morris excellently builds the slow-burning mystery of the hotel's past in a way that will leave readers lulled into the strangeness of Travelers Rest just as they are discomfited by the eeriness of it all. This quietly unsettling novel combines past and present, dreams and reality, into one strange hotel mystery."—Shelf Awareness

"Alice in Wonderland meets The Shining when four travelers are stranded in Good Night, Idaho, during a freak blizzard . . . [Travelers Rest] proves itself weighty, suspenseful, and even wistful . . . The lasting impact [of Good Night] on the characters is rather poignant."—Kirkus

Praise for Keith Lee Morris

"Sign me up as a member of the Keith Lee Morris fan club. His characters are as real, fallible, and surprising as anyone I've ever met, and his novel has all the textures of real life: precarious, tender, and utterly engrossing."—Kelly Link, author of Magic for Beginners

"Morris is heir to the Richard Ford of Rock Springs; he has that rare gift of writing truthfully about people we know and care for."—The Believer

"A compelling read."
—The Kansas City Star
Little, Brown and Company, 9780316335829, 368pp.
Publication Date: January 5, 2016
About the Author
Keith Lee Morris is the author of two previous novels, The Greyhound God and The Dart League King, a Barnes & Noble Discover pick. His short stories have been published in New Stories from the South, Tin House, A Public Space, New England Review, and Southern Review, which awarded him its Eudora Welty Prize in fiction. Morris lives in South Carolina, where he is a professor of creative writing at Clemson University.
or
Not Currently Available for Direct Purchase