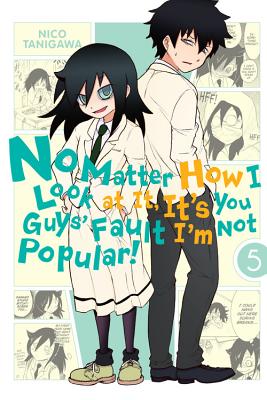 No Matter How I Look at It, It's You Guys' Fault I'm Not Popular!, Vol. 5 (Paperback)
Yen Press, 9780316336093, 144pp.
Publication Date: October 28, 2014
Other Editions of This Title:
Paperback (3/26/2019)
Paperback (10/29/2013)
Paperback (11/22/2016)
Paperback (1/21/2014)
Paperback (12/19/2017)
Paperback (7/18/2017)
* Individual store prices may vary.
Description
After an unforgivingly grueling introduction to high school, Tomoko's now finally a second-year. One with a tough, sports-crazed homeroom teacher, a somewhat friendly classmate, and a kid brother now stalking the halls of the same school with an even colder attitude toward his big sister... With all these things shaking up her high school life, will Tomoko be able to stick it out through her second year...?!
About the Author
A team of two manga artists, Nico Tanigawa is the creator of a number of school-life comedies, including No Matter How I Look At It, It's You Guys' Fault I'm Not Popular!