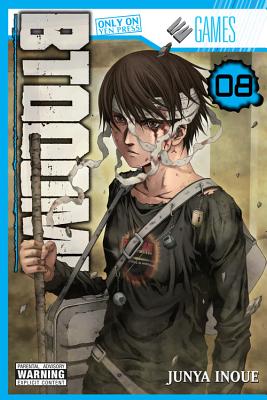 BTOOOM!, Vol. 8 (Paperback)
Yen Press, 9780316336239, 192pp.
Publication Date: November 18, 2014
* Individual store prices may vary.
Description
The demonic death game finally reaches a climax!!
Sakamoto and Himiko have thus far succeeded in hanging on to their lives on the mysterious island battlefield, using their BIMs to compete in the murderous gameplay of live-action "BTOOOM!" The two find themselves pitted in a life-or-death struggle with Date, a victor from an earlier round, who has all sorts of knowledge about the game unfolding around them. After being cornered by Date, they escape his clutches and rush to the side of their third ally, Kiyoshi Taira, only to find that his state of terror and his horrific wounds have caused him to lose his mind...?!
About the Author
Junya Inoue is the manga artist behind a number of horror series for young men, including survival drama "BTOOOM!" and horror mysteries "Otogi Matsuri" and "Youkai Hunter: Yami no Kyakujin."