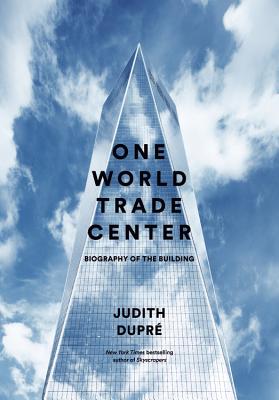 One World Trade Center (Hardcover)
Biography of the Building
Little, Brown and Company, 9780316336314, 304pp.
Publication Date: April 26, 2016
Other Editions of This Title:
Digital Audiobook (4/25/2016)
Pre-Recorded Audio Player (7/1/2016)
* Individual store prices may vary.
Description
The behind-the-scenes story of the most extraordinary building in the world, from the bestselling author of Skyscrapers
In this groundbreaking history, bestselling author Judith Dupré chronicles the most astonishing architectural project in memory: One World Trade Center.
The new World Trade Center represents one of the most complex collaborations in human history. Nearly every state in the nation, a dozen countries around the world, and more than 25,000 workers helped raise the tower, which consumed ninety million pounds of steel, one million square feet of glass, and enough concrete to pave a sidewalk from New York to Chicago.
With more than seventy interviews with the people most intimately involved, and unprecedented access to the building site, suppliers, and archives, Dupré unfurls the definitive story of fourteen years of conflict and controversy-and its triumphant resolution.
This fascinating, oversize book delivers new insight into the 1,776-foot-tall engineering marvel, from design and excavation through the final placement of its spire. It offers:
Access to the minds of world-class architects, engineers, ironworkers, and other tradespeople
Panoramas of New York from One World Observatory-1,268 feet above the earth
Dramatic cutaways that show the building's advanced structural technologies
A time-lapse montage showing the evolution of the sixteen-acre site
Chronologies tracking design, construction, and financial milestones, with rare historic photographs
It also features extensive tour of the entire Trade Center, including in-depth chapters on Two, Three, Four, and Seven World Trade Center; the National September 11 Memorial & Museum; Liberty Park; St. Nicholas National Shrine; and the soaring Transportation Hub.
One World Trade Center is the only book authorized by the Port Authority of New York & New Jersey, and the one book necessary to understand the new World Trade Center in its totality. This is a must-have celebration of American resilience and ingenuity for all who are invested in the rebuilding of Ground Zero.
You may be surprised by what you find inside-and you will undoubtedly be inspired.
About the Author
Judith Dupré is passionate about the built enviornment. Few writers possess her breath of experience in writing about history through the lens of a single building type, whether skyscrapers, bridges, memorials, or churches. A New York Times bestselling author published in eleven languages, she has written books about all these subjects. Her iconic Skyscrapers remains the bestselling book in the world on that topic. Above all she seeks to engage and delight those who profess "not to know much" about architecture. For this authorized biography of One World Trade Center, the Port Authority of New York & New Jersey gave Dupré exclusive, unprecedented access to the World Trade Center site, suppliers, and archives. A graduate of Brown and Yale Universities, Dupré is the recipient of numerous prestigious awards, and was named a 2015 National Endowment for the Humanities Public Scholar.

Praise For One World Trade Center: Biography of the Building…
"Glowingly recounted . . . fact-filled and profusely illustrated."—
Sam Roberts, The New York Times
"Judith Dupré has written about One World Trade Center in the most readable way, with sensitivity, scholarship, superb photography, and wide interviews with those of us involved in this long-evolving project. She has achieved what many thought was impossible-a book that is both popular and scholarly, and the one account that is comprehensive and accurate."—
David Childs, Design Partner, Skidmore, Owings & and Merrill
"One of the most consequential new books about the redevelopment of the World Trade Center."—
David Dunlap
,
The New York Times
"Judith Dupré's thoughtful, profoundly researched book reflects the complexity of rebuilding Ground Zero. Though the project story is not yet over, her work presents a timeline in which the accumulation of creative thought is carefully analyzed, and given a life of its own. With beautiful illustrations, drawings, and technical details, she illuminates both the challenges and exhilaration of rebirth--not only of Ground Zero--but all of lower Manhattan."—
Daniel Libeskind, Master Planner, World Trade Center
"Like the building itself,
One World Trade Center
offers a remarkable view, thoughtfully piecing together the complex history of rebuilding at the World Trade Center site with insightful perspectives and awe-inspiring photography. The book, as much as the architectural achievement it chronicles, is a celebration of vitality, vision, perseverance, and resilience in the aftermath of tragedy."—
Alice M. Greenwald, Director of the 9/11 Memorial Museum
"Glowingly recounted . . . fact-filled and profusely illustrated."—
Sam Roberts, The New York Times
"With superb writing and awesome photography,
One World Trade Center
by Judith Dupré is a masterpiece of a book in every aspect."—
San Francisco Book Review
"It would be hard to envision another book taking more seriously the construction of One World Trade Center as the consummation of so many trades, so many technical innovations, and so much politics all at the same time."—
The National Endowment for the Arts, Humanities Magazine
Praise for Judith Dupré:

"Dupré captivates the eye, mind and imagination."
—
The New York Times
"An astonishing union of technology and art."—
Christian Science Monitor
"Magisterial, meticulously researched, and handsomely illustrated."
—
O, The Oprah Magazine