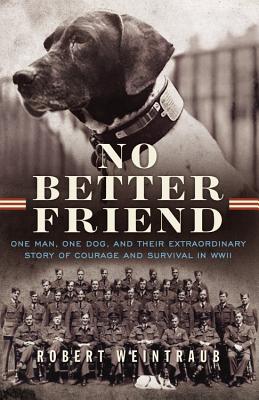 No Better Friend
One Man, One Dog, and Their Extraordinary Story of Courage and Survival in WWII
Hardcover

* Individual store prices may vary.
Other Editions of This Title:
Digital Audiobook (5/4/2015)
Paperback (6/7/2016)
Compact Disc (2/25/2020)
MP3 CD (2/25/2020)
Hardcover, Large Print (10/7/2015)
Description
The extraordinary tale of survival and friendship between a man and a dog in World War II.

Flight technician Frank Williams and Judy, a purebred pointer, met in the most unlikely of places: an internment camp in the Pacific. Judy was a fiercely loyal dog, with a keen sense for who was friend and who was foe, and the pair's relationship deepened throughout their captivity. When the prisoners suffered beatings, Judy would repeatedly risk her life to intervene. She survived bombings and other near-death experiences and became a beacon not only for Frank but for all the men, who saw in her survival a flicker of hope for their own.

Judy's devotion to those she was interned with was matched by their love for her, which helped keep the men and their dog alive despite the ever-present threat of death by disease or the rifles of the guards. At one point, deep in despair and starvation, Frank contemplated killing himself and the dog to prevent either from watching the other die. But both were rescued, and Judy spent the rest of her life with Frank.

She became the war's only official canine POW, and after she died at age fourteen, Frank couldn't bring himself to ever have another dog. Their story -- of an unbreakable bond forged in the worst circumstances -- is one of the great undiscovered sagas of World War II.
Praise For No Better Friend: One Man, One Dog, and Their Extraordinary Story of Courage and Survival in WWII…
One of NPR's Maureen Corrigan's Best Books of 2015New York Times Bestseller
"Weintraub... combines a gritty war story with a warm dog story -- readers who like both will think they have gone to heaven.... Where he truly excels, though, is in finding the human dramas, some painful and some inspiring, that figured in Judy's saga."—
Kate Tuttle, Boston Globe
"The most inspiring true life account I've ever read of a human-animal bond.... I know this summary makes
No Better Friend
sound like a canine version of
Unbroken
. And as a dog lover, I say what could be better than that?"—
Maureen Corrigan, NPR
"This is the best dog book since the uber best-selling
Marley and Me
. But this is no fluffy little dog story. This is a book that will appeal to history buffs -- even those who don't love dogs."—
Linda Wilson Fuoco, Pittsburgh Post-Gazette
"
No Better Friend
personifies the relationship we all aspire to have with our dogs, and takes us on a harrowing journey to a place and time lost in the history books. A must read for every dog or animal lover."—
Robin Hutton, author of Sgt. Reckless: America's War Horse
"In his new book, masterful storyteller Robert Weintraub delivers a spellbinding narrative that reclaims the lost history of two most unlikely heroes: a dog named Judy and fellow soldier Frank. Not only a testament to animal intelligence and a much overdue account of canine sacrifice and service,
No Better Friend
is also an unforgettable read. Soaring and graceful--like Hillenbrand's
Unbroken
and
Seabiscuit
--Weintraub's latest is the stuff of which Hollywood blockbusters are built."—
Mim Eichler Rivas, author of Beautiful Jim Key: The Lost History of a Horse and a Man Who Changed the World
"We may have a best-seller on our hands with this carefully reported saga... The narrative of their survival thoroughly won over both readers who ordinarily shun animal stories and those who generally prefer to avoid reading books about war."
—
The Elle's Lettres 2015 Readers' Prize
"Exceptionally well researched and engaging... NO BETTER FRIEND is an inspiring story, and one that both dog lovers and history buffs will embrace."
—
Deborah Hopkinson, BookPage
"From Shanghai and the Yangtze River to the prison camps of Sumatra, the indomitable English pointer Judy proves to be more than just a survivor, but an inspiration to those who knew her during the ravages of the War in the Pacific. Robert Weintraub provides a meticulous chronicle of the strength and will to survive of both man and dog."
—
Lisa Rogak, author of Angry Optimist and Dogs of War
An "incredible saga.... Weintraub's paean to a remarkable dog will be seen by animal lovers as affirmation that all pets deserve our respect, because any one of them might save a life (or many lives) and inspire a nation, as Judy did --- given the chance."
—
Barbara Bamberger Scott, BookReporter
"By turns harrowing and heartwarming."
—
William Hageman, Chicago Tribune
"Robert Weintraub captures the beauty and power of friendship and loyalty between man and animal in this captivating narrative. We'd all be lucky to have a dog like Judy by our sides in our darkest times."
—
Cate Lineberry, author of The Secret Rescue: An Untold Story of American Nurses and Medics Behind Nazi Lines
"An unusual and moving story of a singular hero among fellow POWs of the Japanese during World War II: a loyal British pointer named Judy. With bite and substance,
Slate
columnist Weintraub chronicles Judy's incredible life.... Weintraub's research on the prisoners' experiences in the camps is remarkable as he narrates Judy and Frank's heroic tale."—
Kirkus
Little, Brown and Company, 9780316337069, 400pp.
Publication Date: May 5, 2015
About the Author
Robert Weintraub is a frequent contributor to the New York Times and Slate and the author of the acclaimed books The House That Ruth Built, The Victory Season, and No Better Friend.
or
Not Currently Available for Direct Purchase