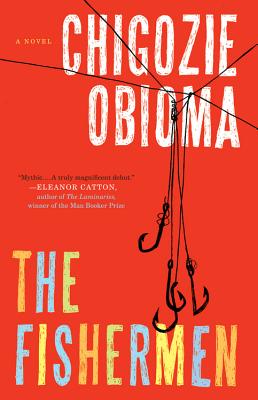 The Fishermen
A Novel
Hardcover

* Individual store prices may vary.
Other Editions of This Title:
Digital Audiobook (10/11/2015)
Digital Audiobook (4/13/2015)
Paperback (7/5/2016)
Compact Disc (10/1/2015)
Compact Disc (10/1/2015)
Description
A striking debut novel about an unforgettable childhood, by a Nigerian writer the New York Times has crowned "the heir to Chinua Achebe."

Told by nine-year-old Benjamin, the youngest of four brothers, The Fishermen is the Cain and Abel-esque story of a childhood in Nigeria, in the small town of Akure. When their father has to travel to a distant city for work, the brothers take advantage of his absence to skip school and go fishing. At the forbidden nearby river, they meet a madman who persuades the oldest of the boys that he is destined to be killed by one of his siblings. What happens next is an almost mythic event whose impact-both tragic and redemptive-will transcend the lives and imaginations of the book's characters and readers.

Dazzling and viscerally powerful, The Fisherman is an essential novel about Africa, seen through the prism of one family's destiny.
Praise For The Fishermen: A Novel…
Winner of the 2016 Los Angeles Times Book Prize (The Art Seidenbaum Award for First Fiction)

Winner of the 2016 NAACP Image Award for Outstanding Literary Work (Debut Author)

Winner of the 2015 FT/Oppenheimer Emerging Voices Award for Fiction

Finalist for the 2015 Man Booker Prize

Finalist for the 2015 Guardian First Book Award

Finalist for the 2015 Center for Fiction First Novel Prize

Longlisted for the 2016 International Dylan Thomas Prize

Longlisted for the 2015 Etisalat Prize for Literature

Named a Best Book of the Year on more than a dozen lists, including the New York Times Book Review, Wall Street Journal, Washington Post, and NPR

"Entrancing.... Its rising tension and poetic grace make this one of the finest novels to come from Africa in years."--Wall Street Journal "Best Books of 2015"

"In its exploration of the murderous and the mysterious, the mind's terrors and a vibrant Africa, this debut novel is heir to Chinua Achebe."--New York Times Book Review, Editors' Choice

"Engrossing.... [Obioma's] language is rich and hypnotic, and nearly every page is filled with an unexpected and perfectly rendered description.... This is a dark and beautiful book by a writer with seemingly endless promise."--Michael Schaub, NPR

"The most frustrating thing about THE FISHERMEN is that the author has no other books for the reader to devour once the final page is reached."--Trine Tsouderos, Chicago Tribune

"[A] darkly mythic first novel [that] feels as if it might predate modernity itself.... It's hard to know where Obioma...can go with his literary career after this pitiless, unstinting start.... Perhaps he will become a kind of African Cormac McCarthy, committed to a stark vision of life in which our pretensions to civilization are forever held up and exposed as skin deep: that what really runs us is deeper down, in the blood."--Kevin Nance, USA Today (3/4 stars)

"A striking, controlled and masterfully taut debut.... The tale has a timeless quality that renders it almost allegorical and it is the more powerful for it."--Financial Times

"Part Bildungsroman, part Greek tragedy, THE FISHERMEN may be the most interesting debut novel to emerge from Nigeria this year.... In a first novel full of deceptive simplicity, lyrical language and playful Igbo mythology and humour, [Obioma] uses the madman's apocalyptic vision for the family as a way of conjuring up Nigeria's senseless body politic. Even a child can tell that this is no way to run a country. And yet for Benjamin, a narrator caught up in tragedy, there is also redemption. This is an impressive and beautifully imagined work."--The Economist

"Frank and lyrical."--New Yorker

"Arresting.... Obioma brings terrific authorial dexterity to the family's story and its small place in Nigeria, and evokes a worldview which brings with it a terrible tragedy. This is the best novel I have read so far this year, and that, I can assure you, is saying plenty."--Kathrine A. Powers, Christian Science Monitor

"Inspired by his native Nigeria and, by extension, the contradictions and marvels of Africa, Obioma is an articulate and sometimes lyrical storyteller.... A dynamic new voice from Africa--and one that deserves a listen."--Ofeibea Quist-Arcton,NPR'sBest Books of 2015

"This year's most promising African newcomer may well prove to be Chigozie Obioma.... In his exploration of the mysterious and the murderous, of the terrors that can take hold of the human mind, of the colors of life in Africa, with its vibrant fabrics and its trees laden with fruit, and most of all in his ability to create dramatic tension in this most human of African stories, Chigozie Obioma truly is the heir to ­Chinua Achebe."--Fiametta Rocco, New York Times, "100 Notable Books of 2015"

"Awesome in the true sense of the word: crackling with life, freighted with death, vertiginous both in its style and in the elemental power of its story. Few novels deserve to be called 'mythic,' but Chigozie Obioma's THE FISHERMEN is certainly one of them. A truly magnificent debut."--Eleanor Catton, author of The Luminaries (Man Booker Prize)

"This strange, imaginative debut probes the nature of belief and the power of family bonds."--Christine Emba, New Criterion

"This promising debut spins a simple, almost mythological conceit into a heartbreaking elegy to Nigeria's lost promise."--Helon Habila, Guardian

"Obioma writes with gorgeous restraint reminiscent of the intricate prose in a Tolstoy novella. Every sentence delivers a precise and heartfelt blow. Hardly anyone writing today is delivering this level of intricacy, lyricism and control. Add to that, the urgency and importance of his message. It just doesn't get better than this. Get used to the name: Obioma is here to stay."--Alexandra Fuller, author of Cocktail Hour Under the Tree of Forgetfulness

"An evocative fable-like tale."--The Week

"A strikingly accomplished debut, hailing Chigozie Obioma as a bold new voice in Nigerian fiction."--Lucy Scholes, Independent

"Should I call Obioma the next Bulawayo? Adichie or Achebe? He could be called all of these things, but THE FISHERMEN is also none of these things. It is a novel that is all its own.... [That] remind[s] me of why I love reading: to be shown what it might be like inside another culture; to slip between someone else's ears; to feel a life that I won't get to live."--Claire Cameron, The Millions

"Obioma's remarkable fiction is at once urgently, vividly immediate, yet simultaneously charged with the elemental power of myth."--Peter Ho Davies, author of The Welsh Girl

"Grips readers from the very first chapter."--Caroline Hallemann, Travel & Leisure

"THE FISHERMEN establishes Obioma as a writer to be taken seriously.... Ingenious, subtle, ambitious and intriguing."--Stuart Kelly, Times Literary Supplement

"Unforgettable.... There is something almost mystical about Obioma's writing as well as his story, and it makes this book nearly impossible to put down."--Vol. 1 Brooklyn

"Folklore-infused."--Megan O'Grady, Vogue

"[A] deeply imaginative, stirring debut novel.... For those interested in a gripping, at times nail-biting, read, give this new author a try."--Coastal Living

"Seamlessly interweaving the everyday and the elemental, Obioma's strange, imaginative debut probes the nature of belief and the power of family bonds.... Obioma excels at juxtaposing sharp observation, rich images of the natural world, and motifs from biblical and tribal lore; his novel succeeds as a convincing modern narrative and as a majestic reimagining of timeless folklore."--Publishers Weekly, (Starred Review)

"Elegantly near-mythic.... Made vivid by the well-rendered specifics, Obioma's quietly unfolding story of family tragedy gathers strength as its cycle of violence spins faster and faster."--Barbara Hoffert, Library Journal

"The talented Obioma exhibits a richly nuanced understanding of culture and character.... A powerful, haunting tale of grief, healing, and sibling loyalty."--Kirkus Reviews

"[A] striking debut."--BookPage

"Chigozie Obioma's gift and the authenticity of his voice are immediately apparent. What makes the narrative of THE FISHERMEN so striking and seductive is that it broaches magic realism yet stays entirely, and convincingly, in the realm of real life. Magic believed in is stark reality. One finds oneself in full suspension of disbelief that old legends and myths persist in perpetual reincarnation in present-day lives so that every character, scenes, and imagery jump off the page, firmly to lodge in the reader's mind."--Irini Spanidou, author of Before

"I find the author Chigozie Obioma formidably articulate and with great talent. I believe that he has it in him to become one of the best writers of the upcoming crop of young African authors."--Nuruddin Farah, author of Maps and Hiding in Plain Sight
Little, Brown and Company, 9780316338370, 304pp.
Publication Date: April 14, 2015
About the Author
Chigozie Obioma was born in Akure, Nigeria. His debut novel, The Fishermen, is winner of the inaugural FT/Oppenheimer Award for Fiction, the NAACP Image Awards for Debut Literary Work, and the Art Seidenbaum Award for First Fiction (Los Angeles Times Book Prizes); and was a finalist for the Man Booker Prize 2015, as well as for several other prizes in the US and UK.

Obioma was named one of Foreign Policy's 100 Leading Global Thinkers of 2015. His work has been translated into more than 25 languages and adapted into stage. He is an assistant professor of Literature and Creative Writing at the University of Nebraska-Lincoln. His second novel, An Orchestra of Minorities, was a finalist for the 2019 Booker Prize.
or
Not Currently Available for Direct Purchase