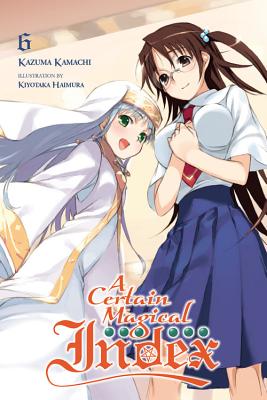 A Certain Magical Index, Vol. 6 (light novel) (Paperback)
Yen On, 9780316340601, 224pp.
Publication Date: February 23, 2016
Other Editions of This Title:
Paperback (11/5/2019)
* Individual store prices may vary.
Description
A certain unlikely hero...
It's the first day of a new semester in Academy City. The day a mysterious transfer student appears at Touma Kamijou's school. The day Index makes her first friend. The day Mikoto Misaka meets Index for the first time and, caught between them, Kamijou again meets with misfortune. The day Kuroko Shirai witnesses the entire incident and becomes rather jealous of Kamijou. It's also the day Academy City is attacked by a certain magician. Transfer students, friends, and magicians--as magic and science clash and Academy City declares a state of emergency, Touma Kamijou's tale truly begins!
About the Author
Kazuma Kamachi is a Japanese light novel author and creator of the massively popular series, A Certain Magical Index, its sequel, A Certain Magical Index: New Testament, and a manga adaptation, as well as two spin-off manga series, A Certain Scientific Railgun and A Certain Scientific Accelerator.