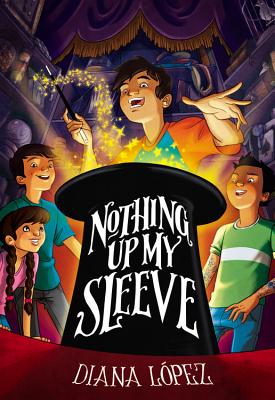 Nothing Up My Sleeve
Hardcover

* Individual store prices may vary.
Description
From beloved author Diana López comes an exciting middle grade story about three friends, a magic competition, and how far they'll go to succeed.

Sixth graders Dominic, Loop, and Z stumble upon a new magic shop in town and can't wait to spend their summer mastering cool tricks to gain access to the Vault, a key holders-only back room bound to hold all kinds of secrets. And once they get in, they set their sights even higher: a huge competition at the end of the summer. They work on their card tricks, sleights, and vanishing acts, trying to come up with the most awesome routines possible....Problem is, the trip is expensive, and it's money that each guy's family just doesn't have.

To make things worse, the shop-owners' daughter, Ariel (who just so happens to be last year's competition winner), will do anything to make sure the boys don't come out on top. Even pit them against one another. Will they make it to the competition? And if so, at what cost?

Diana López, author of Confetti Girl and Ask My Mood Ring How I Feel, offers a story that's just the right mix of heart, high jinks, and a bit of magic.
Praise For Nothing Up My Sleeve…
"Diana Lopez manages to perfectly balance the wonder and art of illusion with the utterly realistic voices of middle grade characters. That is a magic trick unto itself!"—Wendy Mass, author of the New York Times bestseller The Candymakers

Praise for Ask My Mood Ring How I Feel:A VOYA Top Shelf for Middle School Readers Pick2nd Place Winner of the 2014 NACCS Tejas Award for Young Adult FictionA Bank Street College Children's Book Committee Best Book of 2014 Selection
"A funny and heartfelt story... Balancing the heavy subject matter with generous doses of humor and an authentic young teen voice, López crafts a story that blends family and middle school drama successfully." -Kirkus Reviews
"López (Choke) skillfully balances emotional moments with humorous ones, offering an honest portrait of a family under strain. Chia's clever, cheeky voice and a strong cast contribute to an inspiring story about developing "a special kind of bravery."-Publishers Weekly

Praise for Confetti Girl:
"This debut novel puts at its center a likable girl facing realistic problems on her own terms."-Booklist
"An appealing coming-of-age novel set in a traditional Mexican-American town."- Kirkus Reviews
"López delicately displays the power of optimism and innovation during difficult times."- Publishers Weekly
Little, Brown Books for Young Readers, 9780316340878, 400pp.
Publication Date: April 19, 2016
About the Author
Diana López is the author of the novels Choke and Confetti Girl, which won the 2012 William Allen White Award. She is the editor of the journalHuizache and the managing director of CentroVictoria, an organization devoted to promoting Mexican American literature. She lives in South Texas and teaches at the University of Houston-Victoria. You can visit her website at ww.dianalopezbooks.com.