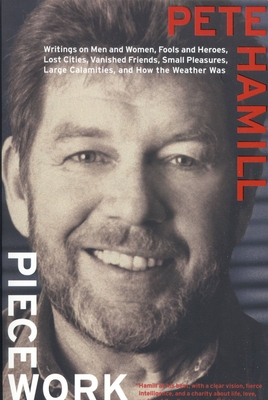 Piecework
Writings on Men & Women, Fools and Heroes, Lost Cities, Vanished Calamities and How the Weather Was
Paperback

* Individual store prices may vary.
Other Editions of This Title:
Hardcover (1/1/1996)
Description
A rich and varied collection of Pete Hamill's best journalism that spans decades and covers topics as diverse as Donald Trump, stickball, and Northern Ireland..

Veteran journalist Pete Hamill never covered just politics. Or just sports. Or just the entertainment business, the mob, foreign affairs, social issues, the art world, or New York City. He has in fact written about all these subjects, and many more, in his years as a contributor to such national magazines as Esquire, Vanity Fair, and New York, and as a columnist at the New York Post, the New York Daily News, the Village Voice, and other newspapers.

Seasoned by more than thirty years as a New York newspaperman, Hamill wrote on an extraordinarily wide variety of topics in powerful language that is personal, tough-minded, clearheaded, always provocative. Piecework is a rich and varied collection of Hamill's best writing, on such diverse subjects as what television and crack have in common, why winning isn't everything, stickball, Nicaragua, Donald Trump, why American immigration policy toward Mexico is all wrong, Brooklyn's Seventh Avenue, and Frank Sinatra, not to mention Octavio Paz, what it's like to realize you're middle-aged, Northern Ireland, New York City then and now, how Mike Tyson spent his time in prison, and much more. This collection proves him once again to be among the last of a dying breed: the old-school generalist, who writes about anything and everything, guided only by passionate and boundless curiosity. Piecework is Hamill at his very best.
Back Bay Books, 9780316340984, 448pp.
Publication Date: May 1, 1997
About the Author
Pete Hamill (1935-2020) was a novelist, journalist, editor, and screenwriter. He was the author of twenty-two books, including the bestselling novels Tabloid City, North River, Forever, and Snow in August, and the bestselling memoir A Drinking Life.