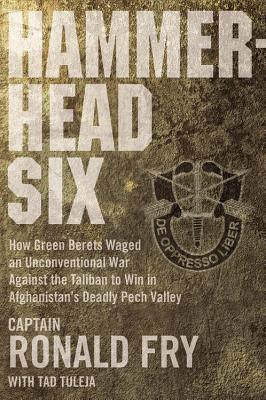 Hammerhead Six
How Green Berets Waged an Unconventional War Against the Taliban to Win in Afghanistan's Deadly Pech Valley
Hardcover

* Individual store prices may vary.
Other Editions of This Title:
Digital Audiobook (1/18/2016)
Paperback (1/10/2017)
Compact Disc (1/19/2016)
Compact Disc (1/19/2016)
Description
Two years before the action in Lone Survivor, a team of Green Berets conducted a very different, successful mission in Afghanistan's notorious Pech Valley. Led by Captain Ronald Fry, Hammerhead Six applied the principles of unconventional warfare to "win hearts and minds" and fight against the terrorist insurgency.

In 2003, the Special Forces soldiers entered an area later called "the most dangerous place in Afghanistan." Here, where the line between civilians and armed zealots was indistinct, they illustrated the Afghan proverb: "I destroy my enemy by making him my friend." Fry recounts how they were seen as welcome guests rather than invaders. Soon after their deployment ended, the Pech Valley reverted to turmoil. Their success was never replicated. Hammerhead Six finally reveals how cultural respect, hard work (and the occasional machine-gun burst) were more than a match for the Taliban and Al Qaeda.
Praise For Hammerhead Six: How Green Berets Waged an Unconventional War Against the Taliban to Win in Afghanistan's Deadly Pech Valley…
"The story told by Captain Ron Fry is not one you hear often when people talk about the war in Afghanistan--and that is precisely why everyone should read it. Through him, his men get to tell their history, in their own words, and anyone who cares about the truth should care about this. Hammerhead Six took a lot from them because it goes against their ethos as "quiet professionals," but as you will discover when you read this, integrity can be one of the most powerful weapons of war-and nothing but that can prepare you for the unintended consequences or the moments you wish had never happened . . ."
—
Lara Logan, 60 Minutes
"
Amidst torrents of hot brass and the smell of burnt gunpowder in Ron Fry's
Hammerhead Six
are nuggets of wisdom that can only come from a warrior leader who has lived outside the wire, among those he fought and those he sought to help. Riveting, compelling, transparently honest and emotional,
HammerheadSix
is a must read for anyone wondering what could have worked in the 'graveyard of empires.'"—
Tony Schwalm , author of The Guerrilla Factory
"
Hammerhead Six
is a raw, hard-hitting and authentic war story that will become one of the most important books to emerge from the war in Afghanistan. Captain Fry tells a deeply human story that captures the remarkable courage of America's elite Special Forces soldiers. Reading it plunged me back into the exhilarating, heartbreaking experience of combat. Mr. President and Members of Congress, read this book immediately. If we do what Fry and his men did, we win the war in Afghanistan. Honestly it is that simple."—
Sean Parnell, New York Times-bestselling author of Outlaw Platoon: Heroes, Renegades, Infidels, and the Brotherhood of War in Afghanistan
"
Hammerhead Six
is the compelling story about a small team of brave men who were sent into the most hostile area of Afghanistan. They did what Green Berets have always done: They stood up for human rights, made friends and trained people to protect themselves. Taliban activity dropped dramatically and the surrounding area thrived. The unconventional victory of Captain Ronald Fry's unit provides inspiration and a way forward into the troubled and uncertain future. It is a textbook on how to get it right the next time."—
Lt. Col. Marcus Custer, USA (Ret.)
"In the Special Forces tradition of combining exhilarating edge-of-your-seat suspense and challenging intellect,
Hammerhead Six
takes you down the treacherous road of what it is like to be a Green Beret in an ancient land, tasked to work by, with, and through the Afghan people to fight an elusive and brutal enemy."—
Rusty Bradley, author of Lions of Kandahar
"In this thrilling tale, the reader gets to learn about a more positive war battle that was fought by relying on understanding instead of ammunition."
—
Deseret News
Hachette Books, 9780316341431, 400pp.
Publication Date: January 19, 2016
About the Author
A third-generation veteran, US Army Captain Ronald Fry served in the 82nd Airborne Division and as a Special Forces team leader in Afghanistan. He has completed the military's Survival School and the Ranger, Pathfinder, Jumpmaster, and Combat Diver trainings. Fry lives with his wife and five children near San Jose and works in sales management.

Tad Tuleja, author of thirty-two books, has taught courses on war and conflict at Harvard, Princeton, Oklahoma, and American University.
or
Not Currently Available for Direct Purchase