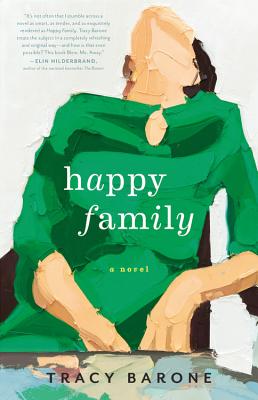 Happy Family (Hardcover)
Lee Boudreaux Books, 9780316342605, 400pp.
Publication Date: May 24, 2016
Other Editions of This Title:
Digital Audiobook (5/23/2016)
Paperback (3/7/2017)
* Individual store prices may vary.
Description
One of these things is not like the other. That's how Cheri Matzner felt growing up in her adoptive family, and it's what continues to define her as she tries to start a family of her own. Funny and fierce, desperate for connection yet pushing it away with both hands, she needs to jump-start a marriage in danger of flatlining and save her career from scandal. But Cheri is still contending with a complicated relationship with her parents-her aging Italian bombshell of a mother and a distant father who looms large, even in death-unaware of the sacrifices they made to be together or of the difficult truths and lies in their marriage. When tragedy unravels Cheri's well-designed defenses, she is thrust into an odyssey of acceptance that brings her full circle back to her dramatic origins.
Sometimes it takes half a lifetime to come of age. To be able to glimpse our parents beyond their roles as our parents. To uncover the many versions of truth within our family stories and within our own. And to laugh at it all just a little bit sooner.
About the Author
Tracy Barone earned her MFA in dramatic writing at NYU and has worked as a screenwriter and playwright. She has worked in Hollywood, where she was the Executive Producer on Wild, Wild, West, Rosewood, My Fellow Americans, and Money Train and was instrumental in the acquisition and development of Men in Black and Ali. In addition to an MFA, Barone holds a B.A. from NYU.

Praise For Happy Family…
"Tracy Barone's Happy Family introduces a storyteller whose narrative confidence and style both dares and invites us into a deep exploration of the gap between our expectations and beliefs about our families and the truth. Filled with intimate poignancy, deft humor and pitch-perfect dialogue this books fulfills its ambitious scope and leaves an indelible mark."—A.M. Homes, author of May We Be Forgiven

"Smart, witty and immensely readable, HAPPY FAMILY brilliantly examines the power of family and the secrets we keep, and leaves us cheering for its heroine, Cheri-funny, fierce, aching for connection but independent to a fault-whose mid-life coming-of-age is wise, heartfelt, and a pure page-turning pleasure to read."—Maria Semple, author of national bestseller Where'd You Go, Bernadette

"In her debut novel, screenwriter, playwright, and film producer Barone uses a wide lens to capture Cheri Matzner's life, from a precarious beginning to a confident, peaceful middle age... Cinematic in its scope, this novel takes readers on a broad, deep, and poignant journey alongside a tough, admirable woman and the varied characters who populate her life."—Kirkus

"It's not often that I stumble across a novel as smart, as tender, and as exquisitely rendered as HAPPY FAMILY. Tracy Barone treats the subject in a completely refreshing and original way -- and how is that even possible? This book Blew. Me. Away."—Elin Hilderbrand, author of THE RUMOR

"Tracy Barone's debut novel is whip smart and warm hearted. Big and bold, Happy Family pulls back the tough skin and muscle of family life exposing the blood and secrets beneath. An utterly engrossing read."—Jennifer Gilmore, author of Golden Country and Something Red

"Tracy Barone is a storyteller with a deft, effortless style that grabs you, holds you, and at turns, leaves you breathless. Her characters are so distinctive, so deeply humane and complex, their humor, intelligence and place in the world is immediately apparent. The novel folds out like one of those hand-painted screens that separates one room from another, but in this case, there was nothing hidden behind, all secrets were revealed, as the author took you by the hand through the life of Cheri Matzner. Even her name is exactly right: red hot, ripe and in her perfection, unreachable."—Adriani Trigiani, bestselling author All the Stars in the Heavens

"Barone's debut novel explores the pursuit of human connection with pathos and humor... Cheri is a compelling protagonist, making her journey into the past well worth following."—Publishers Weekly

"A funny, touching tale about growing up--at any age."
—People

"Cheri Maztner is interesting company...Barone has a background in writing for screen and stage, and knows how to propel a story at an engaging clip. Indeed, the pace and structure of this novel suggest a movie-in-waiting."
—New York Times Book Review

or
Not Currently Available for Direct Purchase