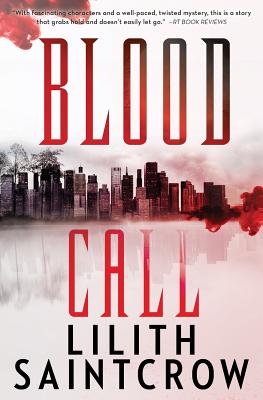 Blood Call (Paperback)
Orbit, 9780316343602, 336pp.
Publication Date: August 4, 2015
* Individual store prices may vary.
Description
A brand new thriller with a supernatural twist from New York Times bestselling author Lilith Saintcrow.
Anna Caldwell has spent the last few days in a blur. She's seen her brother's dead body, witnessed the shooting of innocent civilians, and been shot at herself. Now she has nowhere to turn-and only one person she can possibly call.
Since Anna dumped him, it seems waiting is all Josiah Wolfe has done. Now, she's calling, and she needs his help -- or rather, the "talents" she once ran away from. As a liquidation agent, Josiah knows everything about getting out of tough situations. He'll get whatever she's carrying to the proper authorities, then settle down to making sure she doesn't leave him again.
But the story Anna's stumbled into is far bigger than even Josiah suspects. Anna wants to survive, Josiah wants Anna back, and the powerful people chasing her want the only thing worth killing for -- immortality. An ancient evil has been trapped, a woman is in danger, and the world is going to see just how far a liquidation agent will go...


For more from Lilith Saintcrow, check out:


Gallow and Ragged
Trailer Park Fae

Bannon and Clare
The Iron Wyrm Affair
The Red Plague Affair
The Ripper Affair
The Damnation Affair (e-only)

Dante Valentine Novels
Working for the Devil
Dead Man Rising
Devil's Right Hand
Saint City Sinners
To Hell and Back

Dante Valentine (omnibus)

Jill Kismet Novels
Night Shift
Hunter's Prayer
Redemption Alley
Flesh Circus
Heaven's Spite
Angel Town

Jill Kismet (omnibus)

A Romance of Arquitaine Novels
The Hedgewitch Queen
The Bandit King
About the Author
Lilith Saintcrow was born in New Mexico, bounced around the world as an Air Force brat, and fell in love with writing when she was ten years old. She currently lives in Vancouver, WA.

Praise For Blood Call…
"A paranormal thriller with teeth...this is a story that grabs hold and doesn't easily let go."—RT Book Reviews (4.5 stars)