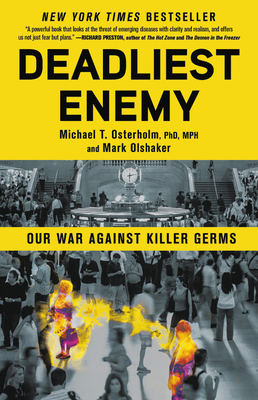 Deadliest Enemy
Our War Against Killer Germs
Hardcover

* Individual store prices may vary.
Other Editions of This Title:
Digital Audiobook (3/13/2017)
Paperback (5/12/2020)
Description
A leading epidemiologist shares his "powerful and necessary" stories from the front lines of our war on infectious diseases and explains how to prepare for global epidemics (Richard Preston, author of The Hot Zone).

Unlike natural disasters, whose destruction is concentrated in a limited area over a period of days, and illnesses, which have devastating effects but are limited to individuals and their families, infectious disease has the terrifying power to disrupt everyday life on a global scale, overwhelming public and private resources and bringing trade and transportation to a grinding halt.
In today's world, it's easier than ever to move people, animals, and materials around the planet, but the same advances that make modern infrastructure so efficient have made epidemics and even pandemics nearly inevitable. And as outbreaks of COVID-19, Ebola, MERS, and Zika have demonstrated, we are woefully underprepared to deal with the fallout. So what can -- and must -- we do in order to protect ourselves from mankind's deadliest enemy?
Drawing on the latest medical science, case studies, policy research, and hard-earned epidemiological lessons, Deadliest Enemy explores the resources and programs we need to develop if we are to keep ourselves safe from infectious disease. The authors show how we could wake up to a reality in which many antibiotics no longer cure, bioterror is a certainty, and the threat of a disastrous influenza or coronavirus pandemic looms ever larger. Only by understanding the challenges we face can we prevent the unthinkable from becoming the inevitable.

Deadliest Enemy is high scientific drama, a chronicle of medical mystery and discovery, a reality check, and a practical plan of action.
Praise For Deadliest Enemy: Our War Against Killer Germs…
"Michael Osterholm is one of the best epidemiologists -- hunters of infectious diseases -- of our time. When Osterholm tells us that the potential for global pandemics is a life-or-death issue for every person on the planet, we need to listen. Deadliest Enemy is a powerful and necessary book that looks at the threat of emerging diseases with clarity and realism, and offers us not just fear but plans."—Richard Preston, author of The Hot Zone and The Demon in the Freezer

"This book will change the way you think. It is clear, well written, and has a narrative drive provided by a subtext worthy of Stephen King. It is also based on solid science--in fact, I wish the science weren't so solid, so I could dismiss its conclusions. If enough people--or the right people--read it, it will do what few books can do: it will save many, many lives."
—John M. Barry, author of The Great Influenza: The Story of the Deadliest Pandemic in History and Rising Tide: The Great Mississippi Flood of 1927 and How It Changed America

"Osterholm and Olshaker calmly show us that Mother Nature is the 'greatest bioterrorist of them all.' Marshaling solid scientific evidence, they question why we have spent billions on the 'war on terror' and virtually nothing for an inevitable calamity that will kill millions. This stunning book is a clarion call to mount a Manhattan Project 2.0 that would prepare for the coming global pandemic. Someone should listen."—Kai Bird, Pulitzer Prize-winning historian and coauthor of American Prometheus: The Triumph and Tragedy of J. Robert Oppenheimer

"As a former governor responsible for the welfare and health of my state, and a former United States Senator concerned with national security, I applaud Deadliest Enemy as a chilling and important wakeup call. Not only is it a fascinating human story and medical detective drama, it lays out the great public health challenges facing humanity and the actions that need to be initiated or enhanced to avert their life or death consequences."—Bob Graham, former Governor of Florida, U.S. Senator and Chairman of the Senate Intelligence Committee

"Dr. Michael Osterholm is 'the Paul Revere of the Germ War.' To those of us who have peered over the horizon and seen the enemy, his work is heroic and critical. So I am extremely gratified that he and Mark Olshaker are now sharing that vital knowledge and insight in their compelling new book, Deadliest Enemy."—Michael Leavitt, former Governor of Utah, Administrator of the Environmental Protection Agency and Secretary of Health and Human Services
Little, Brown Spark, 9780316343695, 352pp.
Publication Date: March 14, 2017
About the Author
Dr. Michael Osterholm is Regents Professor, McKnight Presidential Endowed Chair in Public Health, and the founding director of the Center for Infectious Disease Research and Policy (CIDRAP) at the University of Minnesota. An internationally renowned epidemiologist, he has been at the forefront of public health preparedness, has led many outbreak investigations of international importance, and advises world leaders on the ever-growing list of microbial threats.

Mark Olshaker is an Emmy Award-winning documentary filmmaker and a New York Times #1 bestselling author of five novels and ten books of nonfiction. His books with FBI profiling pioneer John Douglas have sold millions of copies and offer a unique and intriguing perspective into behavioral science and criminal investigative analysis.